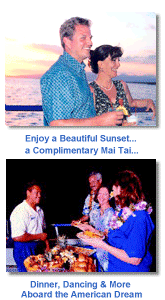 - An evening cruise aboard the American Dream begins with a complimentary Mai Tai and a warm "Aloha" from our friendly captain and crew. There's no better way to experience a warm tropical evening than to view a colorful sunset, then the stars and city lights from the decks of our yachts. Ample outer deck space allows all of our guests to experience the fresh sea breeze while watching our authentic hula demonstration and the spectacular sights of the Waikiki Coastline and Diamond Head.

The wonderful aroma of dinner sizzling on the grill is sure to whet your appetite! After dinner, dance to popular tunes from the rockin' 60's through today's top music while you cruise through Honolulu Harbor and past the renovated Aloha Tower Marketplace. The price includes the cruise, welcoming cocktail, freshly grilled buffet dinner, soft drinks, coffee and tea, and entertainment. Mixed drinks, beer and wine are available for purchase from our full bar.
The Menu: Marinated steak and vegetable brochette, teriyaki chicken and vegetable brochette in a sweet shoyu and sherry marinade, fresh steamed aloha rice, Hawaiian garden salad, seasonal fresh fruit salad, dinner roll, chef's choice dessert (vegetarian meals available with advance notice). Cruise Only option is available / Cruise Price Only: $29.95.

The Boat: The American Dream has a sundeck with open deck area and perimeter seating and a main deck with an enclosed salon, open outer deck seating and extended bow pulpit. Capacity: 225 guests plus crew.

Location: Major Waikiki hotels pick-up / Kewalo Basin check-in, Oahu

Time: 2 Hour Cruise - Saturday – Thursday, Approximately 4:45pm hotel pick-up / 5:00pm check-in / 5:30pm – 7:30pm. Fridays, Approximately 5:45pm hotel pick-up / 6:00pm check-in / 6:30pm – 8:30pm

Inclusions: Round-trip transportation from major Waikiki hotels, Mai Tai, buffet dinner, soft drinks, coffee, tea and entertainment. The CRUISE ONLY price includes only round-trip transportation and entertainment - beverages are available for purchase.