Japanese Steak House
Hilton Hawaiian Village
2005 Kalia Rd
Honolulu, HI 96815
(808) 955-5955
http://benihana.com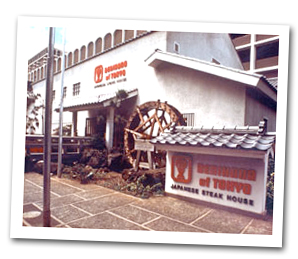 At Benihana your food is not only cooked it's choreographed by highly skilled chefs trained in the art of Eatertainment. Your personal chef will perform for you as they cook such favorites as fresh shrimp and lobster tails, juicy USDA prime steaks, tender chicken and garden fresh vegetables in traditional Japanese style on a hibachi table. If you want to experience an eye-catching and satisfying meal then a visit to Benihana is a must. So, come in today and witness first hand what has become the longest running dinner show in the world. Although reservations are not required, they are recommended.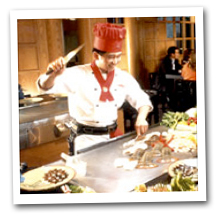 Since 1964, Benihana has often been imitated but never duplicated. Benihana is beyond a doubt, the longest running dinner show in the world! What would a dinner show be without great food? Not Benihana!
Benihana restaurants are traditional Japanese-style hibachi steakhouses - called "teppanyaki." At Benihana, your meal is prepared and served by performing chef, right at your table. Diners can choose from a variety of fresh sushi and other Japanese favorites.
Benihana is located in the Hawaiian Village in a 200-year old farmhouse that once stood in Osaka, Japan. The teppan house was dismantled and shipped to Hawaii, then carefully reconstructed by more than 100 Japanese.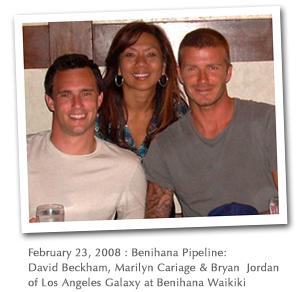 February 23, 2008 Benihana Pipeline :
Last night David Beckham dropped into Benihana shortly after the closing sign went up..... luckily he was able to get a seat in the house. David Beckham and the Los Angeles Galaxy team members dined at Benihana, the Japanese Steak House, three times since their arrival in Hawaii. Each time they dined at the restaurant, it was quite a stir! Patrons from all over the world recognized him instantaneously and were eager to take photos and chat with him.
As usual, he was quite the gracious man. When asked how they were going to spend their last night on the island...with a smile... David replied, "Benihana is our entertainment for tonight. David's favorite meal, Benihana Jumbo Shrimp, Garlic Fried Rice and Cranberry juice.