"What's best in me, and what's best in my message, is consistent with the tradition of Hawaii." ~ Barack Obama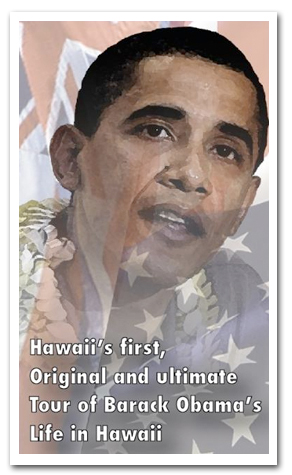 Serving the visitor industry since 1992, "Guides of Oahu" provides a unique twist on the standard Island tour as you traverse the leeward coast in the shadow of Diamond Head and the Ko'olau Mountains, tracing the footsteps of the local boy who became President.
The tour explores Barack Obama's roots to find out who and what influenced his values, viewpoints, passions and policies. Through the stories of childhood friends, teachers, and coaches, learn how growing up in Hawaii made Barack Obama the man he is today.
As you tour the island to see the many places he and his family lived, the places where a young Obama went to school, played basketball, went to the movies, hung out with his friends and went to work at his very first job, your journey will take you to places of natural beauty, or cultural and historical significance, such as downtown Honolulu, Chinatown, and a visit to Punchbowl National Memorial Cemetery of the Pacific, where Barack Obama's Grandparents will be interred.
John F. Kennedy said, "Hawaii is what the rest of the world is striving to become." 45 years after Kennedy made that statement a son of Hawaii has achieved the presidency of the United States. The story of Barack Obama's upbringing in Hawaii needs to be explored in order to understand how it enabled him to become the first African - American president of the United States.
What To Know
This is a private tour subject to availability. Includes transportation from Waikiki Hotels
*Waikiki.com shall not be liable to any individual utilizing these tour/activity programs for delays, injury, loss, accident or damage to persons or property beyond its control. Natural phenomena are random and out of the control of the tour provider. Prices, features and/or menu are subject to change without notice.