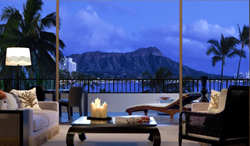 Waikiki will be home to most visitors to the island. With a rich history of accommodating royalty and celebrities, Waikiki continues to be a thriving neighborhood to thousands of local residents who call Waikiki home. It is a unique vacation experience that easily brings visitors and kamaaina together and is a Hawaiian crossroads for multicultural experiences.
Hotels & Resorts
Waikiki offers you the luxury of selecting from a wide range of accommodation choices that fit your personal taste and comforts. You'll find historic hotels and condominiums, landscaped resorts and boutique hotels, familiar brands and trend-setting chic addresses. Whether it is a suite with a Diamond Head and ocean view, a room overlooking the majestic Ko'olau Mountains or a condo by the Ala Wai canal, there is a place in Waikiki that fits your needs that you can call home. And as part of Hawaii itself, it comes with Hawaii's renowned Hawaiian hospitality.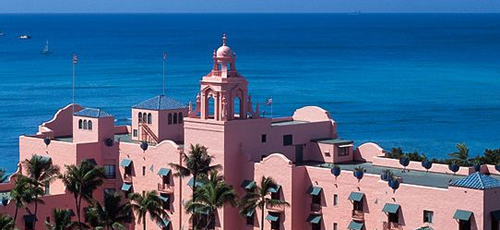 The Pink Palace of the Pacific - The Royal Hawaiian Hotel
Timeshares
What is Timeshare?
Timesharing is an incredible concept giving you the opportunity to own premier vacation or resort property without the exorbitant cost of year-round ownership. Timeshare ownership can be deeded, leased, or licensed. The basic premise behind the timeshare concept is that it gives you the exclusive right to vacation and enjoy ownership at a specific resort during a specific week each year for as long as you own it. Timeshare weeks differ and are valued according to a variety of factors including: Time of year, Location, Resort brand, Amenities included, Size of the unit.
What Makes a Timeshare Resort Different than a Hotel?
Timeshare resorts are generally far higher in quality than most hotels, offering a wide array of owner amenities and services. Most resorts are located in breathtaking settings with many offering all the features of a home away from home, such as: Fully furnished kitchens, Spacious living areas, TVs and VCR/DVD players, Sporting/Fitness and recreational areas and services, Swimming pools, spas, tennis courts, golf courses...
Most timeshare resorts are staffed with well-trained hospitality professionals whose sole duty is to make your vacation as fun and stress-free as possible.
Vacation Rentals
On the southern shore of Oahu's Honolulu district lie the vacation rentals of Hawaii's tourist hub center, Waikiki. This cosmopolitan holiday resort is abuzz with tourists and comprises all activities and attractions one could possibly think of for a consummate vacation. Beach, water sports, cultural centers, nightclubs - the list is endless as Waikiki has it all for unlimited fun in the Hawaiian sun.
The moment you set afoot you'll find vacation rentals comprising tall high-rise apartments and condos with a metropolitan touch. From affordable houses to the luxurious oceanfront penthouses, there is ample choice to suit all budgets. Apart from the sun and beach you can head to the nearby Pearl Harbor for naval history and learn how Japan once attacked the US; Polynesian Cultural Center of Laie is just an hour's drive for an essential tour of Hawaii's history.
Bask on the shore's white sandy beach with stunning views of the Koolau Mountains and Diamond Head volcano; indulge in a range of water sports such as swimming and snorkeling or enjoy an exotic helicopter ride or a dip down the deep waters in a submarine. With abundant theaters, outdoor concerts and an active nightlife you have unlimited options to enjoy holidaying in one of the many Waikiki vacation rentals and will swear to return for ever more.
Real Estate
Hawaii is a paradise full of beautiful landscape from mountains, rainforests and gorgeous beaches surrounded by the Pacific Ocean. Tourists flock to the islands by the millions each year to enjoy our beautiful scenery, aloha island lifestyle, food and culture. Perhaps the only thing better than visiting would be living on the islands full-time and becoming a kamaaina. Those searching for a island style luxury lifestyle have many options to fill their needs.
We are committed to providing an extraordinary level of care and expertise for all of your real estate needs. We provide broad industry experience, local knowledge, and personalized attention to your unique real estate needs.
Whether you are looking for a property, an agent or anything else - please let us know and we would be happy to assist you!