We Catch Fish!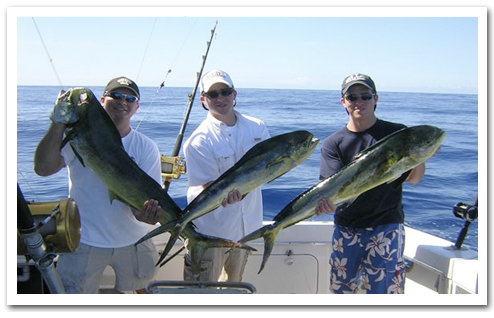 Just 15 minutes from Ko Olina and Aulani Resorts and 45 Minutes from Waikiki. Our philosophy is simple, We Catch Fish. Our expertise and knowledge of Oahu's West Coast fishing grounds provide our anglers with the Best chance of having an enjoyable and productive sportfishing charter. Oahu's calm Leeward ocean has 5 FAD'S, or (Fish Aggregation Devices), combined with natural steep ocean ledges, this attracts a variety of Pelagic Fish. The 3,000 foot ledge is located 3 miles from our harbor, and the 6,000 foot ledge is just 7 miles away. Our home port on Oahu's West Coast is located in prime fishing waters, this puts us closer to the FAD'S than any other harbor, allowing our anglers less travel time to and from the fishing grounds, FAD'S, and fishing ledges, hence more fishing time. Making the Waianae Coast, Oahu's BEST fishing grounds.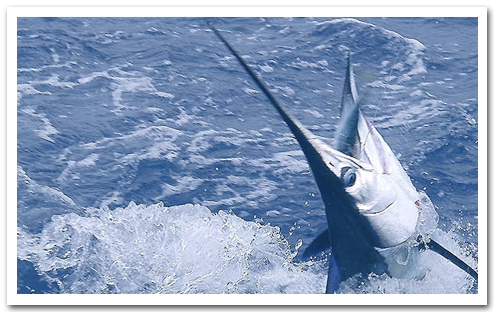 Along with the Giant Pacific Blue Marlin and Striped Marlin, the area boasts a healthy population of Ahi (Yellow Fin Tuna), Aku (Skipjack Tuna), Mahi Mahi (Dolphin Fish), Ono (Wahoo) and an occasional Sail Fish and Sword Fish. We catch fish utilizing several methods; Live Baiting, Trolling and Surface Jigging. Our equipment spans from 30 lb. test Spinning Reels to 150 lb. test 130 PENN and SHIMANO Internationals. We are prepared to get you hooked up for stand-up or fighting-chair fishing. Our Captains and Crew are among the BEST fishermen in the Hawaiian Islands.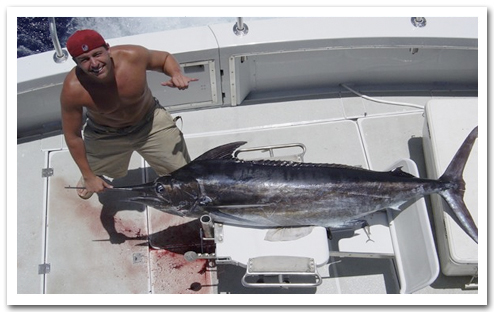 Daily Oahu, Hawaii Fishing Charters Boom Boom Sportfishing offers daily 4,6,8 and 12 hour Deep Sea Fishing Charters aboard our 50 foot Luxury Sportfisher. Whether you are an experienced angler, novice, or just out for some fun with family or friends, our crew of professionals will make your charter a memorable, gratifying and safe sportfishing experience. Outer-Island, multi-day trips, and Private Whale Watching Excursions are also available.
Featuring a 50 ft. Luxury Tournament Sportfisher with a 16 ft. beam. She shares her heritage with two legendary boat builders, Uniflite & Chris Craft. Her spacious, air conditioned interior includes three cabins, two marine heads and enough room to sleep 6 comfortably.
The main salon features a full kitchen with double galley sinks, microwave, dual-refrigerators, stove, coffee maker, a large dinette and additional seating. The fishing cockpit boasts a Murray Brothers fighting chair, command controls, built in fish boxes and a live-bait well. She also has an impressive tuna tower and bridge featuring outdoor seating.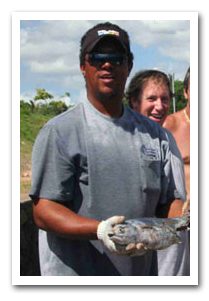 Captain Tony, has been fishing and boating since the age of 3. As an angler, Tony has a great deal of experience catching Marlin, Mahi Mahi, Ono, and Ahi. His biggest catch so far is a 779 lb. Blue Marlin.
He is a United States Coast Guard Licensed Captain who enjoys sharing the excitement of Big Game Fishing with his anglers and strives to fulfill their goal of landing that dream fish.
Captain Tony takes pleasure in sharing the beauty of the Hawaiian Islands and his knowledge of its marine life with his guests, while providing a safe and fun experience for all.
Note: Occasionally Captain Tony takes a day off, and will be substituted by captains with equal or greater experience.
What To Know
Operates: Year-round
4 Hour Shared or Private Charter // Departures at 6 am or 2:30 pm
6 Hour Shared or Private Charter // Departures at 6 am or 12 pm (shared) 12:30 pm (private)
8-10 Hour Shared or Private Charter // Departs at 6 am or 10:30 am (shared) 12 pm (private)
12 Hour Private Charter Only // Departs at 6 am
All Shared Charters require a Minimum Number of 4 Passengers to Depart. If your are booking a solo spot, or only have 2 or 3 people in your party we will match with other Shared Guests. The Maximum Number of Passengers on any charter is 6.

All Private charters have a 6 Passenger Maximum, No Minimum. We are U.S. Coast Guard Licensed and Regulated for 6 Passengers, NO EXCEPTIONS.
Location: Waianae, Oahu
Where to Meet and What to Bring: Docked in Waianae. Check-in time is 15 min. prior to departure. Please bring your own food and beverages, sunscreen, sunglasses and a hat.
Transportation: We can arrange transportation to and from the Waianae Boat Harbor from all Waikiki Hotels through our transportation partners. $150.00 per 6 passengers. (prices subject to change)
Inter-Island Charters, Tournaments, Whale Watching: We also offer 3 day minimum Inter-Island Fishing Excursions, as well as Tournament Packages and Seasonal Private Whale Watching Charters. Call 721-1552 for details.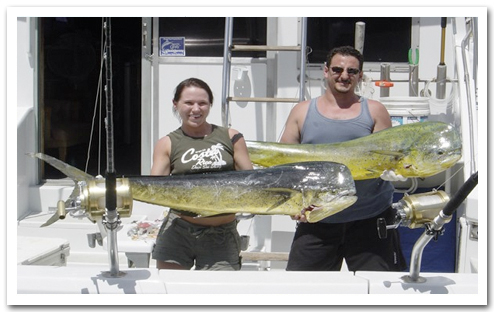 Cancellation and Fish Policy: Cancellations require a 72 hour notice to receive a refund. Multiple boat or multiple day bookings require a 5 day notice to receive a refund. ​It is our goal for guests to take home fresh fish filets at the end of every charter. The Captain will decide which fish to cut. We give each Private Charter 10 to 15 lbs. of filet. Shared Charters receive 2 to 3 lbs. per person. If you need more fish, just ask your Captain.
*Waikiki.com shall not be liable to any individual utilizing these tour/activity programs for delays, injury, loss, accident or damage to persons or property beyond its control. Natural phenomena are random and out of the control of the tour provider. Prices, features and/or menu are subject to change without notice.
Save Time & Book This Activity Now!
west oahu sport fishing
Rates

Private Charter
4 Hours
Maximum 6 Passengers

$695.00

Private Charter
6 Hours
Maximum 6 Passengers

$795.00

Private Charter
8 Hours
Maximum 6 Passengers

$975.00

Private Charter
12 Hours
Maximum 6 Passengers

$1400.00

Shared Charter
4 Hours
Maximum 6 Passengers

$215.00

Shared Charter
6 Hours
Maximum 6 Passengers

$225.00

Shared Charter
8 Hours
Maximum 6 Passengers

$290.00

Secure Reservation

| | |
| --- | --- |
| Click on calendar to choose date: | |




GE Tax (4.712%) will be added to the price above.

**Prices & Inclusions subject to change without notice.

***A travel representative will send you a confirmation email along with tour/activity vouchers within 24 hours of booking. If there are any problems with your dates, we will contact you. There are no refunds for cancellations made within 48 hours of tour/activity, unless another cancellation policy is specified. No Shows are charged in full. If you have any questions, please click here to contact us. Mahalo!