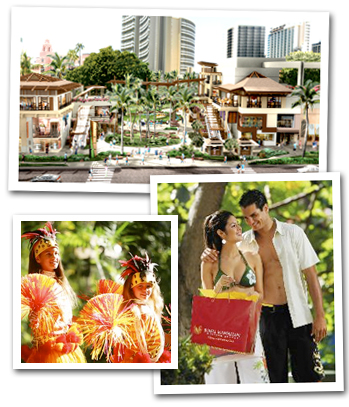 Royal Hawaiian Center offers 310,000 square feet of delight for Hawaii shoppers. With its more than 110 shops and restaurants, the Center is one of Hawaii's largest shopping malls. Along the four-tiered three buildings, you can purchase everything from fine designer apparel to fun-in-the-sun apparel, from fine jewelry to costume jewelry and Hawaiian treasures, from fine dining in many restaurants to dining on hot dogs and ice cream. There are boutiques, sporting-good stores, Hawaii's top surf shops, jewelry stores, craft shops and practically everything else conceivable — all in the very center of Waikiki.
Royal Hawaiian Center is located in the heart of Waikiki, on the island of Oahu, Hawaii. It situated along Kalakaua Avenue, in front of the Royal Hawaiian Hotel and Sheraton Waikiki, just minutes from Waikiki Beach. The Center is within walking distance from all the main hotels and activities in Waikiki. Royal Hawaiian Center is a Tobacco-Free & Smoke-Free Environment. Your cooperation is appreciated.
Royal Hawaiian Shopping Center is within walking distance from hotels and activities in Waikiki. The Center is situated in front of Royal Hawaiian Hotel and Sheraton Waikiki, just minutes from Waikiki Beach.
Got a serious need to shop? There's no better place to shop in Waikīkī than the Royal Hawaiian Center. With four levels of shopping options including luxury and lifestyle retailers such as Cartier, OMEGA Boutique, kate spade new york and Tory Burch, it's easy to shop 'til you drop.
Choose from a wide variety of Waikīkī dining options at the Royal Hawaiian Center. Whether it's a quick bite to eat or a sit down dinner at one of our fabulous Waikīkī restaurants, there's something for everyone in the family.
Please join us at Royal Hawaiian Center! Enjoy complimentary cultural classes, entertainment and center-wide celebrations. Nou Ka Hale - Our House is Your House. Schedules are subject to change. Call Helumoa Hale Guest Services at (808) 922-2299 for the latest updates.
The Royal Grove
After a full day of shopping, sight-seeing, tasting local culinary delights in Hawaiʽi's balmy climate and a romantic sunset, we invite you to end your day with us in The Royal Grove. Here, in the gathering place of Waikīkī, you can leisurely enjoy the sounds of mele Hawaiʽi (Hawaiian music) and the sights of hula (Hawaiian dance) under a starry moonlight night. Enjoy live Hawaiian entertainment every Tuesday-Saturday at 6:00 p.m.
Hula Kahiko at Helumoa
This Saturday series presents a halau hula (hula school) and their 'ōlapa (dancers) in The Royal Grove performing traditional hula where drumming chanting are the accompaniment. This contrasts with hula 'auana (modern hula) where singing and European-introduced instrument are the accompaniment. Costuming, instruments and stories are described in this showcase of hula enjoyed by our kūpuna (ancestors) and generations hence.
Waikiki, meaning "spouting waters", was once the favored retreat for Hawaiian royalty. Here at Helumoa in the heart of Waikiki, they spent their days in the shade of more than 10,000 coconut trees. At The Royal Grove, a lush garden at the heart of Royal Hawaiian Center, is a bronze statue of Princess Bernice Pauahi Bishop, great-granddaughter of King Kamehameha. Here at Helumoa, she penned the last codicil to her will, establishing Kamehameha Schools, dedicated to educating children of Hawaiian descent. Royal Hawaiian Center lands are owned owned by Kamehameha Schools and generate revenue for the education of Hawaiian children. The heritage lands at Helumoa, Waikiki, are considered "wahi pana" or storied lands rich with history, lore and cultural significance.
FEATURED | MADE IN HAWAII
Honolulu Cookie Company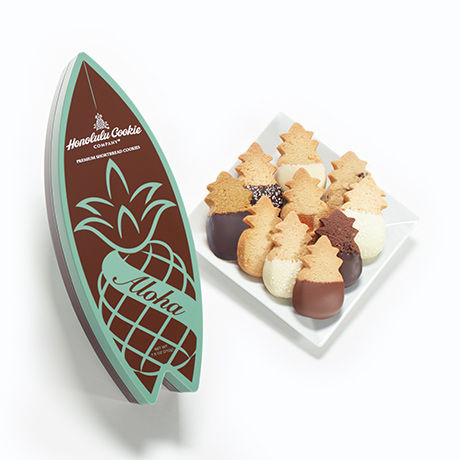 One of the best shortbread cookies blended with the exotic flavors of the islands. Each cookie is individually wrapped to maintain its crispness. Buy them separately or in a variety of gift boxes.

Locations in Waikiki

Hilton Hawaiian Village Waikiki Beach Resort
2005 Kalia Road
Honolulu, HI 96815

Waikiki Beach Walk
227 Lewers Street
Honolulu, HI 96815

Marriott Waikiki Beach Resort & Spa
2552 Kalakaua Avenue
Honolulu, HI 96815