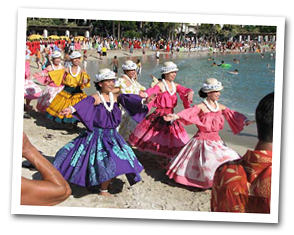 Discover Hawaii's rich culture and diversity at one of the many festivals and events occurring throughout the year. The unique traditions and warm aloha spirit of Oahu comes from its people. Nicknamed "The Gathering Place", Oahu is a melting pot of cultures and throughout the year, the many cultural festivities and traditions give residents and visitors many reasons to celebrate.
Take the opportunity to embrace the multi-cultural heritage, deep traditions and customs that are unique to our island. Delight your palate at a culinary event featuring one of the island's renowned chefs, immerse yourself in another world at one of Oahu's many cultural festivals celebrating Hawaii's diverse backgrounds, or feel the rhythm of the islands at an outdoor concert under the stars. There is sure to be something for everyone.
JUNE 2012
ROXY WAIKIKI CLASSIC
June 16-17, 2012
Queens Beach, Waikiki, HI
www.roxy.com/waikiki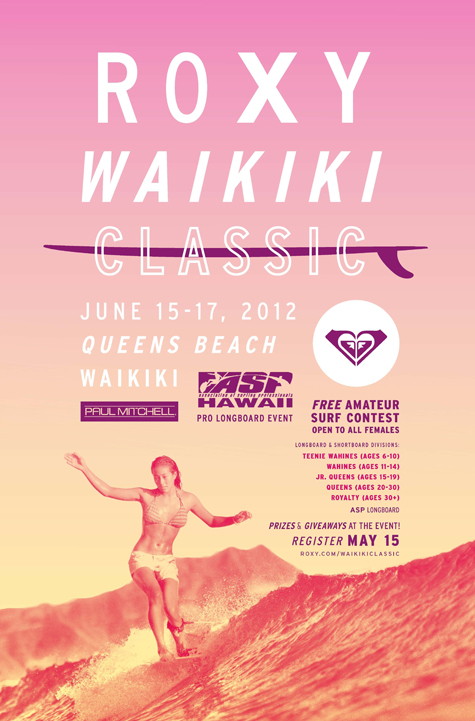 The 2012 Roxy Waikiki Classic is back in action on June 16th and 17th at Queens Beach in Waikiki! This event is for women of all ages (6+) in both Longboard and Shortboard and there are Roxy prizes to be won! The five divisions for entry are: Teenie Wahines (Ages 6-10), Wahines (Ages 11-14), Jr Queens (Ages 15-19), Queens (Ages 20-29) and Royalty (Ages 30+). An exciting addition to the event this year is the Women's ASP Longboard Qualifier showcasing talented pro surfers including Roxy's Kelia Moniz, Chloe Calmon, Vanina Walsh, and Jennifer Smith. For surfers and spectators in and out of the water the beach will be action-packed with music, giveaways, athlete signings are more! Paul Mitchell will be at the event giving samples, free hair styling and cool beach product tips for the summer! The Roxy Initiative and Kokua Hawaii Foundation will also be joining the event to set up designated recycling bins and running a free water refill station, so bring your own water bottles to the beach! Don't worry if you leave yours at home, you can grab a Roxy water bottle for a $5 donation to the Roxy Initiative. All donations will be given to the Kokua Hawaii Foundation to support their Plastics Free Schools program.
PAN PACIFIC HOOLAULEA
June 8, 2012
7:00pm - 10:00pm
Kalakaua Avenue

The highlight of the Pan-Pacific Festival is its Hoolaulea (street party) scheduled for Friday, June 8 from 7 p.m. to 10 p.m. along Waikiki's famous street, Kalakaua Avenue.

Join us as we celebrate the kick-off of the 33rd Annual Pan-Pacific Festival featuring nine stages of cultural performances including hula, Japanese dance, taiko drummers, and local entertainers. In addition, food booths, arts and crafts and multi-cultural exhibits will make this an evening to remember.

www.pan-pacific-festival.com
KING KAMEHAMEHA CELEBRATION FLORAL PARADE AND HOOLAULEA
June 9, 2012
9:00am - 4:00pm
Kapiolani Park

This colorful celebration honors the reign of King Kamehameha, who was responsible for uniting the Hawaiian Islands under his rule in 1795. The parade proceeds from Iolani Palace to Kapiolani Park, starting at 9am and features brightly decorated floats, energetic marching bands and traditional pau riders, who represent a Hawaiian royal court on horseback. The parade traverses the streets of Honolulu, from Downtown through Waikiki, and ends at Kapiolani Park where you can enjoy the Hoolaulea from 10am to 4pm.
ONGOING
KCC FARMER'S MARKET
Every Saturday
7:30 am to 11 am
Kapiolani Community College
Parking Lot C
4303 Diamond Head Rd.

Come early for the hot breakfast plates, prepared by a different restaurant each week, and stay for the fresh produce from Nalo Farms and Blue Lotus Farms, baked goods from KCC's culinary students, and locally made tropical jams and jellies, cheeses, and honey from Naked Cow Dairy, Latitude 22, and Big Island Bees.
ART AT THE ZOO FENCE
Every Weekend - Ongoing
Every weekend since July of 1954 hundreds of original paintings prints, and photos have been on display at the zoo fence and dozens of fine artists are on hand to meet. If you're visiting Honolulu, Art At The Zoo Fence is only a two-block walk from Waikiki. If you're lucky enough to live here, you can park at the Kapiolani Park Bandstand free parking lot just across Monsarrat Avenue from the Honolulu Zoo.