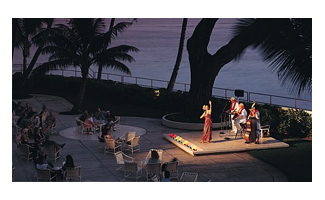 Waikiki offers a wide range of entertainment options to visitors and residents. Whether you are looking for Hawaiian music at sunset, an enjoyable evening show for the family, or dancing and cocktails after dinner, there is something to fit your desires.
Visitors can also experience Hawaii's diverse culture through the many events and festivals that take place during the year.
HARD ROCK CAFE HONOLULU
After more than two decades on Kapiolani Boulevard, Hard Rock Cafe Honolulu is surfing its way to Waikiki! Relocating to Honolulu's most vibrant location, Hard Rock International is thrilled to bring its signature guest experience to 280 Beachwalk at the corner of Kalakaua Ave. on November 23, 2010! The new Hard Rock Cafe Honolulu is the ideal locale to foster the brand's unique character appeal and cater to the evolving and distinctive needs of rockers of all ages who seek a reprieve from traditional casual dining experiences.
The 13,000-square-foot cafe includes spacious seating for 250, highlighted by an open-air lanai, a live music area, a vibrant bar and Rock Shop featuring Hard Rock's limited-edition merchandise. With state-of-the-art facilities, complete with cutting-edge multimedia technology, the new Hard Rock Cafe Honolulu is sure to contend as one of the city's premier dining and entertainment destinations.
Consistent with the brand's "Save the Planet" creed, and as a part of its broad development strategy, Hard Rock Cafe Honolulu was designed to achieve Silver LEED certification, as defined by the Leadership in Energy and Environmental Design (LEED) Green Building Rating System to provide a suite of standards for environmentally sustainable construction. Among several "eco-friendly" features, the cafe utilizes a self-regulating, energy-efficient lighting system and water conserving plumbing fixtures, effectively reducing its forecasted carbon footprint by 20 metric tons per year.
"After more than 20 years on the island, we are thrilled to be moving to 280 Beachwalk, the ideal location for the new Hard Rock Cafe Honolulu," said Hamish Dodds, President and CEO Hard Rock International. "Hard Rock is poised to be the perfect complement to this amazing location."
New Look ~ New Vibe ~ New Memorabilia Technology - In the latest example of Hard Rock's concept-driven design evolution, the new Honolulu cafe was developed to integrate technology, creating a new look and vibe that will rock Waikiki. Hard Rock Cafe Honolulu showcases new and unique interactive experiences for guests – namely a 52" Rock Wall™ Solo, featuring innovative high resolution multi-touch technology that enables fans to explore the world's greatest rock 'n' roll memorabilia collection and virtually tour all of Hard Rock's venues worldwide.
In addition to the cutting-edge multimedia memorabilia experience, hundreds of items from Hard Rock's iconic collection adorn the walls of Hard Rock Cafe Honolulu, including items from many of the world's most beloved and recognizable musicians, as well as contemporary artists with local ties. Key memorabilia items are now on display, from Jack Johnson's guitar strings, set list and surfboard; to Ben Harper's Hawaiian Lapsteel guitar; to Ziggy Marley's "One Love" green army jacket; and the badass surf wall featuring surfboards from past and present, complete with an autographed picture of the great Duke Kahanamoku.
Eat Your Heart Out! - Guests can enjoy fresh, high-quality items from Hard Rock's scratch-based menu, including the favorite Legendary Experience menu, featuring a selection of 10-ounce Certified Angus Beef Legendary Burgers. Hard Rock's Local Legendary, The Hawaiian, an item created exclusively for the new cafe, is a 10-ounce USDA Prime Choice Certified Angus Beef patty grilled and topped with pulled pork, Monterey Jack cheese and a grilled pineapple slice, then topped with a Hawaiian Teriyaki sauce and served on a toasted bun with Hawaiian fries covered with sesame oil, Hawaiian sea salt and Furikake seasoning.
DUKE'S CANOE CLUB
There may be no more exciting place to people-watch than at the Barefoot Bar. You could say it's the coolest hotspot on the island. Enjoy live music by Henry Kapono on Sunday, and live concerts on the beach every Friday, Saturday and Sunday.
Sip an exotic cocktail and enjoy a menu of memorable dishes including sandwiches, burgers, fish tacos, pizza, Hawaiian local plates and pupus.
Best Places to Eat in Waikiki
Watch over 40 Videos of the best places to eat in Waikiki and all across Oahu!
View Restaurant Listings now