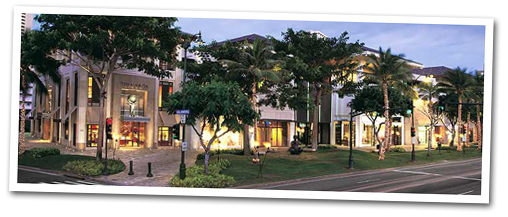 Luxury Row at 2100 Kalakaua Avenue offers one of the finest collections of luxury brands in the world, with more than 111,000 square feet of international retailers including Chanel, Gucci, Miu Miu, Saint Laurent, Coach, Tiffany & Co., Moncler, Bottega Veneta and Hugo Boss. Located in the heart of Honolulu's Waikiki beach resort and urban retail district, Kalakaua Avenue's "Luxury Row" is a renowned international travel destination.
Tiffany & Co.
An internationally renowned jeweler and specialty retailer, Tiffany & Co., is legendary for their exquisite and striking creations. Unsurpassed in quality and design, Tiffany's assortment of exclusive lines of products is steeped in history and pride, making Tiffany & Co. one of the finest retailers in the world today.
Coach
Coach has emerged as a preeminent american designer and producer of fine accessories, including handbags, business cases, luggage and travel accessories, wallets, outerwear, eyewear, scarves and fine jewelry. Coach is a unique combination of original American attitude and design and a heritage of fine leather goods and custom fabrics.
Miu Miu
Miu Miu is a high fashion women's clothing and accessory brand from the Prada fashion house. Miu Miu opened in 1993 and is headed by Miuccia Prada. occupying some of the world's prime retail positions in cities, including New York, London, Paris, Milan, Tokyo, Beijing and Hong Kong. Miu Miu's global boutiques are the bricks and mortar embodiment of the experimental spirit of the brand. conceived as continually evolving sets, the shops suggest a dramatic but playful attitude to shopping and dressing up.
Saint Laurent
Saint Laurent is a fashion powerhouse known for its pioneering spirit, innovation and originality. saint laurent is internationally synonymous with French fashion, continually earning praise for its unrelenting ingenuity, creating fashion landmarks and capturing the opulent essence of haute couture.
CHANEL
Chanel one of the world's preeminent French fashion houses, Chanel hosts a flagship store at 2100 Kalakaua Avenue in Waikiki.Chanel's three-level flagship boutique at Luxury Row offers an assortment of ready-to-wear, accessories, shoes, fine jewelry, watches, fragrances and cosmetics. Under the current guidance of designer Karl Lagerfeld, Chanel remains dedicated to luxury, fashion, quality and image.
Gucci
Gucci is hailed as the leading contemporary luxury goods retailer. offering a full range of women's and men's ready-to-wear, accessories, shoes, jewelry and other items for home and personal use. Gucci is known for the quality of its products, distinct and creative designs, and modern store design.
Montcler
Montcler outerwear collections marry the extreme demands of nature with those of city life. The brand was founded at Monestier-de-Clermont, Grenoble, France, in 1952 and is currently headquartered in Italy.
Bottega Veneta
Bottega Veneta was founded in 1966 near Venice, Italy and is now world famous among luxury goods brands. Bottega Veneta's Luxury Row boutique carries a full line of men's, women's and home collections, including ready-to-wear, handbags, jewelry, shoes, leather goods and tabletop. Led and inspired by the creative talent of Tomas Maier, Bottega Veneta today is synonymous with discreet elegance and unsurpassed quality.
Hugo Boss
Hugo Boss features luxury apparel and accessories for both men and women. the Boss store offers Womenswear and Menswear in all core Boss brands – BOSS Black, BOSS Selection, BOSS Orange and BOSS Green.
FEATURED | MADE IN HAWAII
Honolulu Cookie Company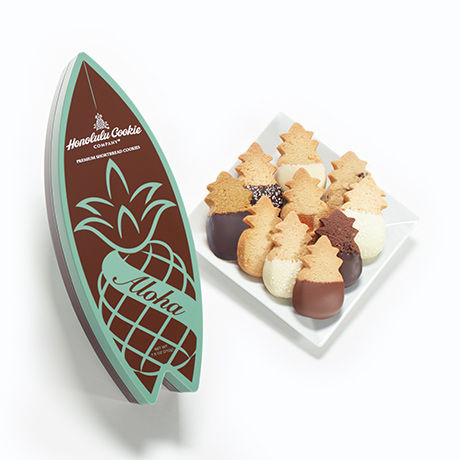 One of the best shortbread cookies blended with the exotic flavors of the islands. Each cookie is individually wrapped to maintain its crispness. Buy them separately or in a variety of gift boxes.

Locations in Waikiki

Hilton Hawaiian Village Waikiki Beach Resort
2005 Kalia Road
Honolulu, HI 96815

Waikiki Beach Walk
227 Lewers Street
Honolulu, HI 96815

Marriott Waikiki Beach Resort & Spa
2552 Kalakaua Avenue
Honolulu, HI 96815