Snorkel, Sightsee and Snorkel the West Coast of Oahu
Unlimited Buffet -- All on one Boat!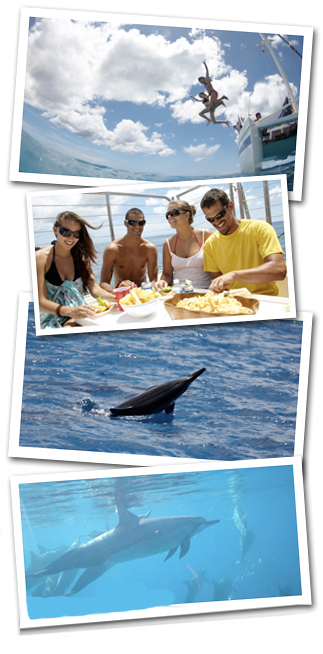 See more of the Oahu coastline than any other boat tour. Explore the South Shore of Oahu from Waikiki past Pearl Harbor and the Ewa Plain, then set sail on the Ko Olina's newest sailing catamaran to view dolphins, turtles and other marine life including whales in-season (November through April).
Come aboard our Gold Coast Catamaran. On the 48-passenger cat, we provide dolphin, turtle and whale-watching, with snorkeling and sailing. When the sails go up and the only sounds you hear are the ocean and the wind, you will realize that this moment will be one of the most memorable of your entire trip.
Snorkel at a calm & vibrant anchorage! In-water help by Lifeguard-certified crew.
Unlimited buffet, unlimited nonalcohol drinks and two free bar drinks, free transportation, and snorkel gear included. Guests seeking an adventurous ride can enjoy spray from the warm blue water when seated in the nets at the front of the boat. There are two convenient restrooms large enough for a change of clothing.
What To Know
Available everyday from 9:00 AM - 12:00 PM. Includes transportation to the West side of Oahu departing Waikiki at 7 AM. Transportation also available for guests staying at Ko Olina.
Daily boat departures are weather and surface conditions permitting.
All captains and crew are Lifeguard certified, plus Firs Aid/CP, AEDs are aboard vessel. Wildlife viewing protocol is observed for your safety, enjoyment & to ensure dolphin protection.
To cancel or make changes to your reservation, please call (808) 721-1552.
*Waikiki.com shall not be liable to any individual utilizing these tour/activity programs for delays, injury, loss, accident or damage to persons or property beyond its control. Natural phenomena are random and out of the control of the tour provider. Prices, features and/or menu are subject to change without notice.