Be in Magical Molokai in just 20 minutes!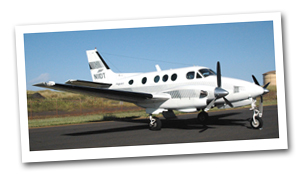 Let us pamper you with your private prop jet to whisk you in safety and pressurized cabin comfort from our private terminal at HNL airport to the magic of Molokai island, home of the pristine and beautiful Panda Ranch.
Within minutes from the crowded civilization of Oahu, your sleek jet will have landed you on Molokai island, where you will be met by the owner of Panda Ranch. Your first stop will be at the longest stretch of white sand beach in the State of Hawaii, where the only footprints you will see will be your own.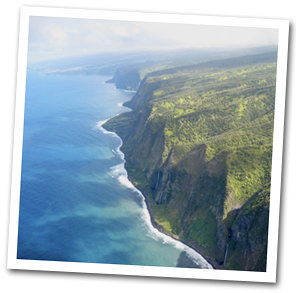 Go ahead and pamper yourself. Select from a wide selection of natural citrus, served together with a 5 star gourmet meal in a private yurt dining room, overlooking paradise. Or perhaps you might want to stretch out for a few laps in the only private olympic 50 meter pool in Hawaii. After your lunch, you might feel tempted to lounge in a rope hammock, tethered to the trunks off ironwood trees, caressed by the balmy trade winds.
But don't fall asleep just yet. There's a whole lot more to come on your journey to Molokai. The ground tour, escorted personally by the owner of Panda Ranch takes you to special views known only to the local residents
Beechcraft King Air E90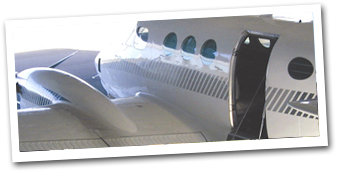 We use a Beechcraft King Air E90. It is a quiet, comfortable, turbo-prop which has a great reputation for safety and reliability in the aviation industry. In fact, most flight take 30 minutes or less
The aircraft is not only pressurized, but also air-conditioned and has rotating polarized windows to cut out annoying glare from the sun. We can carry up to 9 passengers.
Relax and Keep your Shoes On!
About Marjet Hawaii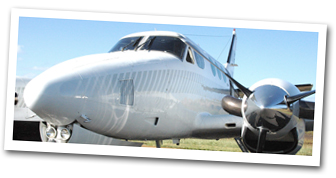 We are a private charter company offering its customers exceptional private air service and providing you with th e most secure, stree-free and enjoyable flying experience throughout the islands.
Marjet's mission is to bring customers exceptional service at affordable prices. Luxury charter service on a 24/7 basis. Marjet has been flying the Hawaiian Islands since 1975 and know the territory. No long lines an inconvenience at the airport. FAA Part 135 Approved and FAA Approved Aircraft Inspection Program. Multi-Lingual flights guides available with prior notice.
You may be looking for the most convenient way to get from one island to another in order to efficiently get started on your vacation. You may have a business appointment on another island that you must get to on time. You may want to take one of our tours in order to see the beauty of the Islands close-up. Whatever your reason is for flying with us, we want to make sure that you carry away a positive experience that you will want to repeat often.
What To Know
Duration: 6 hours
Days of Operation: 7 days a week
Departure Times: AM and PM tours available.
Departure Point: Honolulu International Airport
Maximum Capacity: 8
Minimum Passengers: 4
Subject to Availability
Minimum of 4 passengers required

Tour narration by pilots who are State of Hawaii Certified Tour Guides.
Total fares include applicable taxes and fees. All seat assignments will be determined by weight and balance. Due to guest comfort and the weight and balance constraints of the aircraft, anyone weighing 250 pounds (109 Kg) or over will be required to pay for an additional full seat upon flight confirmation. Federal aviation regulations require each passenger to weigh before boarding a private charter flight.
Any child under 24 months of age is welcome to ride on an adult's lap. Children 24 months and older require an individual full-fare seat. This activity operates weather permitting. No diving within 24 hours of flight.
Reservation confirmation is required.
Check-in for our flights is 45 minutes prior to tour time.
Driving Directions
From Waikiki: Take H-1 freeway west to Nimitz exit, to Lagoon drive. Our hangar is located at 18 Lagoon Drive.
From Waikiki: (alternate route) Take Ala Moana Boulevard to North Nimitz Highway, to Lagoon drive. Our hangar is located at 18 Lagoon Drive.
From North Shore: Take H-2 freeway south to H-1 freeway Honolulu bound, exit Nimitz Highway to Lagoon drive. Our hangar is located at 18 Lagoon Drive.
Frequently Asked Questions
Q: What kind of aircraft do you use?
A: We us a Beechcraft King Air E90. It is a quiet comfortable, turbo-prop which has a great reputation for safety and reliability in the aviation industry.

Q: How long does it take to fly between the island?
Most flights take less than 30 minutes. Our flight times are slightly longer than the airlines. However, our point to point times are much shorter because there is no waiting in long security lines and no waiting for your baggage. In fact, all baggage is carried in a compartment inside the aircraft.

Q: Is your aircraft pressurized?
A: Yes it is. It is not only pressurized, it is air conditioned and it has rotating polarized windows to cut out annoying glare from the sun. No airline has this feature.

Q: Can we take a pet?
A: Of course you can. For safety reasons the pet must be in a suitable size and type of cage or crate. Your pet will be in the cabin with you, riding in pressurized air conditioned comfort.

Q: Where are you located?
A: We are located on the south ramp of the Honolulu International Airport at: 18 Lagoon Drive in Honolulu.

Q: Can we drink alcoholic beverages aboard the aircraft?
A: Of course. We want you to enjoy your flight. We want you to feel at home on your flight. However, remember safety is always our first concern.

Q: Is catering available?
A: Catering is available with advance notice.

Q: Can you carry freight?
A: Yes, we can carry freight between all of the islands. In fact, we are approved by the FAA to carry hazardous materials on non-passenger flights.

Q: How many passengers does your aircraft accommodate?

A: We can carry up to 9 passengers. However, when carrying 9 passengers there is not much room for baggage and passenger comfort is decreased. If you have a large group and are not taking much baggage this may work for you considering that our flights are relatively short.

Q: I'm staying in Waikiki. Can I be picked up by a large luxury limousine?
A: Of course you can. There is an additional charge and we need prior notice.
*Waikiki.com shall not be liable to any individual utilizing these tour/activity programs for delays, injury, loss, accident or damage to persons or property beyond its control. Natural phenomena are random and out of the control of the tour provider. Prices, features and/or menu are subject to change without notice.