The Traditional Hawaiian Luau experience that recaptures the "Spirit of Old Hawaii"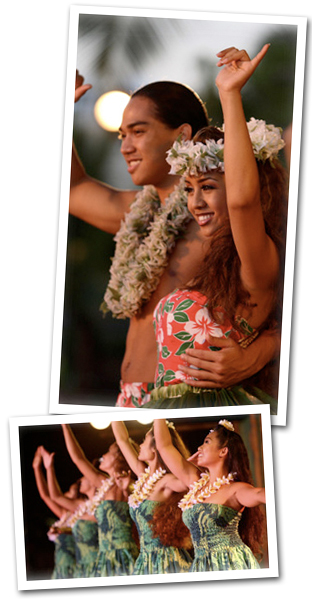 Let us take you back 100 years & 27 miles from Waikiki to their exclusive beachfront property on the shores of West Oahu. Since 1976, over 3 million visitors to our Islands have become a part of our Ohana. Acclaimed as America's Best Luau in "America's Best 100" and has been filmed by ABC's "Good Morning America". Come to where you will still experience a traditional luau that recaptures the "Spirit of Old Hawaii".

You will leave with fond memories of what a true luau is all about…a one of a kind experience not found anywhere else in the world.

Upon arrival, all guests are traditionally welcomed with a Hawaiian Shell Lei. The sounding of the conch shell announces the beginning of the evening's festivities! Picture taking opportunities await as the Royal Court of Polynesia makes its entrance. As the imu (underground oven) is uncovered, the savory aroma of the Kalua Pua'a (roasted pig) – your main course of the evening – reminds us that dinner is soon to be served.

The all-you-can-eat buffet features an array of tasty Hawaiian – American selections, which include traditional Island favorites sure to please even the less adventurous.

The night is filled with beauty, color, and excitement as our multi-talented kane (men) and wahine (women) take you through a non-stop, action-packed journey throughout the Islands of Tahiti, Samoa, New Zealand as well as the romantic hula of Hawaii.
Dances of the Pacific
Come and take a musical journey with us as we bring the islands of Samoa, Tahiti, New Zealand, and Hawaii to life in our exciting Polynesian Review.
From sunny shores of Papaeete, are the graceful and dazzling Tahitian dancers with their colorful costumes and gravity defying headdresses. Tahitian dance is known for its swift and steady rhythmic hip movements. Incredible stamina and dance expertise are required to perform this high-energy rendition.
Fire-knife dance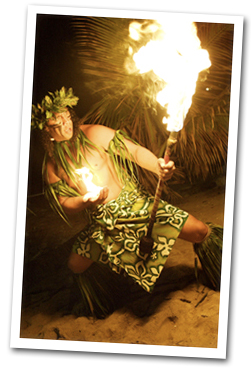 The highlight of the show is the Samoan Fire-knife dance, known as the "Tooth of Death". In the original interpretation, this dance was performed with a dangerously sharp blade.
The story behind the dance is of a Samoan chief making a movie for Hollywood many years ago. He decided to include the flaming torch in his part to make the dance more spectacular.
The show also includes the energetic Samoan Slap Dance, a traditional display of male prowess. True to the name, the dancers slap their chests, arms and legs repeatedly throughout this segment. For Samoan men, this was an opportunity to demonstrate their bravery and courage.
Hula at the Luau
No luau would be complete without the swaying hips and graceful hand motions of the Hula. The dancers tell beautiful and expressive stories of love and life in old Hawaii using elegantly simple implements such as the ipu (polished hollowed-out gourd) and uli uli (brightly colored feather topped gourds).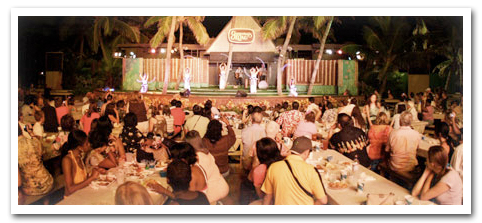 What To Know
This Luau is available Tuesday through Sunday. Closed on Mondays.
Includes:
Unlimited soft drinks, coffee & tea

An all-you-can eat buffet dinner

3 complimentary alcoholic drink coupons for those 21 years & older

Imu ceremony and exciting Polynesian show

Complimentary round-trip transportation from designated pick up locations throughout the Waikiki area

Luau begins at approximately 6:00PM and ends at approximately 8:45PM

Returns approximately 10:00 pm
*Waikiki.com shall not be liable to any individual utilizing these tour/activity programs for delays, injury, loss, accident or damage to persons or property beyond its control. Natural phenomena are random and out of the control of the tour provider. Prices, features and/or menu are subject to change without notice.