Enjoy Audio Tours that automatically play while you drive! Discover Oahu the way you want! Turn your car into your own Oahu Tour Guide with 225 Activation Points of Interest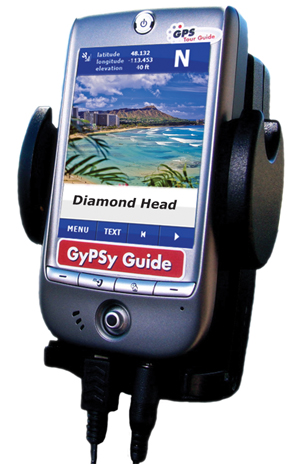 Waikiki is a fantastic place to visit and soak up the sun and waves. But at some time during your stay, you will want to get out and explore around the island. The best way to do that is to rent a car and a GyPSy Guide and explore on your own schedule and visit the places you want to see. The best of Oahu tours is divided into 2 comfortable drives. Highlights include Hanauma Bay, Diamond Head, North Shore surfing beaches, Boyodo In Japanese temple and much more.
Enjoy two guided tours of Oahu from the comfort and convenience of your rental car with a GPS-activated audio tour from GyPSy Guide Oahu. Rent one of our units and just drive, sightsee and listen as precisely timed audio content is seamlessly delivered, leading you to the best spots and must-see stops. You'll visit famous landmarks like Diamond Head State Park, beautiful beaches like Hanauma Bay and Lanikai in Kailua, lush rainforests like the Nuuanu Pali and panoramic vistas like the Sea Arch. You'll also learn about Hawaiian history and culture, hear old legends and learn some Hawaiian words. This is how to tour Oahu!
While visiting Oahu you will want to rent a car and go and explore this magical island paradise. And Oahu has spectacular scenery and diversity for you to enjoy. You won't miss a thing as you drive if you have a GyPSy Guide as your own tour guide in your car.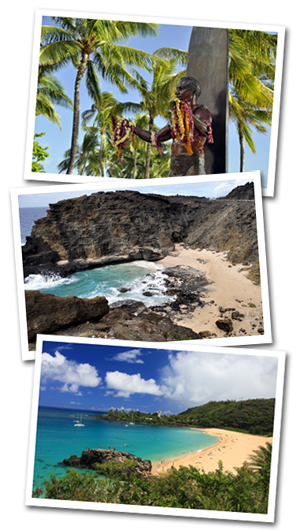 Rent a GyPSy Guide and take yourself on your own fascinating guided driving tours around Oahu. Visit world-famous Diamond Head, Hanauma Bay and Lanikai Beach on our Volcanoes and Beaches Tour. And you will definitely want to take the Circle Island Tour of Oahu to visit Dole Plantation, Haleiwa and the North Shore, Laie, Byodo Temple, Nuuanu Pali, Downtown Honolulu and more!
GyPSy Guide plays interesting and entertaining commentary and stories AUTOMATICALLY as you approach interesting places. Our team of professional tour guides has filled GyPSy Guide with stories, facts, tips and advice to make sure you don't miss any of the best things to see and do. The audio is recorded by real people and plays through the stereo as you drive, just like listening to the radio.
GyPSy Guide leads you along the tour route and tells you stories about the Island's beautiful culture and interesting history in addition to many suggestions how to best spend your valuable time, just like having a local friend. If you don't want to join a bus tour, but you still want to see all the attractions and hear the interesting stories, then GyPSy Guide is the way to go.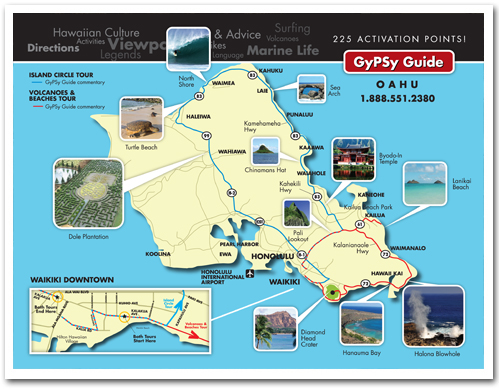 CDs and guide books can't tell you what to stop for and what things to notice as you drive, and many interesting places don't even have signs. GyPSy Guide is the best way to drive and be informed and entertained.
Rent a GyPSy Guide from one of our convenient locations in Waikiki. Be independent in your own car or rental car, let GyPSy be your tour guide. Its easy!
GyPSy Guide automatically plays audio commentary about what you are seeing as you drive along. The screen will change as it activates. It tells you about interesting things that you are approaching. You can decide where you want to stop or when you want to keep going to the next place of interest.
You will hear stories that relate to the area, Oahu and Hawaii. The stories area a mixture of history, legends, culture, and much, much more. You will enjoy a much richer experience than just looking and guessing!
GyPSy Guide Oahu
GyPSy Guide is the state art of technolgy and entertainment in GPS tours. Using a combination of sophisticated technology and content prepared and presented by professionals, GyPSy Guide delivers a whole new dimension in drive touring.
GyPSy Guide can be installed in any car or vehicle that has a stereo, including any rental car. Simple to set up, once it connects to satellites you are ready to tour. Just drive and everything happens AUTOMATICALLY, playing commentary about the things you are seeing, just as they come into view.
Prepared by local expert tour guides, GyPSy Guide is filled with interesting stories and information, tips and advice about what to do with your precious vacation time. Tour routes are prepared to ensure that you can the opportunity to see all the best things an area has to offer. But if you choose to skip something or to stay longer at a place you enjoy, no problem, GyPSy will just pick up wherever you next join the routes.
Just because you don't want to join a bus tour doesn't mean you don't want to hear all the fascinating information about the area you are visiting. No need for guide books as you drive, let GyPSy Guide be your tour guide as you enjoy your own driving tour.
GyPSy Guide is the most comprehensive driving tour guide available, now available on Oahu and Maui.
What To Know
Subject to availabiity. After your reservation has been processed we will email you a voucher with the location and time a representative will install the device into your rental car. Installations are scheduled between 9 AM to 10 AM. If you need to make arrangements for a later time, please indicate that in comment box when checking out.
A Credit Card is required as a security deposit for the equipment, so please remember to bring one with you. Visa or Mastercard only.
Each tour may take a day, depending on where and how long you may stay at a point of interest. For the Volcanoes & Beaches Tour we recommend you stop at Hanauma Bay and also Lanikai or Kailua Beach. To be prepared bring your swimsuit, towel, sunscreen, snorkel gear, all the things you would need for a day at the beach. There are also two hikes featured on the this tour, Diamond Head and Makapu'u. In case you are feeling adventurous and decide to go on these hiking side trips, we would also recommend that you bring extra water and your sneakers or hiking shoes. To learn more about the Diamond Head Hike, please click here. A light jacket would also be ideal for the stop at the Nu'uanu Pali Lookout.
For the Island Circle Tour bring your beach stuff for a stop at Waimea Bay or Sunset Beach. We recommend stopping for a shave ice or lunch in Haleiwa. Please note that after you leave North Shore, there are not too many places you could stop at to eat. There is a Foodland grocery store and Starbucks located after Waimea Bay and a couple of lunch trucks. And after Turtle Bay, there are a several shrimp trucks and fresh fruit stands popular with visitors. After this are the choices are very limited for places to eat. You also may consider before going out on your tours to stop at an ABC Store in Waikiki to pickup some water and snacks.
To cancel or make changes to your reservation, please call (808) 721-1552.
*Waikiki.com shall not be liable to any individual utilizing these tour/activity programs for delays, injury, loss, accident or damage to persons or property beyond its control. Natural phenomena are random and out of the control of the tour provider. Prices, features and/or menu are subject to change without notice.