Oahu Mini Circle Island
This adventure is designed to view many of Oahu's scenic vistas and natural attractions in just a few hours.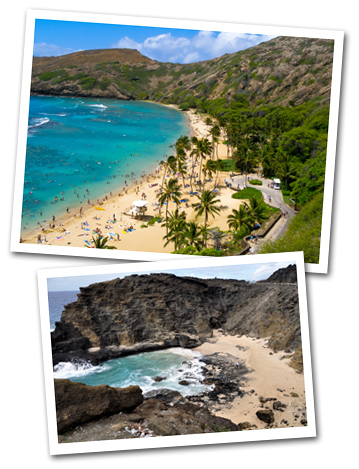 Enjoy this scenic 4-hour motor coach tour of the Island of Oahu! Experience the unique structure of Diamond Head, the lush tropical beauty of the Nuuanu Rainforest & the world famous beaches of Oahu! Roundtrip Waikiki hotel transportation & expert narration included.
Travel along a street named Magnificent Drive and pass some of Oahu's most impressive homes! We head up to Mt. Tantalus where the views of the entire island are breathtaking. The view from Tantalus is one of the most panoramic vantage points on the island.
This exciting tour celebrates the nation's 44th President - Barack Obama. You'll travel to key locations, learn about historical events and most importantly, visit Hawaii's special place that played a key role in shaping President Obama's beliefs, values and life. You'll also be treated to Hawaiian legends and history in an attempt to better understand the youth and early adult years of the 44th president of the United States.
This very special and amazing tour takes you on a mini circle island tour around the scenic south shores of Oahu. Visitors will be taken on deluxe transportation to key historical locations and also learn of the special events and the Hawaiian culture that has played a key role in shaping President Obama's life. Guests will learn of Hawaii's very special history and unique culture of family values, respect for neighbors, and the wonderful diversity and inclusiveness of our communities. This tour is sure to give you extraordinary stories that can be shared for a life-time.
Highlights
Obama's Birth Place
Amelia Earhart Lookout on the slopes of Diamond Head
View Queen Emma Summer Palace
Nu'uanu Pali Lookout
Drive by Makapu'u Point
Halona Blowhole
Hanauma Bay (except Tuesdays)
Sandy Beach
Makapu'u Lookout
Waimanalo
Kailua Beach
What To Know
Tour operates: Monday, Wednesday, Friday
Departure Time and Return: Pickup begins at 1:00pm and will return to Waikiki at approximately 5:00-5:30pm.
Pick up Information/Inclusions: Complimentary hotel pickup and returns in deluxe touring vehicles included from various Waikiki hotels & resorts. Deluxe services with Professionally certified narrated tour.
Tour Restriction(s): Haunauma Bay is closed on Tuesdays.
*Waikiki.com shall not be liable to any individual utilizing these tour/activity programs for delays, injury, loss, accident or damage to persons or property beyond its control. Natural phenomena are random and out of the control of the tour provider. Prices, features and/or menu are subject to change without notice.