Join us for the finest sportfishing adventure on Oahu!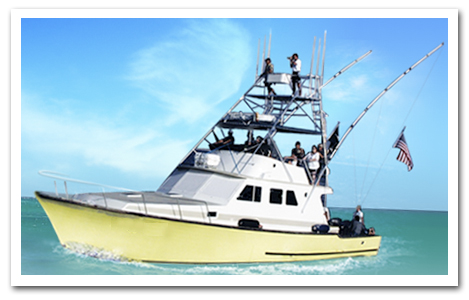 Join us for the finest sportfishing adventure on Oahu, in Hawaii! Daily Private & Shared Trip Available
There are options for full-day, 3/4 day and 1/2 day private or shared sportfishing trips. We also offer island hopping trips, shark fishing trips, sunset cruises and memorials at sea. Schedule special and VIP trips for multiple days, research projects, films & movies and more...
Daily fishing charters depart from 6:00 AM. Just bring your food and drink for the day, large coolers and ice are already on board. Catering is also available on request. Fishing tackle, gear and license are included. We welcome seasoned anglers or those with no previous fishing experience. Our daily morning briefing covers all the details to get you ready for that first bite!
Oahu offers access to some of the best natural fishing grounds in Hawaii to catch big game fish such as Pacific Blue Marlin, Ahi (yellowfin tuna), Mahi Mahi (dorado), Ono (wahoo), and Aku (skipjack tuna).
If you are looking to do some serious sportfishing here on the beautiful Hawaiian Island of Oahu, you have come to the right place. Join us for the finest sport fishing adventure in Hawaii! With over 50 years of sportfishing experience on Oahu, Hawaii we have the knowledge to help you land the big one. We have a proven track record of bringing in fish and giving customers a great time out on the ocean. We are also conveniently located close to Waikiki hotels along Ala Moana Blvd.
Our boats are all air-conditioned and equipped with top of the line fishing gear and electronics. We perform dry dock maintenance annually to keep our fleet in prime condition.
What To Know
Operates: Year-round
Shared Charters: Shared Charters have no choice in boat and carry a maximum of 6 passengers.
Includes: Fishing equipment, bait and ice. Each boat has a large cooler full of fresh ice, refrigerator, and microwave.
No fishing license required.
Location: Honolulu, HI 96813
Where to Meet and What to Bring
Check in for morning trips is 5:45 AM. Please bring food and beverages (beer and cocktails okay), hat, sunscreen, towel, long-sleeved shirt or light jacket, sunglassess, and anything else needed for a day out on the water. Bananas are not permitted due to superstition.
Fleet
53' Custom Sport Fishing Yacht: designed especially for sport fishing in Hawaiian waters. Cabin is fully air conditioned, with television/VCR, stereo, full galley, two restrooms and hot shower. Boasts a very spacious back deck, large shaded bridge with a tuna observation tower. The vessel is available for long range or custom outer island/overnight trips and tournament charters.

41' Tollycraft Sport Fisher: New custom interior with an air conditioned cabin, stereo, microwave and refrigerator, and restroom with hot shower. Recently refurbished and repowered, equipped with a large, comfortable, shaded bridge with bench seating. Very quiet, and very fast. This boat holds a maximum of 6 passengers.

38' Bertram: Newly refurbished with a new custom interior. Air conditioned cabin, stereo, microwave and refrigerator, shaded fly bridge, and restroom with hot shower. This boat is comfortable and very quick.
Fish Policy
Company fish policy is that guests are entitled to up to half of any fish under 100 lbs in eating portions; any fish over 100 lbs will remain with the boat. All fish are subject to captain's discretion.
Cancellation Policy
All trips are subject to a 72 hour cancellation policy. If cancellation is not made 72 hours prior to the trip, the customer will be charged in full for the price of the trip. Refunds will not given if your party wishes to return early due to seasickness.
F.A.Q.
Q: What to bring on a fishing trip?
A: A light jacket (it's chilly with the trade winds in the morning and night off shore) sunscreen, food, drinks, take Dramamine if necessary for sea sickness 24 hours before trip. We provide fishing gear, tackle, refrigerator, ice and cooler for food and drinks.

Q: What if I get really sea sick?
A: If it's a private charter and your party wants to go home we will go... if it's a share we will put it to a vote. We are on the ocean and there will be waves so if you do get sea sick take the necessary precautions like Dramamine or doctor prescribed patch.

Q: Can I take home my fish?
A: After an exciting day of deep sea fishing off Oahu, who wouldn't be excited about taking home their catch? For fish under 100 lbs; you are welcome to eating portions up to 50% of the fish up to 50 lbs total of fish. Any fish over 100 lbs will not be cut. All fish cutting is ultimately at the captain's discretion. Make sure to ask for homestyle recipes!

Q: What if weather causes a cancellation in our trip?
A: If bad weather forces us to stay in the harbor if we cannot reschedule your trip we will give you a full refund.

Q: What type of fish can I expect to reel in?
A: A Typical Days Catch on an Oahu sportfishing trip can include mahi mahi, ahi, aku, and marlin.

Q: What's the difference between a shared charter and private charter?
A: On a shared sportfishing charter you will actually share the boat with other people on the trip. If you were to purchase a private sportfishing charter you and your party will be the sole occupants on the boat.

Q: Can I go fishing even if I know absolutely nothing about fishing?
A: Yes! We will teach you everything you need to know. In the morning when you arrive our crew will go over all the details with you that you will need to know to reel in your fish. If you have any more questions about what you need to know when you're in the chair fighting a fish or the fishing strategies we employ while trolling here on Oahu all you need to do is ask.
Price and contents: subject to change.

To cancel or make changes to your reservation, please call (808) 721-1552.
*Waikiki.com shall not be liable to any individual utilizing these tour/activity programs for delays, injury, loss, accident or damage to persons or property beyond its control. Natural phenomena are random and out of the control of the tour provider. Prices, features and/or menu are subject to change without notice.