Dolphin Watching, Sightseeing and Snorkeling Cruise - Hop aboard Oahu's only marine vessel designed exclusively for the best ocean activity experience.
Our cruise adventure is the only experience that will take you up the entire Waianae coast (west coast of Oahu), from Ko 'Olina Marina to the northernmost tip of the coast, the sacred Ka'ena Point.
Learn about the magical history of our islands and the Waianae coastline as our crew enchants you with legends and history of this beautiful land.
Get your video and still cameras ready, because we'll see with Dolphins (Nai'a), Whales (Kohola) [in season], Green Sea Turtles (Honu), and Flying Fish (Malolo) along the way! When we do meet up with the dolphins and whales, we'll stop the boat, and sit with them as our knowledgeable crew will tell you everything you want to know about these amazing and beautiful creatures.
After an exciting ride up the coast, we'll enjoy an hour of snorkeling just off the Ka'ena Cliffs, past the end of the road, where the only access is by boat or hiking. We provide the best of snorkeling equipment for you to enjoy as you swim in the sparkling blue water of Makua amongst unspoiled reef and sea life where no other tours take you.
While still tingling from your snorkeling and dolphin watching experience, enjoy our sumptuous lunch buffet, and sip on a tropical Mai Tai, an ice-cold beer or any of our other beverages to your heart's content. Let the cool Hawaiian breeze relax your soul as we make our way back down the coast to our luxurious Ko 'Olina Marina home.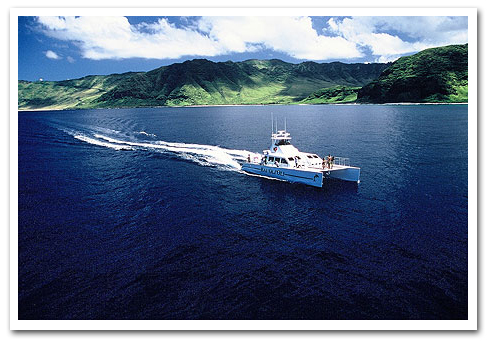 Oahu Cruise Highlights:
The only tour that takes you along the entire West Coast of O'ahu!
Fully narrated in both English and Japanese
Super clean and very spacious change rooms/toilets
Six warm fresh-water showers
Spacious cabin with lots of padded seating, perfect for enjoying the view in comfort
High grade snorkel equipment with soft silicone seals, optical lenses and padded split-fins provided as well as instructional guidance for beginners
Personal attention with never more than 12 passengers to every crew member
Sumptuous hot buffet, alcoholic and non-alcoholic drinks included
Transportation to and from your Waikiki hotel included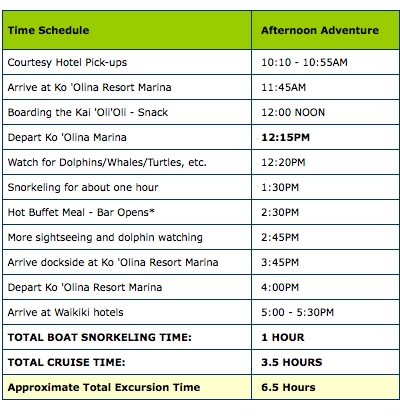 What To Know
Goes about 40 to 50 miles round trip, and emphasizes going all the way to beautiful Makua Valley, Yokohama Beach and even Ka'ena Point.

Has a total boat time (snorkeling plus cruise/watching time) of 3.5 HOURS.

ALL CRUISES include one hour on a snorkel site of the captain's choosing (according to conditions of the day), with the same professional quality gear and instruction from the friendly crew.

If you do not see dolphins and/or whales, you may return for another cruise (subject to space availability. Meal, and transportation if needed, will be charged).

No alcohol will be served until the last snorkeler is back on board and the snorkeling closed.

This is a barefoot cruise and your shoes will be stored at the dock.

Seasonal Schedule Changes:
Please call us for more information about seasonal changes.

To cancel or make changes to your reservation, please call (808) 721-1552.
*Waikiki.com shall not be liable to any individual utilizing these tour/activity programs for delays, injury, loss, accident or damage to persons or property beyond its control. Natural phenomena are random and out of the control of the tour provider. Prices, features and/or menu are subject to change without notice.