The Hawaiian Luau you've dreamed of exists here!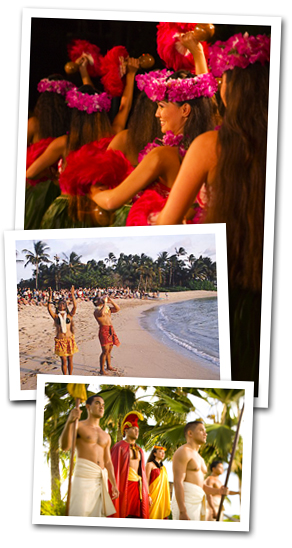 Enjoy an unforgettable evening of fun activities, delicious island cuisine and spectacular entertainment at Hawaii's Best Luau!
A tropical Mai Tai greeting and live Hawaiian music set the festive mood of the evening. Casually stroll through the Hawaiian Village and learn the Arts & Crafts of the islands or test your skills at our Hawaiian Games.
After the delightful Shower of Flowers, participate in the Hukilau on the Beach and learn the net fishing techniques of old Hawai'i. Witness the pageantry of the Royal Court Procession and the time-honored techniques of underground oven cooking at the Imu Ceremony.
The evening continues with a feast in the company of friends, old and new. Bring your appetite to fully enjoy Paradise Cove's extensive menu which tastefully blends the best of traditional Hawaiian dishes, local favorites and continental cuisine.
With the most spectacular Hawaiian sunset as a backdrop, our award-winning performers will entertain and amaze you with an unforgettable display of songs and dances of Hawai'i and Polynesia at the incomparable Paradise Cove Extravaganza.
What To Know
Paradise Cove Luau is open daily. Gates open from 5:00pm and ends around 9:00pm (Please note that start and end times may vary slightly)
Round Trip Transportation available from Waikiki
Shell Lei Greeting upon Arrival
Mai Tai Greeting Plus Two (2) Standard Drink Tickets
Wing Seating
Hawaiian Luau Buffet Menu
Arts & Crafts Demonstrations
Hawaiian Storytelling
Games of Skill and Daring in the Hawaiian Village
Shower of Flowers
Hukilau on the Beach
Royal Court Procession
Imu Ceremony
The Paradise Cove Extravaganza
Paradise Cove Seating Chart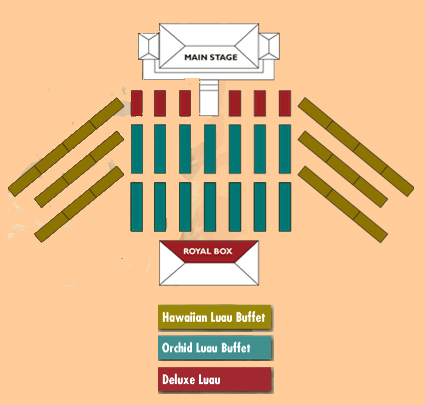 Directions
From Waikiki,take H-1 West towards Waianae and continue on Farrington Highway (93). Take the Ko Olina exit to Aliinui Drive and continue past the guard shack. The Paradise Cove parking lot will be on your right.
Schedule of Events
3:45 P.M. — 4:15 P.M.
------------------------------------------------------
Waikiki Hotel Pick-Up

5:00 P.M.
------------------------------------------------------
Arrival at Paradise Cove
Aloha Mai Tai Greeting & Arrival Photos*
Live Hawaiian Music - Mini Stage
Games of Ancient Hawaii/Specialty Photos
Hawaiian Arts & Crafts
Hawaiian Storytelling
Musicians & Dancers Performing in the
Courtyard & Hawaiian Village
Mini Show: Pareo Demonstration
Shower of Flowers
Hukilau on the Beach
Royal Court Procession
Imu Ceremony
Prayer

7:00 P.M. — 8:00 P.M.
------------------------------------------------------
Luau Feast
Polynesian Dinner Show
Hukilau Hula
Spectacular Hawaiian Revue
Marketplace
Entertainers' Farewell

9:00 P.M. — 9:30 P.M.
------------------------------------------------------
Departures

9:30 P.M. — 10:00 P.M.
------------------------------------------------------
Waikiki Hotel Drop Off

Acitivities may vary depending on weather condition.

* Arrival photos will be available for purchase during intermission.

Packages and pricing subject to change without prior notice or obligation. All events and times are weather permitting and are subject to change without notice. No refund for cancellations made within 24 hours of Lu'au if reservation made via phone. Non-attendance will result in being charged in full. No refund or credit for unredeemed, unwanted or unused package inclusions, amenities or activities, including drink tickets. Flat shoes and light sweaters are recommended for safety and comfort. Menu is set, but may vary based on availability or seasonality of dishes. Guests 21 years of age and older must present a picture ID to order or consume alcohol.


*Waikiki.com shall not be liable to any individual utilizing these tour/activity programs for delays, injury, loss, accident or damage to persons or property beyond its control. Natural phenomena are random and out of the control of the tour provider. Prices, features and/or menu are subject to change without notice.