Beachfront in the Outrigger Reef Hotel
2169 Kalia Rd # 118
Honolulu, HI 96815-1989
(808) 922-2887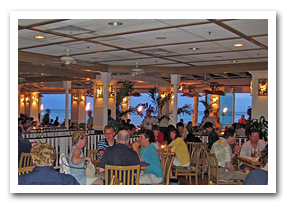 | | |
| --- | --- |
| | |
For the past 29 years, Island residents and tourists alike have flocked to the Shore Bird, making it one of Waikiki's most venerated institutions. It's the thrill of the grill that has captured guests imaginations and appetites for more than two decades. Shore Bird is not just a place to eat. Shore Bird is an experience where all guests have a lot of fun! Servers interact with our guests and not just serve them. The over all concept is "Aloha". Guests are responsible for for grilling their own dinner entrees but they don't have to be master barbecurers. An experienced grill hand and a large clock help make the process easy. Here's how it works: Steaks and seafood come to the table fresh on a platter with instructions. Guest are able to season and then prepare their entree exactly to their liking . All entrees include the salad bar, which showcases more than 25 items, such as fresh greens, garnishes, fruits, tako poke, poi, haupia, rice, bread and pasta. The all you care to eat salad bar is often times a meal by itself.
When the grill isn't on during the daytime, guests can take advantage of the Shore Bird's breakfast buffet. The line up also showcases carved honey-glazed ham, roast turkey, hash browns and fried rice. All pastries are baked here in our bakery. From cinnamon buns to danishes and ciabatta bread. Lunch includes hot items like our Hawaiian-style beef stew, homestyle chili, pasta and soup of the day, four-bean salad and fresh fruits. On Fridays, guests will find such Hawaiian fare as Kalua pig and cabbage, chicken and long rice and, poi and haupia. The lunch buffet is served daily from 12 noon to 3 PM. Lunch also features off the menu items that start from 11 AM and are available till 1 AM. Kalua Pig Sandwich, Ahi Tacos, and Fish and Chips are very popular along with our Shore Burger. You will find these great choices in our Lanai Menu. We also have a huge bar with over 25 seats near the ocean. A refreshing Mai-Tai with your name on it is waiting for you!
Specials and Pricing subject to change without notice.