Aloha! Click on a link below to learn more about Waikiki, and browse the Tours and Activities menu to the left to View & Book Online!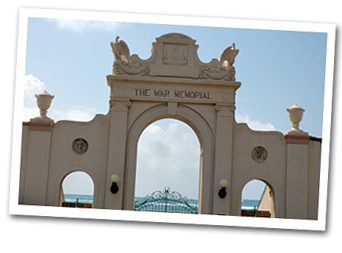 Explore all that Waikiki has to offer when you're taking time off from playing at the beach. There are great attractions for all the family to see such as the Waikiki Historic Trail, The Honolulu Zoo, the Waikiki Aquarium and the U.S. Army Museum of Hawaii. Don't forget to take a trip out of Waikiki to see Oahu's famous attractions such as Pearl Harbor, The Arizona Memorial, the North Shore, Kailua, the Pali and Kualoa Ranch - where the show LOST is filmed.
The Honolulu Zoo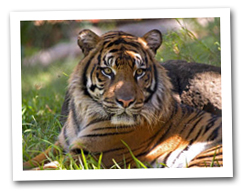 The Zoo is 42 acres and home to 995 different animals from the tropics. Komodo Dragons, orang-utans, elephants, primates, birds, reptiles, amphibians, and a variety of African animals can be seen daily. Be sure to see the wildest place in Waikiki!
Twilight Tours of the Zoo are held every Saturday night from 5:30 pm to 7:30 pm. These walking tours are led by a guide and are appropriate adults and families with kids ages 5 and up.
The Honolulu Zoo is open 9:00 am to 5:30 pm daily. The last entry is taken at 4:30 pm. Open every day except Christmas Day.
The Waikiki Aquarium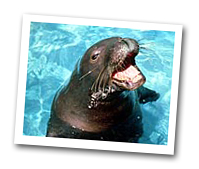 Founded in 1904 and administered by the University of Hawaii since 1919, the Waikiki Aquarium is located on the shoreline of Waikiki Beach next to a living reef and across from Kapiolani Park. The Aquarium - third oldest in the U.S. - showcases more than 500 marine species, and maintains more than 3,000 marine specimens. Family-friendly and interactive exhibits and education programs celebrate the unique aquatic life of Hawaii and the tropical Pacific.
The Aquarium is also home to two endangered Hawaii Monk Seals. The Aquarium is open daily from 9 am to 4:30 pm. Admission is $9 for visitors; $6 for local residents, active duty military with ID, students with ID and seniors; $4 for youths ages 13-17 and persons with disabilities; $2 for juniors ages 5 to 12; and free for children 4 and under and Friends of Waikiki Aquarium (FOWA) members.
U.S. Army Museum Of Hawaii
Coastal defense battery housing military memorabilia from early Hawaiian period through Vietnam War. Gallery of Heroes honoring Medal of Honor and Distinguished Service Cross recipients. Gift Shop. Free Admission.
Waikiki Historic Trail - Surfboards mark the spot
Waikiki had a previous life, long before the first tourist arrived or the first hotel was built. Rekindling a love for Waikiki's past has been the passion of author/historian Dr. George Kanahele. To help tell this untold story, Kanahele designed the Waikiki Historic Trail, a walking tour that traces the history and cultural legacy of this area where chiefs and commoners once lived. Bronze cast trail markers in the shape of surfboards will describe a Waikiki that few knew existed. Once part swamp, part playground for Hawaiian royalty, Waikiki was for centuries a center of Hawaiian hospitality and seat of Oahu's government.
Five markers have been installed so far: one along the Ala Wai Canal at the new Hawai'i Convention Center, two at Kuhio Beach where the trail begins, one at Hilton Hawaiian Village, and one in the heart of Waikiki at the site of the recently dedicated Princess Kaiulani statue. Other stops along the two-mile route include Queen LiliuokalaniÍs residence, King LunaliloÍs residence, Kapaemahu HealerÍs Stones (or Wizard Stones), KaweheweheÍs Healing Waters, and ancient fish and duck ponds.
Some sites are "markers" themselves--such as the Moana and Royal Hawaiian Hotels and the bronze statue of Duke Kahanamoku at Kuhio Beach Park.The trail is a joint project between the city and the private sector. It is seen as a way to enhance awareness of Waikiki both as a sacred place to Hawaiians and a huge part of HawaiiÍs history.