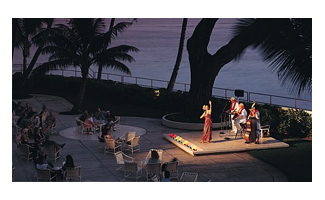 Waikiki offers a wide range of entertainment options to visitors and residents. Whether you are looking for Hawaiian music at sunset, an enjoyable evening show for the family, or dancing and cocktails after dinner, there is something to fit your desires. Visitors can also experience Hawaii's diverse culture through the many events and festivals that take place during the year.
HOUSE WITHOUT A KEY
Sunset cocktails & Hawaiian music - the essence of Oahu. Immortalized in a 1925 Charlie Chan novel, House Without A Key is Halekulani's popular indoor/outdoor gathering spot for informal breakfast, lunch, cocktails, appetizers and entertainment. One of the favored traditions of the original Halekulani - cocktails and Hawaiian music under the century-old Kiawe tree - has been faithfully preserved here.

Memorable sunsets with distinctive Hawaiian music nightly: Two former Miss Hawaii's, Kanoe Miller and Debbie Nakanelua, complement the music with their graceful and traditional hula.
DUKE'S CANOE CLUB
There may be no more exciting place to people-watch than at the Barefoot Bar. You could say it's the coolest hotspot on the island. Enjoy live music by Henry Kapono on Sunday, and live concerts on the beach every Friday, Saturday and Sunday. Sip an exotic cocktail and enjoy a menu of memorable dishes including sandwiches, burgers, fish tacos, pizza, Hawaiian local plates and pupus.
HANOHANO ROOM
Set 30 floors up and surrounded by glass walls, this restaurant and classic Waikiki nightspot has breathtaking views. It hasn't changed much since the '70s; the nightly live entertainment (which starts between 7:30 and 9) features the same smooth jazz, Hawaiian classics, and boozy lounge standards your parents probably danced to. The mood changes dramatically, though, when the younger generation invades on the first and third Saturdays of each month for the party called Skyline.
SUNSET ON THE BEACH
Visitors often wonder about the 30-foot screen on Waikiki Beach at the spot known as Queen's Surf, across Kalakaua Avenue from the Honolulu Zoo parking lot (believe us, you'll see it). The answer: Since 2001, the city has sponsored free movies here every Saturday and Sunday at sunset, in an attempt to bring locals back to Waikiki. Food vendors set up stalls adjacent to the area, though people often come with their own picnic baskets. You'll see folks staking out spots with blankets and chairs starting in the late afternoon, but it's also possible to wander up and find a place on the sand even after the film has started. The intensity of the crowd depends on the popularity of the movie; family films draw the noisiest masses.