Aqua Waikiki Pearl
$$
415 Nahua Avenue
Waikiki Beach, HI 96815
Phone: 808-922-1616
Fax: 808-922-6223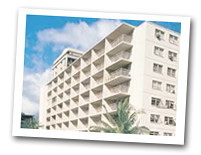 Updated, Upgraded and Fresh New Hotel
Updated, upgraded and fresh, the new Aqua Waikiki Pearl lights up the Waikiki landscape with an exciting new look and a playful Waikiki Beach vibe. Just a few short blocks to the sand and surf of Waikiki Beach, the Aqua Waikiki Pearl offers sleek, new hotel rooms and spacious suites, spectacular views and the perfect central Waikiki Beach location. With our hotel renovation complete, here's your chance to stay in a room that has undergone an amazing transformation at our Honolulu hotel.
Comfort Awaits.
Experience a relaxing Waikiki vacation at our intimate, newly renovated Honolulu hotel. Our superior service, friendly staff and 24-hour guest service agent offer a special touch of hospitality to your Honolulu vacations or business trips. Enjoy a drink and watch your favorite team at our lively sports bar. Stay connected with complimentary WiFi in the lobby or in-room high-speed Internet connection. And bring along your loveable pooch for a Waikiki family vacation with tail-wagging treats and peaceful walks around our pet-friendly Honolulu hotel.
Surrounded by the shopping, beach and culinary adventures of Waikiki, our fresh, newly renovated deluxe guest rooms and one and two bedroom suites offer private lanais with views of Waikiki and Honolulu. Spread out in some of the biggest rooms in Waikiki. City View Rooms have 451 square feet / 41.9 square meters of living space plus a spacious lanai, while our 722 square foot / 67.1 square meter One Bedroom Suites feel like home. With color palettes of amber and green, our beautifully designed accommodations are charming, casual retreats above the energy of Waikiki.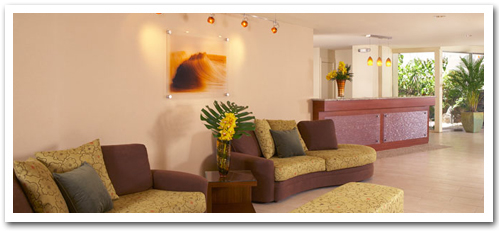 Serene, spacious and accommodating.
Aqua Waikiki Pearl is a mid-rise hotel with 119 guestrooms, each averaging 306 square feet in size, and available suites ranging between 833 and 986 square feet. Such spacious accommodations, ideal for families or groups, are rare in Waikiki! Completely renovated guestroom interiors with color palettes of amber and green make for a charming, casual and fresh ambience.
The Aloha life is a seamless experience from your Waikiki resort hotel guestroom to the Hawaiian adventures all around. Between those adrenaline-filled surf lessons and beachside naps, we invite you to visit our on-site sports bar with multi-screen satellite televisions. And, our hospitality is ever evident in our signature amenities, including available private lanais, a mini-refrigerator, blackout drapes, and daily maid service.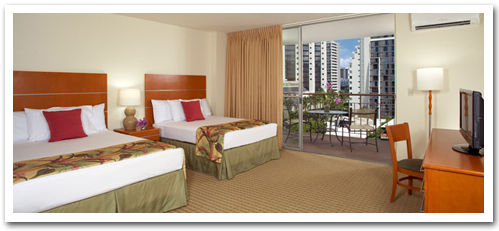 Modern, upgraded rooms all feature amenities like:
LCD TVs
Safes
Aqua KIT - refrigerators, coffeemakers and microwaves.
Spacious one and two bedroom suites complete with full kitchens and separate living spaces.
Other Amenities Include:
Air-conditioning
Renovated Spacious Accommodations With Waikiki Views
Free in-room High-speed Internet and WiFi Internet In Lobby
Hotel Sports Bar With Flat Screen TVs
Free Daily Newspaper
Pet-Friendly Hotel Welcoming Dogs - Up to 20 Pounds (9 kilograms)
24-Hour Guest Services Agent
FREE iMac station in lobby
Non Smoking Hotel
Guest Parking $20/day(limited on-site spaces available on a first-come, first-served basis)
FREE high-speed Internet