Ilikai Hotel & Suites
$
1777 Ala Moana Boulevard
Honolulu, HI 96815-1603
Phone: 808-949-3811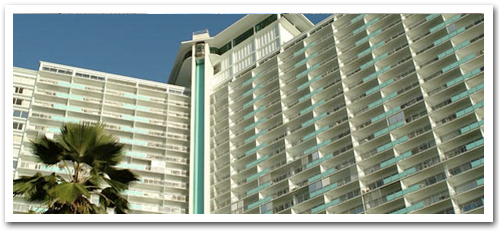 Honolulu Classic Hotel - Waikiki Vistas & Vintage Hospitality
Hawaii beach hotel - Ilikai Hotel & SuitesExperience an unforgettable Honolulu, Hawaii vacation at the Ilikai Hotel & Suites, a historic high-rise hotel above the breathtaking Waikiki shore. Sitting on the edge of Waikiki Beach, our classic Honolulu boutique hotel is a refreshing oceanfront location overlooking Ala Wai Yacht Harbor & Marina. Internationally-recognized as the opening shot of Hawaii Five-O with Jack Lord standing on the penthouse balcony overlooking Waikiki Beach, our famous Honolulu hotel is an iconic Waikiki landmark.
Step into our open-air lobby, stroll through the tropical courtyard and follow the pathway to the glistening white sand beach. Rejuvenate in spacious rooms and suites with panoramic views of Waikiki, Honolulu, Diamond Head and the Pacific Ocean. Enjoy dining at Sarento's Restaurant, serving regional Italian cuisine enhanced by breathtaking views of the turquoise-hued ocean and amazing sunsets.
Our vintage Honolulu hotel offers an atmosphere of classic tropical elegance and unsurpassed hospitality on Waikiki Beach. Whether visiting for vacation or business, you'll enjoy a perfect location just one block from the Hawaii Convention Center and Ala Moana Shopping Center and minutes from downtown Honolulu. Discover a friendly, accommodating staff, peaceful spaces and meeting facilities accented by stunning views of Waikiki Beach at one of the most unique hotels in Honolulu, Hawaii.
For more excitement, book one of our Hawaii vacation packages for exhilarating Oahu travel adventures and romantic getaways!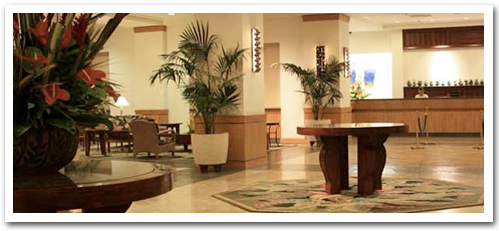 Honolulu, Oahu Boutique Hotel Rooms & Suites
Towering above the breathtaking Oahu Coast in Waikiki, Hawaii, our Honolulu boutique hotel offers relaxing accommodations that rejuvenate your soul. Savor jaw-dropping Waikiki views from lovely ocean view rooms and spacious two-bedroom suites designed for deluxe comfort and luxury. Lounge on private lanais as you take in panoramic vistas of Waikiki Beach, Koolau Mountains, Honolulu, Waikiki Harbor, Duke Kahanamoku Lagoon or the Pacific Ocean.
Oahu, Hawaii Elegant Hotel Retreats
Decorated in warm tropical tones and classic Hawaiian motifs, our mountain and ocean facing accommodations and suites feature stylish furnishings, private balconies with sweeping views, 27 inch color TV, telephone, iron / ironing board, desk, and safe and plush bedding with ultra-soft mattresses and down feather pillows. Our beautiful spacious rooms also offer coffeemakers and refrigerators or full kitchens for the ultimate Oahu vacation.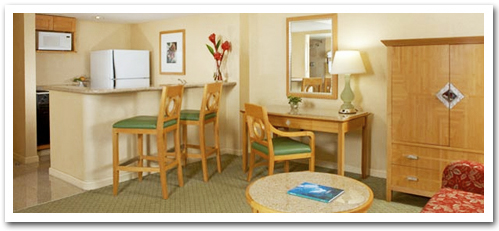 Ilikai Hotel & Suites is a tranquil, tropical hotel retreat in Waikiki Beach. From the moment you enter our beautiful open-air lobby, you feel the true spirit of Hawaii take over your soul. Our vintage high-rise boutique hotel overlooks the Pacific Ocean, Waikiki Beach, Koolau Mountains and Diamond Head. Follow the hotel walkway from the lobby to the Duke Kahanamoku Lagoon and the sparkling white sands of Waikiki Beach. At the Ilikai Hotel, we are passionate about creating unforgettable perfect Waikiki Beach experience - from oceanfront dining to enchanting live entertainment!
Waikiki Beach Hotel Sanctuary
Bathe in the warm rays of the Hawaiian sun at our sparkling pool. Sip a cool island drink and work on your island tan on our peaceful sun deck. Discover a shady spot under an umbrella and lounge in cool Pacific breezes or get energized in our state-of-the-art fitness center, Experience elegant rooftop dining at Sarento's Restaurant, serving Italian regional cuisine and breathtaking vistas of Waikiki, Honolulu, Diamond Head and the Pacific Ocean. Accented with colorful murals and tile, Sarento's offers an exotic Mediterranean vibe.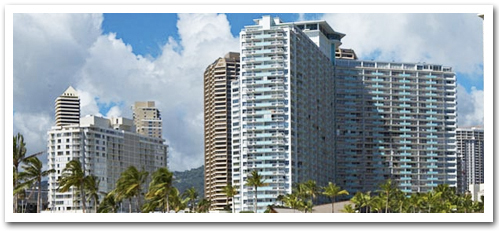 Waikiki Beach Hotel Experiences
Experience our evening celebration of Hawaiian culture and revel in the harmony of Waikiki. At sunset every evening, guests witness the solemn torch lighting ceremony. Our concierge desk can arrange exciting island activities, including golf, island tours, snorkeling and shoreline cruises.
Waikiki Beach Meeting Place
For events that leave an impression, The Ilikai is a spectacular Waikiki meeting destination. Whether planning a company convention or an intimate cocktail party, our Waikiki Beach hotel features an intimate meeting room, business center, an outdoor courtyard, and a beautiful poolside setting for your hospitality events and gatherings.
Amenities Include:
Free in-room high speed Internet access
Free use of in-room safe
Air-conditioning with climate control
Coffee maker / Tea service with free coffee packets
Cordless Speakerphone with Voicemail
Daily Housekeeping
Hair Dryer
Iron & Ironing Board
Full Kitchen (some)
Microwave (some)
Pillows: Down / Feather
Pool Towels
Private Lanai
Stovetop (Some)
Ilikai Hotel & Suites services and amenities include:
24-Hour Front Desk
Bather's Elevator (Swimmers)
Concierge
Free Daily Local Newspaper
Free WiFi Internet Access In Lobby
Dry Cleaning / Laundry Service ($)
Torch-lighting Ceremony in Courtyard
Fitness Center
Gift Shop and General Store
Hair Salon
Ice Machines
Laundry Facilities
Luggage Storage
Meeting Rooms ($)
Open-Air Courtyard
Sarento's Italian Restaurant offering rooftop dining
Security
Swimming Pool
Sundeck
Valet Parking (Daily Charge)
Wake up Call Service
Check In: 3:00 pm
Check Out: 12:00 pm