See more LOST locations in one day then most people see in their life!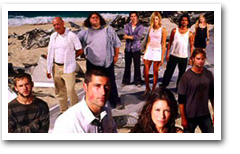 This is the ultimate LOST tour. It takes the best of a Circle Island Tour and combines it with more than 30 LOST locations/scenes. You get to visit all the highlights, lookouts, scenic locations and awesome beaches the make Oahu so famous as you cruise around the island in style and comfort. But, then you get to visit all the hidden locations and beaches that LOST has used and continues to use. Learn the history, culture and hot spots while getting LOST!
This tour starts out in Waikiki and heads over to Fort Ruger on the outer slopes of Diamond Head Crater. You will see the coastal defense gun battery which was turned into the Lost Iraqi prison. Then we drive into the famous crater to view where Desmond's Military Camp was in the episode "The Constant."
Next, we drive through Kahala and pass Hawaii Film Studios where a great deal of interior scenes are filmed for the show. We also visit numerous homes that were used in Lost including Hurley's and Anthony Cooper's.
We then work our way down the South side of Oahu over to Hanauma Bay. You can enjoy views of the bay from the look-out of the extinct volcanic crater. We continue over to Lanai Lookout where many lost scenes were filmed, which include where Desmond kills Kelvin.
We move up the East side of the Island to the famous "Blow Hole" and cover another Lost location. While there, you can enjoy the views of Sandy Beach and Eternity Beach.
Next stop, Ka' Iwi scenic shore line, where you will learn about 3 more Lost scenes filmed there, which include the Others fake camp featured in the Michael-centric episode "3 Minutes."
Next we're off to the Makapuu look-out where you will be treated to an awesome view of Rabbit Island and Makapuu Beach.
Our next location is Waimanalo Bay. This beautiful bay was used as the setting of a Thailand Beach in the Jack-centric episode "Stranger in a Strange Land."
Next, we take a trip back in history as we visit the Byodo-In Temple which was used many times as a South Korean setting in Lost, including when Jacob visits Jin and Sun at their wedding.
Up the road along Kaneohe Bay we will stop near the Waikane Pier used in Lost, where you can enjoy the views of Chinaman's Hat and the breathtaking Kaaawa/Hakipuu ridge.
As we work our way up the East side of the island we must make a stop at Laie Point to check out the view of Kukuihoolua Island and the sea cliffs.
Next, we make our way up to the the beautiful Oahu North Shore and visit the following beaches and Lost locations:
* Waialee Beach (numerous lost scenes)
* Sunset Beach
* Sharks Cove
* Waimea Bay
* Waimea Falls/Valley (Drug plane kills Boone and water fall that Kate
and Sawyer swims in (this location is optional due to 1.5 mile round
trip hike and is not suitable for everyone).
* Papailoa Beach "Survivors Camp" (10 minute beach walk required)
* Waialua "Eko's Nigerian Village,"
* Mokuleia Army Beach "Plane crash area"
* Camp Erdman aka (Others Camp "The Barracks")
* Dillingham Airfield (Nigerian Airport where Mr. Eko loads drug plane)
* Dillingham Ranch Palm Grove where Sawyer Kills a Polar Bear
* Drive by Eric's service station used in "The Long Con" where Sawyer
was selling some cheap necklaces.
On the way home, we will visit the Dole pineapple plantation.
This description just covers the highlights of the tour. There are many more Lost Locations and Scenic stops covered on this tour. We like to surprise you. Please click here for a more complete list of LOST locations covered on this tour. We cover about 30 different locations/scenes on this tour. Due to small groups in the hummer, Lunch Stops will be at the discretion of the guide and the guest on the tour. The cost of lunch is not included in the price of the tour. We attempt to cover each locations stated on this web site, but locations will change due to: new locations that lost films at, weather, surf conditions and traffic. This tour does not go off road in the hummer or cover the locations that are on the 2 and 5 hour tours.
The 10 Hour LOST Location Tour is only available on Mondays and Saturdays. Please contact us for consideration of Special Requests. We require a minimum of 4 adults for the tour.
What To Know
Schedule: Operates Monday and Saturday only, special requests considered. Tour begins at 8 AM and ends between 5 PM and 6 PM. MINIMUM OF 4 ADULTS REQUIRED FOR TOUR.
Not Included
Lunch is not included in the price of the tour. A lunch location will be made at the discretion of the group and guide.
Gratuities or tips are greatly appreciated!
*Waikiki.com shall not be liable to any individual utilizing these tour/activity programs for delays, injury, loss, accident or damage to persons or property beyond its control. Natural phenomena are random and out of the control of the tour provider. Prices, features and/or menu are subject to change without notice.