Get LOST on these exclusive Tours!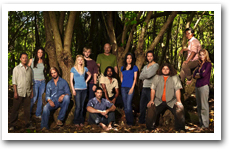 This tour starts out in Waikiki and heads over to LOST VALLEY where you will visit the Orchid Station, the Bear Cages and the outer walls of the Temple. From LOST Valley you will take a scenic drive over the mountains to the Windward side of the Island. Along Kaneohe Bay we will stop near the Waikane Pier used in Lost, where you can enjoy the views of Chinaman's Hat and the breathtaking Kaaawa/Hakipuu ridge.
Next, we make our way up to the the beautiful Oahu North Shore and visit the following beaches and Lost locations:
* Sunset Beach
* Sharks Cove
* Waimea Bay
* Waimea Valley "Drug plane kills Boone"
* Waimea Falls "Kate and Sawyer find case with guns & Jack, Hurley
and Kate return to the island in season 5"
* Papailoa Beach "Survivors Camp" (10 minute beach walk required)
* Waialua "Eko's Nigerian Village,"
* Mokuleia Army Beach "Plane crash area"
* Camp Erdman aka (Others Camp "The Barracks" Dharma ville)
On the way home well see the coconut groves where Sawyer shoots the Polar bear, the radio tower where Locke kills Naomi and the gas station where Sawyer sells the fake jewels.
We also visit the Dole pineapple plantation if time permits.
This description just covers the highlights of the tour. There are many more Lost Locations and Scenic stops covered on this tour. We like to surprise you. Please click on the "Lost Location" link on the left for a more complete list of locations covered on this tour. We cover about 20 different locations/scenes on this tour. We attempt to cover each locations stated on this web site, but locations will change due to: new locations that lost films at, weather, surf conditions and traffic. This tour does not cover the locations that are on the 2 and 5 hour tours. A lunch stop will be made, but is not included in the price of the tour.
What To Know
Schedule: Operates Monday. Wednesday, Friday and Saturday, 9 AM. Minimum of 4 people required for tour. Age 5 and older for this tour please.
Included
Pickup from Waikiki. Water and Snack bars.
Gratuities or tips are greatly appreciated!
*Waikiki.com shall not be liable to any individual utilizing these tour/activity programs for delays, injury, loss, accident or damage to persons or property beyond its control. Natural phenomena are random and out of the control of the tour provider. Prices, features and/or menu are subject to change without notice.