Ocean adventure, sight-seeing tour and party all in one!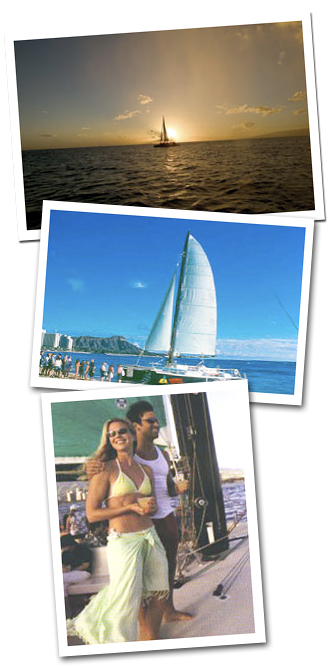 This is one Mai Tai you'll remember. But bring your camera anyway. You'll board barefoot from Waikiki Beach, then sail into the sunset sipping a fruity Mai Tai. We'll also be serving beer, wine, juices and soft drinks if you prefer. And, of course, plenty of water. This romantic journey offers golden views of Diamond Head, Waikiki and Honolulu's cityscape, as the sun paints the sky and melts into the sea.
Go barefoot and footloose on this ultra-sleek Catamaran. Experience Hawaii's fastest, wettest ride under Waikiki's sun-kissed skies with breathtaking view of Diamond Head.
This "state of the art", twin hulled, 44 foot catamaran seats 47 passengers comfortably. United States Coast Guard inspected and certified, catamaran is ultra-safe and a great time for the entire family.
The front boarding ladder makes getting on easy. From there, just kick back, have a Mai Tai, and listen to island rhythms from the CD sound system. And don't worry, there's also a bathroom facility right on board. The best feature though, would have to be the crew. They're technically outstanding, and personally entertaining. If you want to laugh and have a good time, this is your cat!
TradeWind Exclusive Charters also available for private use for weddings, receptions, parties, family gathering services and many other special needs. Private charter may include food provided by you or a professional caterer. If you have any questions, please click here to contact us for more information on booking a private charter. Mahalo!
What To Know
Operates Daily
1.5 - 2 Hour Cruise time.
Open Bar - Beverages include Mai Tais, beer, wine, champagne, juices and soft drinks.
From October 2 to February 14: Check in at 4:30 pm. Departure at 5:00 pm.
From February 15 to February 28: Check in at 4:45 pm. Departure at 5:15 pm.
From March 1 to October 1: Check in at 5:00 pm. Departure at 5:30 pm.
Friday Fireworks Cruise Check in at 6:15 pm. Departure at 6:30. You will NOT see the sunset on this sail.
Located on Waikiki Beach. Limited seating available. Reserve Today!
Children under 3 are FREE. Children of all ages can participate in this activity.
This is a "barefoot" cruise and you will need to remove your shoes and wade through water to board the catamaran.
This activity is not wheelchair accessible.
A valid government issued photo I.D. is required to consume any alcoholic beverages.
Wear something comfortable. As you may have to walk through knee-high surf to board the catamaran, please do not wear anything you would not like to get wet below the knee. A light jacket is nice when the evening gets cooler.
United States Coast Guard inspected and certified up to 47 passengers, yet we limit our numbers to insure your maximum comfort.

Featuring new equipment that was developed and tested on our previous boat of 20 years, the legendary "Leahi" Catamaran.

Safe, quiet, environmentally clean propulsion system.

Two large safety nets located on the bow with ample room for sunbathing.

Convenient barefoot boarding.

Featuring a specially designed "wing mast" which enables catamaran to reach incredible speeds.

CD sound system.

State of the art, green Spectra sails.

Bathroom facility onboard.
*Waikiki.com shall not be liable to any individual utilizing these tour/activity programs for delays, injury, loss, accident or damage to persons or property beyond its control. Natural phenomena are random and out of the control of the tour provider. Prices, features and/or menu are subject to change without notice.