Get the ultimate thrill ride as you sail 500 ft above the Pacific Ocean! It's Safe! It's Easy! It's Exciting! Safe for the whole family! This is World Class Parasailing!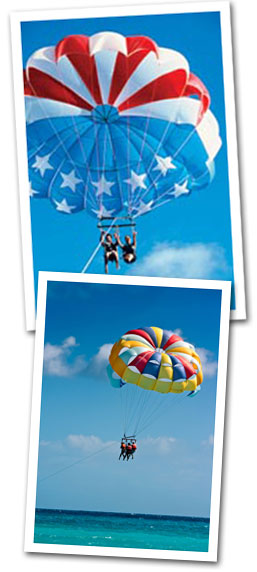 Experience a thrill of a lifetime on one of our Oahu parasail rides! Sail 500 feet high above the deep blue waters of the Pacific with amazing views of Honolulu, Waikiki and Diamond Head Crater. Get a bird's eye view of the beautiful Oahu south shore.

A taste of Hawaii like no other tour with our world class parasailing right off of Waikiki! Fly solo or tandem with family or friends right by your side as you take in these fabulous panoramic views of the South Shore of Oahu.

Anyone can do it! Our licensed captains and professional staff, specialize in Parasailing and will do it all. All you do is sit back and relax. Experience a dry take off and landing directly from the boat.

For the more adventurous, ask about our "Wet & Wild Rides". Parasail along the famous Waikiki Coastline at a maximum altitude of approximately 500'. Fun for the whole family!

Enjoy tandem rides. All rides are comfortable and fun allowing all to enjoy a spectacular views of Honolulu.

Want to join family or friends that are parasailing? Enjoy the ride as a Parasail Observer, but don't forget the sunscreen and camera!
What To Know
Parasail utilizes the harness method, for a soft, dry take off and landing directly from the boat. Each flight (Tandem), is a 500' maximum altitude flight and take about 8 minutes per flight, depending on length of line. Customers have the option of a water touch or a completely dry flight.
Operates from: 9:00 AM - 4:00 PM 7 days a week from Ala Wai Boat Harbor.
Transportation: Complimentary narrated, round trip transportation from Waikiki is provided. Hotel pick-ups are scheduled every hour on the hour starting at 9:00 AM through 4:00 PM
Check-in: If you will be taking your own transportation to the tour please check in at Ala Wai Boat Harbor no later than 20 minutes before tour time. Clients are required to check in at least 20 minutes prior to tour time, as seats will be released to stand-by passenger's 15 minutes prior to tour time. Should late clients seats be released, an effort to re-book client will be made by parasailing company.
What to Bring: If you will be participating in "Wet & Wild Rides", please wear swimsuit to the boat, bring sunscreen and towel.
Restrictions: No one under 5yrs of age; No Expectant Mothers; Triple flight is dependent on the wind and weight ration for the Captain to decide. No Guarantee; Parents must sign waivers for participants 17 yrs of age and under; Children 10 yrs of age and under must have their parent or guardian to be on board with them; Children 10 yrs of age and under must have their parent or guardian to fly with them; 450 LBS. maximum total weight for 2 or 3 people; 250 LBS and more should be able to fit into the belt of the harness to fly.

Heavy people must be able to walk healthy without assistant; Elderly must be in good health condition; No handicapped persons unless they are able to walk on their own, healthy walk (no wheelchair); No one with mental condition allowed on board nor in the van. No babies and nobody under 5 yrs of age allowed on board nor in the van.
Notes: All Licensed Captain and Crews are certified members of the Professional Association of Parasail Boaters. In the event there is a cancellation due to poor weather conditions, we will try to reschedule customers the following day or at their convenience. In the event we are unable to accommodate a reschedule, customers are entitled to a 100% refund. No refunds for cancellations made within 48 hours of reservation.
*Waikiki.com shall not be liable to any individual utilizing these tour/activity programs for delays, injury, loss, accident or damage to persons or property beyond its control. Natural phenomena are random and out of the control of the tour provider. Prices, features and/or menu are subject to change without notice.