Start Your Day with Whale & a Tasty Hot Breakfast!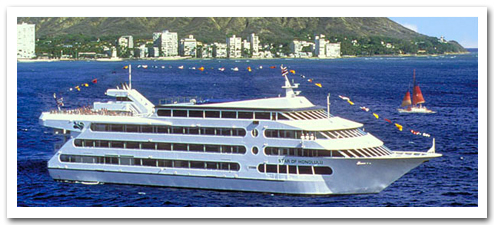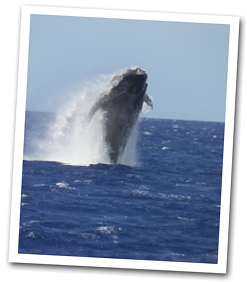 Start your day with whales aboard the Star of Honolulu®! Four walk-around decks and three types of stabilizers offer the most comfortable setting, plus narration and Whale Guarantee! Our certified Naturalist crew will share their knowledge and make your whale watch more memorable.
Tasty Hot Breakfast Buffet option features scrambled eggs to cereal and milk. All aboard Hawaii's largest, award-winning Star of Honolulu®!
Whale Guarantee: Receive a free return Whale Check until a whale is sighted (meal and transportation optional).
Whale activities: Observe whales from the STAR's 60' high observation deck, plus Certified Naturalist narration, handout and more!
Hawaii's premier cruise ship equipped with watts-type stabilizers, 1,500-passenger capacity and A.D.A. compliant facilities. Departs from Aloha Tower Marketplace, Pier 8.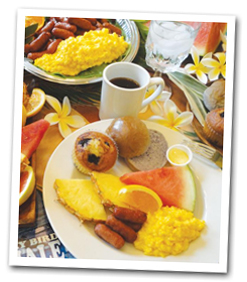 Tasty Hot Breakfast Menu
Scrambled Eggs
Sausage
Steamed White Rice*

Assorted Fresh Fruits
Maui Gold Pineapple*
Oranges*
Fresh Fruit of the Season*

Bakery Basket
Muffins and Poi Rolls with Sweet Butter and Jam

Cereal and Milk

Beverage Station
Freshly Brewed STAR's Custom Kona Blend Coffee, Tea and Orange Juice
Additional beverages available for purchase.
What To Know
Whale Season: December 15, 2016 - April 5, 2017.
Vessel Info: The custom-built 232' Star of Honolulu is Hawaii's largest, award-winning 1,500-passenger tour vessel with 3 types of stabilizers for smooth sailing in Hawaiian waters; Hawaii's only A.D.A. compliant ship with 2 elevators, plus 4 spacious decks for the best views and most choices to suit your needs. Other features include 6 beautiful dining rooms and private lounges, sound systems, bars and restrooms on all decks and a 60' high observation sun deck.
Accessible Accommodations (for transportation and vessel): Available upon request with 24 hours advance notice. Please call 808-721-1552 to request.
Cruise Time: 8:45 - 10:45AM; December 15, 2016 - April 5, 2017.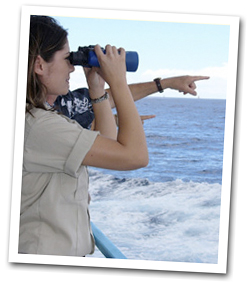 Location: Departs from Aloha Tower Marketplace, Pier 8. For those arriving via own transportation, please check in 45 minutes prior to departure at our Reservations Office, next to the Star of Honolulu.
Parking: Self-parking is available at the parking lot in front of Pier #8 - Irwin Park. Present your parking ticket upon check-in at the Star of Honolulu - Reservations Office to validate and receive a reduced parking fee.
Route: The Star of Honolulu is stabilized and certificated to go beyond Diamond Head to view the beautiful Kahala Gold Coast. The Captain may alter the route or cancel the cruise depending on weather conditions.
Attire: Casual.
*Waikiki.com shall not be liable to any individual utilizing these tour/activity programs for delays, injury, loss, accident or damage to persons or property beyond its control. Natural phenomena are random and out of the control of the tour provider. Prices, features and/or menu are subject to change without notice.