Explore East Oahu and Enjoy Private access to Kamehame Ridge
More than just a scenic drive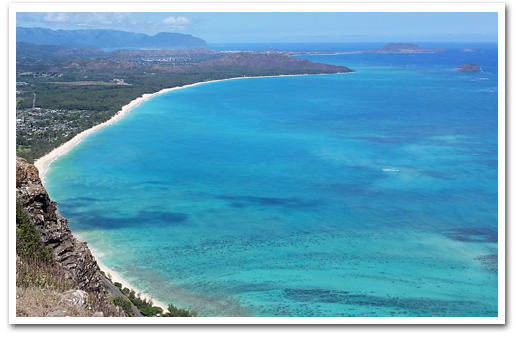 Explore East Oahu on this unforgettable journey with an exclusive van shuttle to the 1,200 ft. high ridge top at Kamehame, which is part of the Ko'olau Summit Trail (KST). Nowhere else on Oahu can you get a driving tour comparable to this view. Perfect for the mobility impaired as you can stay on flat ground to get this view. From this privately owned clifftop perch, gaze overlooking Waimanalo Beach and the various shades of the blue Pacific Ocean with several offshore islands seemingly within your reach. This is a spectacular and rare perspective of windward Oahu only offered through our company. You will capture some of the most breathtaking pictures of Oahu from here seeing two-sides of the island from one scenic point. For those with hiking savvy, enjoy a short, but challenging half-mile round-trip guided hike along the KST for an extra birds-eye view of the windward beaches below.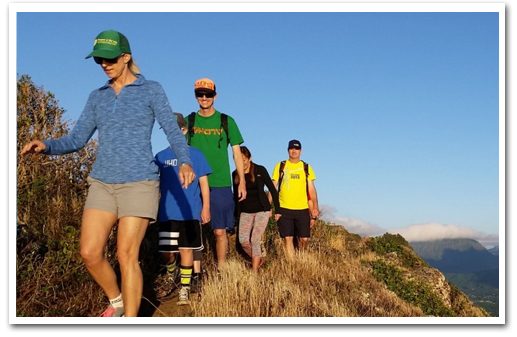 Along this scenic driving tour, our air-conditioned shuttle van will also stop for pictures overlooking Diamond Head surf breaks, Hanauma Bay Nature Preserve, a flooded volcanic crater teaming with tropical fish (closed Tuesdays), then onto Halona Point Blowhole, a lava tube with a small opening in its ceiling creating an ocean geyser sometimes shooting over 60 feet into the air, and the famous Sandy Beach Park allowing you to watch surfers and bodysurfers attack the pounding shore break with skill and bravery.
Public restrooms are available at Sandy Beach park. Includes bottled water and snacks. Combine this adventure with our Exclusive Waterfall Hike and get a free lunch.
This Oahu adventure tour is great for families with young children, elders and persons with mobility challenge. The views along this journey offer little shade when outside the air-conditioned van. Prepare for sun, dress comfortable and bring a camera. (Vehicles are currently not wheelchair accessible)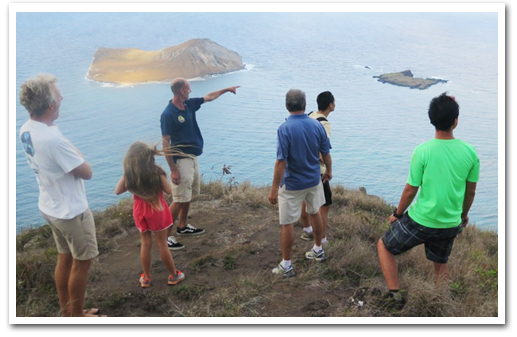 What To Know
Time: 1:00 pm - 5:00 pm (4 hours)
(We strongly recommend that you do not book other tours back-to-back which require you to be strictly on-time in your return from our tours. Weather, traffic and other factors can sometimes delay our return times. This goes for all tour companies and we wouldn't want you to possibly miss your luau or other activity.)
Operates: Daily

Includes: Professional nature guides, complimentary round-trip transportation from Waikiki, use of binoculars, trail snacks and bottled water.

What to Bring: Sunscreen, hat, sunglasses, water-proof camera. Dress comfortably and wear shoes and socks.
We advise that you only bring what you will need during your adventure with us. A camera or smartphone is ideal to capture images of your day out with us. If not waterproof, it is a good idea to at least have a plastic trash bag from hotel room to protect your camera in case of rain. Please leave purses, computers, credit cards, passports, etc in a safe at your hotel. We are not responsible for damaged, lost or stolen personal belongings while on tour with us.
Restrictions: If we cancel the tour, we will try to move your tour to another day or no charges from our company will apply.
*Waikiki.com shall not be liable to any individual utilizing these tour/activity programs for delays, injury, loss, accident or damage to persons or property beyond its control. Natural phenomena are random and out of the control of the tour provider. Prices, features and/or menu are subject to change without notice.

Save Time & Book This Activity Now!
East Oahu Explorer Kamehame Ridge
Eco Adventure Tour
Rates

Adult (15+)

$55.00

Child (14 and under)

$45.00

Secure Reservation

| | |
| --- | --- |
| Click on calendar to choose date: | |




GE Tax (4.712%) will be added to the price above.

**Prices & Inclusions subject to change without notice.

***A travel representative will send you a confirmation email along with tour/activity vouchers within 24 hours of booking. If there are any problems with your dates, we will contact you. There are no refunds for cancellations made within 48 hours of tour/activity, unless another cancellation policy is specified. No Shows are charged in full. If you have any questions, please click here to contact us. Mahalo!