Take a Royal Voyage Through Hawaiian History! Go on an unforgettable guided tour of both the Iolani Palace and the Bishop Museum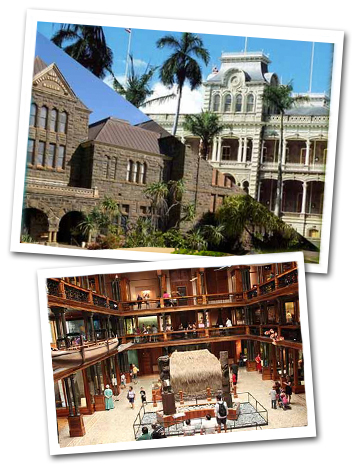 Join us on a royal voyage through history as we tour the iconic Iolani Palace and Bishop Museum. Walk in the footsteps of the Kings and Queens of Hawaii as the past comes to life in this 6.5 hour tour. Transportation from Waikiki to the Iolani Palace, the Bishop Museum and back to Waikiki is included.
The tour starts at the Iolani Palace with a 15 minute video sharing the history of the palace and the overthrow of the Hawaiian monarchy. The Iolani Palace was the residence of King Kalakaua and Queen Kapiolani. It was name for "Io", the Hawaiian hawk, a bird which soars higher than its peers in the sky, and "lani", denoting heavenly, royal, or exalted. The building you will visit is not the original palace which was demolished in 1874. The video is followed by a 50 minute guided tour through the palace. Highlights include the throne room, the crown jewels, and the famous blue room.
Following the Iolani Palace tour, we'll head to Bishop Museum. The Bernice Pauahi Bishop Museum is the Hawaii State Museum of Natural and Cultural History. Founded in 1889, it is home to the largest Hawaiian and Pacific cultural and natural history collections in the world. Lunch is hosted at the Bishop Museum Cafe, operated by Highway Inn, a local favorite! After lunch, embark on a guided experience of the museum starting with The Hot Spot Rock, a live lava demonstration show. This is followed by The Sky Tonight- Planetarium Show, you'll even get a star map to take home to continue your star navigations! Finally, learn about the culture and history of Hawaii and the Pacific on a guided gallery tour through the historic Hawaiian Hall.
Approximate Schedule:
8:00 AM - Pickups start at Waikiki
9:00 AM - Arrival at the Iolani Palace
11:00 AM - Depart from Iolani Palace for Bishop Museum
11:15 AM - Arrival at Bishop Museum, Lunch
12:00 PM - Hot Spot Rock: Lava Demo
12:30 PM - The Sky Tonight, Planetarium Show
1:00 PM - Na Mea Makamae a Kahiko, Treasures of the Past
2:00 PM - Depart Bishop Museum, return to Waikiki
What To Know
Pick ups at Waikiki start at 8 am, tour returns to Waikiki by 2:45 pm

Please wear comfortable clothing and walking shoes

Tour runs Wednesday, Friday, and Saturday

This tour is managed by the Bishop Museum

The Bishop Museum does not have an ATM on property
Lunch choices:
Kalua Pig Plate
Kalua pig, one scoop of rice and toss salad OR

Pineapple Shoyu Chicken Plate
Two pieces of pineapple shoyu chicken, one scoop of rice and toss salad OR

Veggie wrap
Portabella mushrooms, zucchini, eggplant, red bell peppers, jicama, lettuce, cucumbers and house- made cole slaw

(Beverages available for purchase)


*Waikiki.com shall not be liable to any individual utilizing these tour/activity programs for delays, injury, loss, accident or damage to persons or property beyond its control. Natural phenomena are random and out of the control of the tour provider. Prices, features and/or menu are subject to change without notice.
Save Time & Book This Activity Now!
Hawaii Monarch History Tour
Iolani Palace & Bishop Museum
Wednesday, Friday and Saturday only
Rates

Adult

$115.00

Child (4-11)

$94.00

Transportation from Kahala

$25.00

Secure Reservation

| | |
| --- | --- |
| Click on calendar to choose date: | |




GE Tax (4.712%) will be added to the price above.

**Prices & Inclusions subject to change without notice.

***A travel representative will send you a confirmation email along with tour/activity vouchers within 24 hours of booking. If there are any problems with your dates, we will contact you. There are no refunds for cancellations made within 48 hours of tour/activity, unless another cancellation policy is specified. No Shows are charged in full. If you have any questions, please click here to contact us. Mahalo!