Hawaii Kayaking Tour off of Oahu's Chinamans Hat. Join us on a Kayak Adventure fronting Kualoa Ranch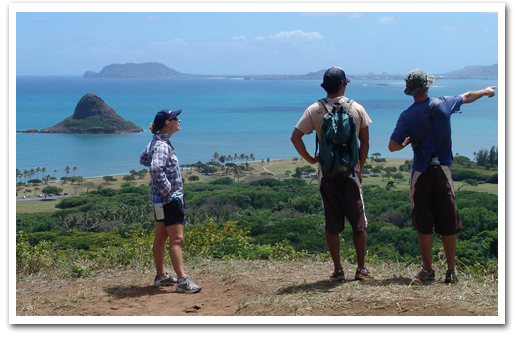 Our unique Hawaii ocean kayak tour is set against a breathtaking rainforest backdrop.
On this kayaking trip you will experience the remote and breathtaking beauty of Kualoa, one of the most historically significant places on Oahu, while enjoying a kayak tour along Hawaii's scenic windward coast including Chinamans Hat.
This Rainforest to Reef Adventure combines the scenic backdrop of the lush Hakipuu Valley, the majestic volcanic Koolau Mountain ridge, with the tranquil cobalt and turquoise ocean waters of Kaneohe Bay.
Your Hawaii kayaking adventure will begin with a short hike to a scenic overlook at the entrance to Hakipuu Valley. Here you'll have the chance to capture an aerial perspective of the breathtaking beauty and landscape, from its forested valleys to its inviting ocean reef waters below. View the 800-year old Molii fishpond (one of the last remaining ancient Hawaiian fishponds in the State). This 125-acre rock-walled enclosure was hand-built by ancient Hawaiians to maintain a ready supply of live ocean fish. As part of the privately-owned 4,000 acre Kualoa Ranch, you'll have the rare opportunity to see an ancient Hawaiian treasure that most visitors to Oahu never get to see.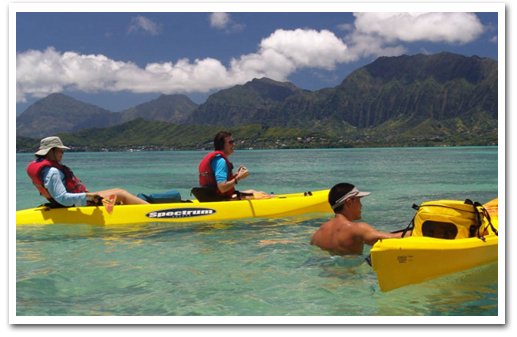 From this point on, your kayak trip will continue to unfold with one unforgettable highlight after another. Once completing your kayak instruction, you'll paddle along the tranquil and glassy waters of Kaneohe Bay. Because of the protected reef that surrounds this area, this is one of the safest places for kayaking on Oahu. You will be delighted to know that this is an actual kayaking tour where you paddle yourself on sit-on-top kayaks. We do not tow you around via a smelly outboard motorboat.
You'll journey by kayak as you glide along the tranquil waters fronting Kualoa (and Kualoa Ranch), listed on the National Register of Historical Places, to Mokoli`i (Chinaman's Hat) Island (less than one-mile paddle offshore). This tiny offshore island in the country becomes your playground for relaxation, enjoyment and a picnic lunch. Whether you want to relax, explore around the island, or return to the ocean for a quick snorkel to see the underwater world, you're certain not to want to leave.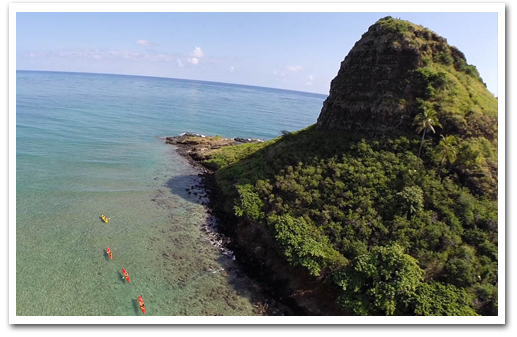 What To Know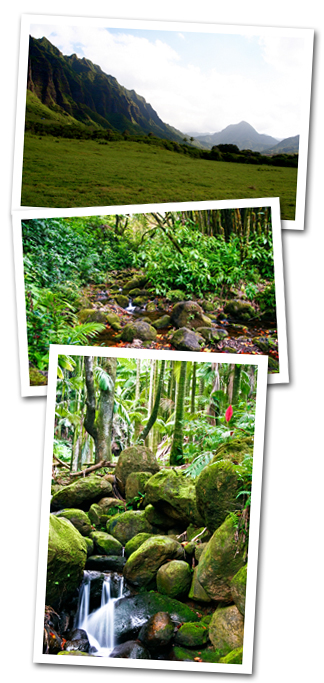 Time: 9:00 am - 4:00 pm (7 hours)

(We strongly recommend that you do not book other tours back-to-back which require you to be strictly on-time in your return from our tours. Weather, traffic and other factors can sometimes delay our return times. This goes for all tour companies and we wouldn't want you to possibly miss your luau or other activity.)
Operates: Monday, Wednesday, Friday (weather permitting)

Includes: Professional nature guides, complimentary round-trip transportation from Waikiki, access to private land, kayak, snorkel equipment and instruction (use of single or tandem), paddle, life jacket, dry bag, lunch and beverage. Fresh water showers and changing are available at beachfront.

What to Bring:Swim suit, towel, sunscreen, hat, sunglasses, water-proof camera. Wear shoes and socks for hike.
We advise that you only bring what you will need during your adventure with us. A camera or smartphone is ideal to capture images of your day out with us. If not waterproof, it is a good idea to at least have a plastic trash bag from hotel room to protect your camera in case of rain. Please leave purses, computers, credit cards, passports, etc in a safe at your hotel. We are not responsible for damaged, lost or stolen personal belongings while on tour with us.
Restrictions: Maximum weight for kayak tour is 250 pounds (114 kilos). All guests entering the water must wear provided life vests know as PFD (Personal Flotation Devices). If you do not know how to swim, please advise the staff before entering the water. Wind plays a big role in how smooth the ocean surface is. We typically operate our ocean trips up to 25 mph winds where you should expect bumpy conditions. We rarely cancel due to wind, but for your comfort and safety, we do not operate during strong or unfavorable wind directions. If we cancel the tour, we will try to move your tour to another day or no charges from our company will apply.
*Waikiki.com shall not be liable to any individual utilizing these tour/activity programs for delays, injury, loss, accident or damage to persons or property beyond its control. Natural phenomena are random and out of the control of the tour provider. Prices, features and/or menu are subject to change without notice.

Save Time & Book This Activity Now!
Hike, Kayak & Snorkel
Eco Adventure Tour
Rates

Adult (15+)

$125.00

Child (14 and under)

$100.00

TOUR NO LONGER AVAILABLE




GE Tax (4.712%) will be added to the price above.

**Prices & Inclusions subject to change without notice.

***A travel representative will send you a confirmation email along with tour/activity vouchers within 24 hours of booking. If there are any problems with your dates, we will contact you. There are no refunds for cancellations made within 48 hours of tour/activity, unless another cancellation policy is specified. No Shows are charged in full. If you have any questions, please click here to contact us. Mahalo!