Hawaiian eco-tour for all ages®!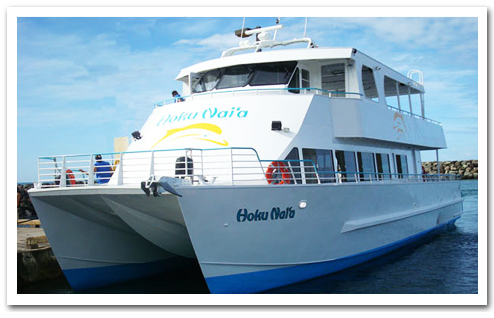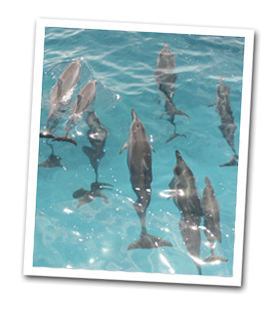 Hawaiian eco-tour for all ages®! A world away from Waikiki, West O'ahu provides the once-in-a-lifetime experience of meeting playful wild Spinner dolphins and other marine life with the stunning backdrop of the Wai'anae mountain range. Best dolphin activities, with Certified Naturalists, narration, video presentation, keiki program and Dolphin Guarantee year-round!
View wild dolphins, enjoy a BBQ lunch and snorkeling in pristine water!
After a morning of seeing wild dolphins, savor a delicious BBQ lunch. Next, explore the beautiful underwater world of Oahu's best snorkeling spot. Snorkel gear, instruction and snorkel tours provided so any skill level can enjoy. Cruise in comfort, with fresh water shower, easy step stairs into the water, open-air deck space and onboard restroom. A top value experience – like two tours in one!
Plus, Create-Your-Own Gourmet Burger Lunch freshly grilled onboard and all-you-can-drink fruit punch. Add the West O'ahu Tour for comfortable ride and video on points of interest, history, culture and marine life.
Dolphin Guarantee: Receive a free return "Dolphin Check" until a dolphin is sighted (meal and transportation optional).
What To Know
Time: Year-round, 9:30AM - 11:30AM (Wild Dolphin Watch & Lunch)
Time: Year-round, 12PM - 3:00PM (Wild Dolphin Watch & Lunch & Snorkel)
Operates: Year-round
Check-in: If you are driving on your own, please check-in 45 minutes prior to your cruise departure at the Hoku Nai'a.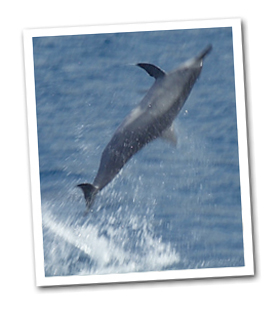 Vessel:
Brand new 149-passenger 2-deck catamaran, custom built for eco-friendly dolphin watching! Departs from Wai'anae Boat Harbor.
Location:
Oahu, Wai'anae Boat Harbor
Street Address: 85-371 Farrington Hwy., Wai'anae, HI 96792
Total Capacity: 149 passengers
Length: 65 feet
Width: 25 feet
Type: 2 Deck Motor Powered Catamaran with EPA compliant main engines
Facilities:
Observation area on 2nd deck. Each floor has wrap-around decks and equipped with sound system. Bar on 2nd deck; restrooms, BBQ and buffet setup on 1st deck. Newly built in 2007.
Transportation
Add transportation to your cruise
Motorcoach, Air-conditioned, Round-trip from Waikiki: $20.00 per person with video on points of interest, history, culture and marine life . From Ko Olina: $10.00 per person .
FOR ALL GUESTS
What should I wear and bring for dolphin watching?
Wear casual clothes and comfortable shoes, and don't forget your camera! Sunscreen, cover-up, polarized sunglasses and binoculars recommended.
Can I bring my own food?
Outside food and drink are not permitted onboard.
What is the cruise route?
We'll cruise from Wai'anae Boat Harbor toward Ka'ena Point or KoOlina, depending on the best possible route for wild dolphin watching and the best location for snorkeling. The Captain reserves the right to alter the route depending on sea conditions.
How many dolphins will we see?
We typically see a few pods of dolphins (40-70) daily, with a 98% record of sightings. In the case of no sightings however, you will receive a "Dolphin Check" to cruise again (meal, transportation and snorkel optional). During the winter months of December through April, there's also opportunities to see whales!
Will you take a photo of me?
Yes, you can take home a souvenir photo in a paper logo jacket for $18.00.
Is there something special for repeat visitors?
Each guests receive a "VIP card" good for free gift when returning for a future cruise.
I'd like to take great dolphin photos! Any tips?
If you have a digital camera with a finder, turn off your LCD and take pictures looking through the finder. This will allow the camera to respond to your fingers faster. Dolphins sometimes jump multiple times, so keep aiming in the direction a dolphin has jumped. Use the sequence photo shoot mode if your camera has one. It is very hard to predict when the dolphins will surface, so by using this mode there is more chance of you getting a good picture!
What is your keiki (child) program?
It's an interactive, educational and fun "class' with one of our certified Naturalist crew and includes souvenir learning material!
Why are you located in Wai'anae instead of Waikiki?
Our beautiful Wai'anae site was chosen as the best location for our cruises. Shielded by the tallest mountain range on Oahu, its waters are not dirtied by rain runoff, creating high visibility and one of the most ideal habitats for marine life. Also, its distance from the city keeps it a secluded and unspoiled snorkeling spot.
FOR SNORKEL GUESTS
What should I wear and bring for snorkeling?
Wear a swimsuit and bring a towel and sunscreen. You can also bring your own snorkel gear (i.e. prescription goggles) if you prefer.
What does Dolphin Star provide for snorkeling?
Snorkel equipment (sanitized gear including mask and fins) with instruction by our crew. Vessel facilities include fresh water shower, easy step stairs into the water and onboard restroom.
What is the schedule for Dolphin Watch BBQ & Snorkel?
After leisurely dolphin watching and a delicious lunch, we'll get you ready to snorkel! While non-snorkel guests disembark, our crew will brief you on how to use the snorkel gear, what spot(s) we are planning to take you to, responsible ocean etiquette and safety instructions you will need to read and sign a Snorkel Disclaimer Agreement. After snorkeling, enjoy some refreshments onboard.
Price and contents: subject to change.

To cancel or make changes to your reservation, please call (808) 721-1552.
*Waikiki.com shall not be liable to any individual utilizing these tour/activity programs for delays, injury, loss, accident or damage to persons or property beyond its control. Natural phenomena are random and out of the control of the tour provider. Prices, features and/or menu are subject to change without notice.