Kualoa's horseback tours offer guests the opportunity to experience the spectacular scenery of Oahu's hidden valleys.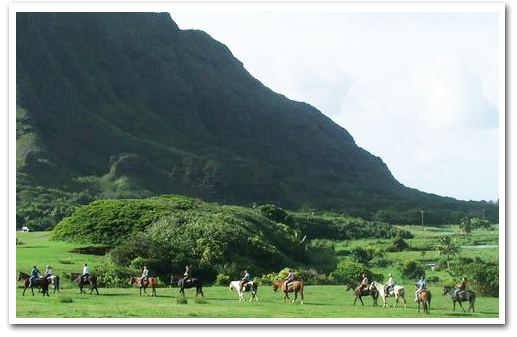 Kualoa's horseback tours offer guests the opportunity to experience the spectacular scenery of Oahu's hidden valleys.
2-HOUR Horseback Ride: Ride deep into Ka'a'awa Valley where Jurassic Park, 50 First Dates and Lost were filmed. You'll also see forests, World War II bunkers and fantastic views of the Kualoa Mountains and Pacific Ocean. Two hour tour time includes time for safety briefing. Please checkin for your tour at least 15 minutes before tour time.
Restrictions: Minimum Age: 10 years old, Minimum height: 4'6″, Maximum weight: 230 pounds, Closed toe shoes must be worn.
What To Know
Round trip transportation to Waikiki is available for $15 per person.
Horseback Requirements:
Minimum age is 10 years old
Minimum height 4'6″
Less than 230 lbs.
Covered shoes required
Must attend briefing
Must sign Liability Waiver
Long pants & sunscreen highly encouraged
Tours go out rain or shine. Kualoa Ranch reserves the right to cancel a ride or reservation if conditions are deemed unsafe. If we do so, we will refund your money for the portion that may have been cancelled
Lockers: Guests may rent lockers with a $5 deposit for all day use.
Frequently Asked Questions
HORSEBACK & ATV
Q. Can my child, who does not meet the age requirements, ride with me on either a Horseback or ATV tour?
A. Unfortunately, this is not allowable due to safety concerns. Each rider must meet all of the riding restrictions.
Q. Is packing/doubling allowed on Horseback or ATVs?
A. Packing/doubling are not allowed on these tours. Our equipment accommodates one person per Horse/ATV.
Q. Can the 2-hour tours (Horseback and ATV) be a choice in the packaged tours?
A. 2-Hour Horseback and ATV tours are not a choice in Full day & Half day packages. These tours are booked individually but you may inquire at the ticket office to upgrade your package $35 per person based on availability.
Q. Are there any tours without guides?
A. All of our activities are fully guided tours. Touring the beautiful Kualoa property is our specialty!
About Kualoa Ranch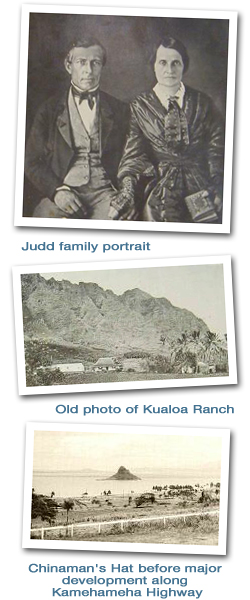 Kualoa has been considered from ancient times to be one of the most sacred places on Oahu. Learn about our rich history and experience the natural beauty.
Kualoa today is a working ranch with 600 head of cattle and more then 100 horses. Farming ventures on the ranch also include aquaculture ponds, flower fields, and plant nursery operations. The Kualoa Nursery and Gardens is located next to Tropical Farms.
Kualoa Ranch also offers tours and field trips to local schools, including a petting zoo, children's horseback riding, aquaculture tours, hiking tours, a food sources tour, a roping course, and camping trips.
In addition to adventure activities and tours for individuals and families, the Kualoa Ranch is available for weddings, group tours, and other special events.
History of Kualoa Ranch
Kualoa is one of the most historically significant destinations on Oahu. Ancient Hawaiians considered Kualoa one of the most sacred places on Oahu. It was a residence of kings, a place of refuge and sanctuary - a pu`uhonua - and a training ground for royalty who were instructed at Kualoa in the arts of war, history and social traditions.
In 1850, Kamehameha III sold approximately 622 acres of land in Kualoa and all its fishing rights offshore (which included Mokoli`i or Chinaman's Hat) to Dr. Gerritt P. Judd. (Dr. Judd was a missionary doctor who arrived in Hawaii in 1837 and was a personal advisor to Kamehameha III.)
Then, additional acreage in Hakipu`u and Ka`a`awa were purchased by Dr. Judd from the Wilder family. This purchase increased the size of the estate to the 4,000 acres it is today and is now under the Morgan Family name, who are Dr. Judd's descendants.
This estate, Kualoa Ranch, was so named in 1927 and has been used for various purposes over the last eight decades. During World War II, some of the lands of this estate was used as an auxiliary airstrip with many of the large monkeypod trees providing natural hangars for small planes.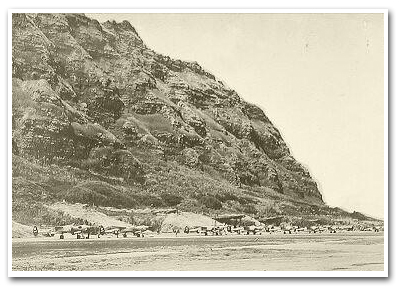 The current family owners strive to be role model stewards of the 'aina (land), by preserving and protecting it from development.
KUALOA NAME: Kualoa means 'long back'; the ranch is full of beautiful valleys and mountain peaks.
KANEHOALANI: The shroud of sacredness born by Kualoa, in great part exists because of the majestic mountains rising from it.
The highest peak atop the Kualoa ridge called Kanehoalani, towers 1900 feet skyward and means "Kane's heavenly companion".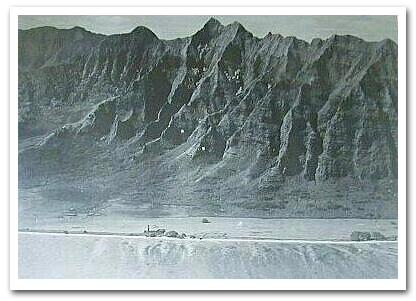 The photo above was taken from the air in front of the ahupua`a of Kualoa. The beachfront area extended out much further then than it does now.
There were very few homes along the beach, the pastures were sparse with trees but the beauty remains the same today. Circa: 1926.
Sugar Mill operated between 1863 - 1870
The Kualoa Sugar Mill was built by Charles H. Judd and Samuel G. Wilder in 1863. The mill was closed around 1870 after years of meager rainfall that effectively brought an end to sugar farming here.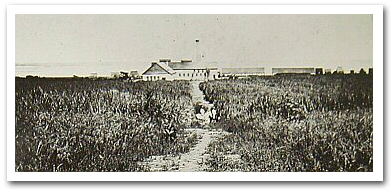 *Waikiki.com shall not be liable to any individual utilizing these tour/activity programs for delays, injury, loss, accident or damage to persons or property beyond its control. Natural phenomena are random and out of the control of the tour provider. Prices, features and/or menu are subject to change without notice.