The #1 Show in Waikiki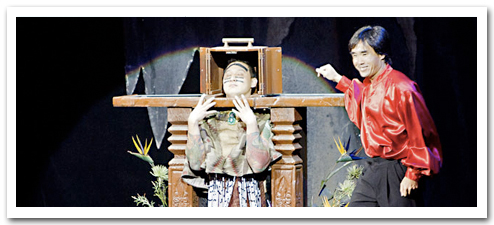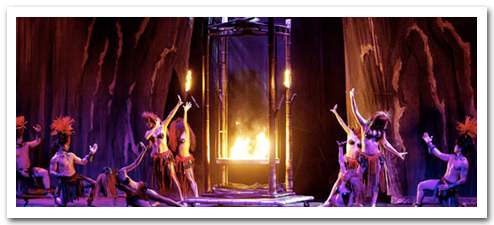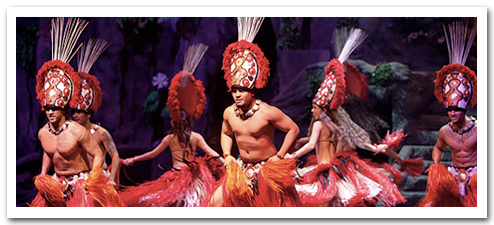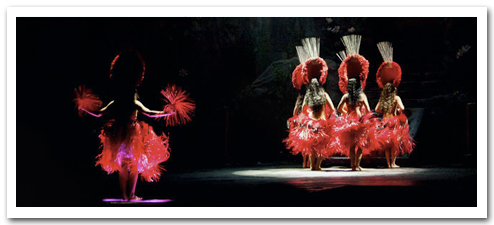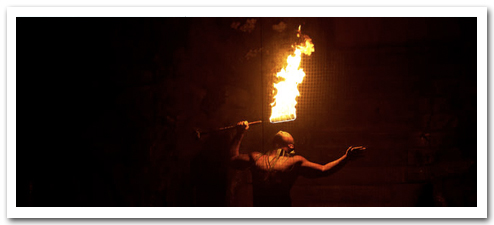 The sights and sounds of Polynesia surround you. Stars and waterfalls come to life. A volcano erupts right on stage. Fireknives dance. Chanters chant. And blasts and flares spontaneously appear. This is just part of the experience at Magic of Polynesia. You'll also witness the extraordinary acts of master illusionist, John Hirokawa*, the real star of the show. He'll make objects appear and disappear, people disappear and reappear, and even inescapable traps escapable. Equally astonishing is the cast of 20 Polynesian-style entertainers as they convey the mystery and power of the Islands through enthralling rituals, song and dance. This is indeed a world-class production. And while you may not be able to explain it, you will love it, and remember it for a lifetime.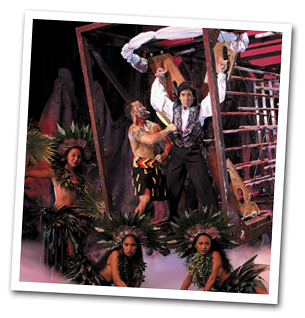 On your arrival, you'll be greeted with a kukui-nut lei and a complimentary standard drink, then escorted to the preferred seating area. A fabulous, island-style dinner and pre-show entertainment will be waiting for you. Merlin Award-Winning Illusionist, John Hirokawa, will delight you with incomparable illusions, levitations, and even some pyrotechnics sure to keep you on the edge of your seat. In addition, a troupe of entertainers will bring you a taste of Polynesia through song and dance.
Then sit back and be amazed as John Hirokawa, International Magician's Society Merlin Award winner, thrills you with unbelievable levitations, mysterious disappearances and other bewildering illusions. The illusions are not only accompanied by dazzling pyrotechnics and special effects, but also cast of beautiful dancers with a flair for Polynesia. Also featured is a fire dancer that will demonstrate his flare in a dynamic display of athleticism and agility. A complimentary souvenir photo will be yours to remember this one-of-a-kind show!
John Hirokawa. The King Of Wow.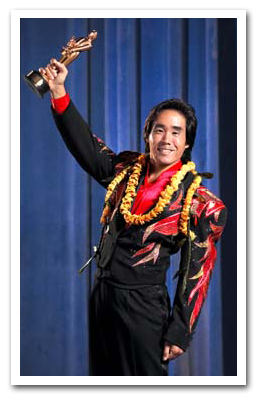 Meet the master of ceremonies for "Magic of Polynesia." John Hirokawa. He's both an expert illusionist and incredible showman. John grew up on Oahu and started his magic career at age six with a magic trick he learned from a library book. By age nine he was performing for luaus, parties, and conventions. At age 12, he appeared on stage with David Copperfield, and it was all uphill from there. After obtaining a business administration degree from the University of Hawaii at Manoa, John set out to make it big in showbiz – and succeeded spectacularly. He's won several awards, among them a Merlin Award for originality from the International Magicians Society, putting him in the company of David Copperfield, Harry Blackstone, Doug Henning and Siegfried & Roy.
Today, John Hirokawa is the star of the most successful show in the state of Hawaii, attracting audiences from all over the world. Don't miss the chance to see him perform in Magic of Polynesia at Waikiki Beachcomber Hotel.
What To Know
Nightly Deluxe Dinner Show at Magic of Polynesia Theater in the Holiday Inn Waikiki Beachcomber - 2300 Kalakaua Avenue.
*A different illusionist may be featured on Sundays and Mondays.
DELUXE DINNER SHOW
Check In: 5:30PM
Dinner: 6:00PM
Show Time: 7:30PM
Pick-up is available at an additional charge from scheduled Waikiki hotels ($10.00) and Kahala Hotel & Resort ($25.00)
Children under the age of 4 are free and must be seated on an adult's lap. If you require a seat for a child under 4, please purchase a child's admission.
Due to fire safety regulations, our staff will assist customers with the storage of their strollers and large bags to keep aisles and walkways clear.
Soft drinks and cocktails are not included in the dinner package price.
To cancel or make changes to your reservation, please call (808) 721-1552.
*Waikiki.com shall not be liable to any individual utilizing these tour/activity programs for delays, injury, loss, accident or damage to persons or property beyond its control. Natural phenomena are random and out of the control of the tour provider. Prices, features and/or menu are subject to change without notice.