One Day Maui "Hana Adventure" Tour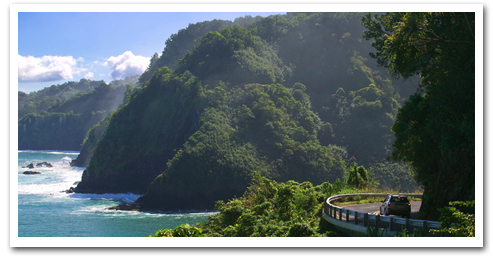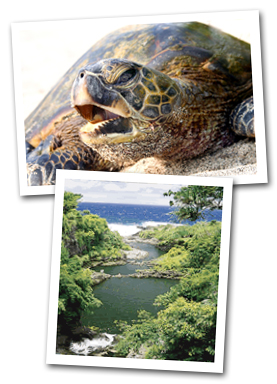 No doubt you've heard about the famous "Road to Hana" leading to the land where Puff the Magic Dragon frolicked. This one-day tour shows you this enchanting side of Maui, taking you along the gorgeous, winding coastal road while your guide adds more color to the scenery with interesting stories and lively narration.

You'll visit the famed Hana Bay itself, along with Maui's famous windsurfing beach, Hookipa. There's also a stop at 122-acre Wainapanapa State Park, home to a beautiful black-sand beach and Hawaiian sea turtles. At 2,000 feet above sea level, you'll also get to cleanse your palate with sweeping views of the Central Valley and West Maui Mountains. Keanae Lookout will also take your breath away, with exquisite views of the peninsula and taro fields.

And it wouldn't be a complete Maui tour without seeing historical landmarks, waterfalls, and a quaint little town, now would it? This tour is indeed an adventure -- one you remember from your imagination as a child, and have the chance to relive as an adult.
Highlights
Hookipa
Puohokomoa
Kaumanhina State Park
Wai Kani Falls
Hana Bay
Wailua Falls
Palikea Stream
Keanae Valley lookout*
Wainapanapa State Park*
Heavenly Hana Town*
Puaa Kaa State Park
Charles Lindbergh's Grave*
Oheo Stream and Pools*
Tedeschi Winery*
*Denotes stop

Picnic Lunch includes Ham & Turkey sub sandwich, macaroni salad, fruit slices, cookie, and canned juice or bottled water. Package also contains utensils and condiments. Vegetarian option available by calling (808) 721-1552 24 hours in advance of tour, and includes 6" veggie sub sandwich, macaroni salad, fruit slices, cookie and beverage. No gluten free menu is available at this time.
What To Know
The road to Hana has stretches with uneven surfaces that can produce a rough ride.
**Once purchased, this tour fee is NON-REFUNDABLE and the tour cannot be cancelled. Due to airline restrictions, passenger name changes are not permitted under any circumstance, and switching airlines may not be an option. Airline change penalty fees may apply and vary by airline and fare type.

Prices are subject to change due to an additional transportation fee depending on your hotel pickup location.

Departure Time and Return
Departs from Waikiki hotels at approximately 4:45am to 5:10am (depending on hotel location and flight information), and returns approximately 7:30pm. If providing your own transportation, please be at the airport no later than 5:30am.

All tours connect at Maui Coral Factory or other point of convergence. Wear a pair of comfortable walking shoes. A light sweater or jacket is recommended. The road to Hana has stretches with uneven surfaces that can produce a rough ride.

All One-Day Tours are subject to availability, change without notice, and include: Roundtrip transfers from Waikiki hotels and roundtrip airfare to the neighbor island.

All guests must bring a valid ID for airport security check-in. International guests must bring a valid passport for airport security check-in.
Restriction
NO REFUNDS.
*Waikiki.com shall not be liable to any individual utilizing these tour/activity programs for delays, injury, loss, accident or damage to persons or property beyond its control. Natural phenomena are random and out of the control of the tour provider. Prices, features and/or menu are subject to change without notice.