One Day Maui "Heavenly Hana Adventure" Tour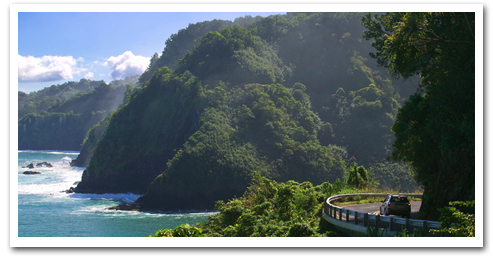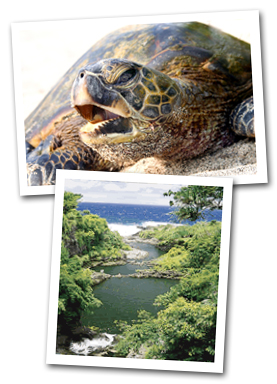 There is good reason this all-day excursion across East Maui is called a "heavenly" tour, with it weaving and winding to some of the island's most divine destinations, including Keanae Lookout, Wainapanapa State Park, the town of Hana and the Seven Sacred Pools.
The narrated quest starts at Hookipa Beach, one of the world's greatest windsurfing spots, then travels to Puohokamoa Falls and Kaumahina State Wayside Park, where you will see striking views of Maui's coast. At Keanae Lookout, take in the spectacular view of Maui that encompasses everything from the island's black lava coast to its rich taro fields. The journey continues to Wainapanapa State Park, home to a native hala forest, blowholes, a cave and a black sand beach.
The heavenly town of Hana offers a charming reprieve before heading off to see Charles Lindbergh's grave and the picturesque Pools of Oheo, also known as the Seven Sacred Pools.
Highlights
Hookipa Beach Lookout*
Kaumahina State Wayside Park*
Waikani Falls
Keanae Lookout & Peninsula*
Wainapanapa State Park*
"Heavenly" Hana Town*
Kula Marketplace*
Pools of Oheo (Seven Sacred Pools)*
Wailua Falls (Maui)
Puaa Kaa Wayside State Park
*Denotes stop

Picnic Lunch includes a 6-inch sub sandwich, macaroni salad, fruits, cookie, canned juice and bottled water. Please inform us of special dietary requests 48 hours in advance. Menu is subject to change.

The tour features a continental breakfast which includes freshly baked pastries, whole fruit, 100% Maui Grown Coffee, Hot Cocoa and a selection of Hot Teas.
What To Know
**Once purchased, this tour fee is NON-REFUNDABLE and the tour cannot be cancelled. Due to airline restrictions, passenger name changes are not permitted under any circumstance, and switching airlines may not be an option. Airline change penalty fees may apply and vary by airline and fare type.
Prices are subject to change due to an additional transportation fee depending on your hotel pickup location. Round-trip transfers from Waikiki hotels and round-trip airfare to the destination island included. All One-Day Tours are subject to availability and may change without notice.
All guests must bring a valid ID for airport security check-in. International guests must bring a valid passport for airport security check-in.
Moderate walking, please wear comfortable wallking shoes and dress appropriately. You may wish to bring a light jacket as it get cooler upcountry.
The ride to Hana may be rough as there are stretches of uneven surfaces.
Locations/Routes may be modified due to national and state park advisories.
Children under 2 years of age are considered FREE if child is on lap and does not occupy a seat. Please let us know in the comment section when booking.
No Shows will incur full charges. NO REFUNDS.
ADA Requests

If you require any special accommodations due to disability, please include them under the comment section at the time of booking.

If you require a wheelchair accessible vehicle, the type of wheelchair must be included in the comments section when booking online or by directly calling us at (808) 721-1552. Due to limited availability, we require that ADA vehicle reservations be made a minimum of 48 hours prior to date and time of service.

We will make all reasonable attempts to accommodate the needs of disabled travelers.
*Waikiki.com shall not be liable to any individual utilizing these tour/activity programs for delays, injury, loss, accident or damage to persons or property beyond its control. Natural phenomena are random and out of the control of the tour provider. Prices, features and/or menu are subject to change without notice.