HOE KA WA'A! - Paddle the Canoe
The sport of canoe surfing is unique to Hawai'i, more specifically to Waikiki. In old Hawai'i, Waikiki was the playground of the elite and canoe surfing was a privilege reserved solely for the ali'i, or Hawaiian royalty. To this day, Waikiki Beach is one of the only places in the world where you can race down a wave on an outrigger canoe.
Premium Canoe Rides

- No waiting period. We'll take you out at the time you want to go.

- Exclusive ride for you and your group only. Don't worry about riding with strangers.

- Bonus Wave ride. We'll take you surfing on 2 of the best waves!

- Minimum of 4 passengers required.

NOTE: PHOTOS, $50+, VIDEO, $50+ -- PER REQUEST ONLY
Non-swimmers are welcome and kids as little as 3 years old may participate.
Coming to Hawai'i soon? Book your lesson online with Waikiki.com click here!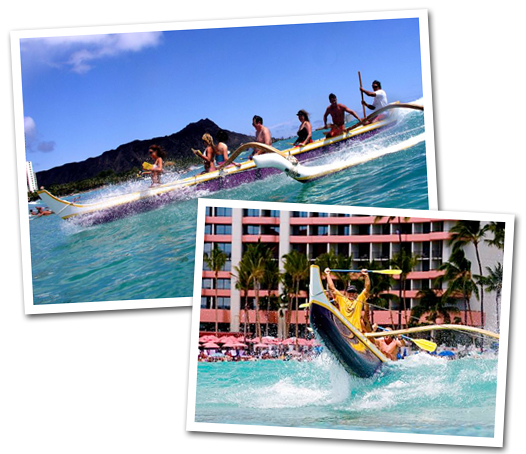 What To Know
*Waikiki.com shall not be liable to any individual utilizing these tour/activity programs for delays, injury, loss, accident or damage to persons or property beyond its control. Natural phenomena are random and out of the control of the tour provider. Prices, features and/or menu are subject to change without notice.