The ultimate in luxury & romance for special occasions!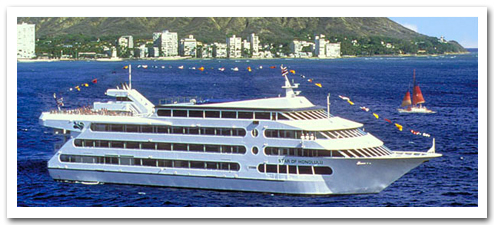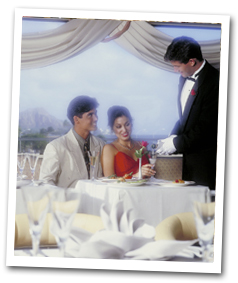 The ultimate in luxury and romance for special occasions! Your Five Star Sunset Dining & Jazz Cruise® begins with a Hawaiian Bellini at the exclusive Captain's welcome reception on the Star of Honolulu's top deck followed by a seasonally inspired 7-course French style dinner with live Maine lobster and prime tenderloin of beef main entrees served to your own private table. Enjoy super premium beverages with after dinner drink cart service and dance to live Jazz favorites performed by some of Oahu's top artists, all in our lavish Art Deco Super Nova Room, complete with grand piano, bar, lounge and private lanai, with the backdrop of Honolulu city lights! All aboard Hawaii's largest, award-winning Star of Honolulu! Gentlemen: Slacks required, jackets recommended. Not recommended for children.
We proudly present our Five Star 7-course Winter menu (Available from January 5 - March 31, 2015) – It's a feast for the eyes as well as the palette! Savor the seasonal colors and flavors with island touches, from the Ogo and Tomato Lomi Caprese Salad to Triple Chocolate Pavé dessert. Also featured are signature entrées of air-flown Live Maine Lobster and highest grade Prime Tenderloin of Beef.
The STAR's original Hawaiian Bellini and three Super Premium Beverages are included. Indulge in exotic cocktails and top quality liquors including Remy Martin V.S.O.P. and Chivas Regal, or international coffees.
Our feature show is a mesmerizing Jazz trio of some of Oahu's top artists with vocalist, saxophone player and pianist performing a wide selection ranging from nostalgic blues to current tunes. Plus a variety of live entertainment, like no other, starting with the pier-side welcome hula. At the Captain's welcome reception, enjoy our Hawaiian music and hula dancer then soft piano music during dinner as we cruise along the Waikiki coastline.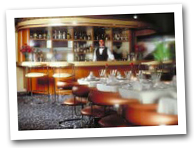 Super Nova Dining Room
4th Deck Capacity for Table Service: 130 seats Beautiful ballroom with exquisite Art Deco style interior, own bar, waiting lounge, restrooms, baby grand piano, own sound system, air-conditioning, and private lanais.
What To Know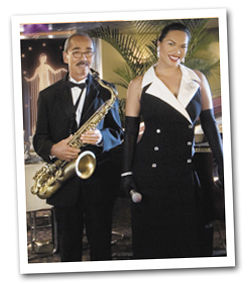 Time: Departs from Aloha Tower Marketplace, Pier 8 at 5:30PM - 8:00PM - 2 Hours and 45 minutes
Operates: Year-round
Check-in: If you are driving on your own, please check-in 45 minutes prior to your cruise departure.
4:45 p.m. Captain's Welcome Reception
5:30 p.m. Departure and Dinner
7:10 p.m. Jazz Show
8:00 p.m. Disembark
Dress Code: Five Star dining requires long pants for gentlemen, jackets.
Menu: The menu changes quarterly to reflect the freshest and finest ingredients of the season. Includes assorted Seasonal Canapés at the Captain's welcome reception, Soup, Admiral's Salad, Live Maine Lobster entrée, Sorbet Intermezzo, Prime Tenderloin of Beef entrée and Chef's Special Dessert of the season. Freshly Baked French Bread and Brioche with Butter accompany dinner. Freshly Brewed STAR's Original Coffee and Organic Teas are also served. Special Menus of Chicken, Fish or Vegan available with 24 hours notice. To request special meal please call 808-721-1552. Beverage: Non-Alcoholic Hawaiian Bellini at Captain's welcome reception, plus Three Beverages from our fine selection of Super Premium Liquors including After Dinner Drink Cart Service of international coffees, cordials, cognacs and liquors. The STAR's special selection of vintage wine and champagne by the bottle (and glass for wines) available for purchase.
Vessel: Star of Honolulu
Hawaii's premier cruise ship equipped with watts-type stabilizers, 1,500-passenger capacity and A.D.A. compliant facilities. Departs from Aloha Tower Marketplace, Pier 8.
Facilities:
A.D.A. compliant with elevators accessible to all decks, written safety briefings, restroom and ballroom signs posted in Braille. Wrap-around decks and 60' high observation deck for 360° views. Each room equipped with sound system and beautiful interiors. Some rooms air-conditioned. Restrooms on all decks.
Transportation
Add transportation to your cruise
Motorcoach, Air-conditioned, Round-trip from Waikiki, Kahala or Ko'Olina
Enhancements
Add an Enhancement to your cruise
Celebration Plan - Window seating (up to 8 persons), private table and photo (per 2 persons); minimum of 2 persons. $35.00 per person.
Reception Plan - For special occasions enjoy window seating at a private table (up to 8 persons), a photo for each person, a bottle of "champagne" (per 2 persons) and a Lei Cake by adding "Reception Plan" for just $50.00 per person. Minimum of 2 persons required to book. $50.00 per person.
White Wine - Mer Soleil Chardonnay, $75.00 per bottle. Hints of matchstick, pineapple and coconut layered with vanilla.
Red Wine - Luna Sangiovese, $55.00 per bottle. Supple sun-ripened red fruit and hibiscus flowers finishes with a spice infusion of cocoa bean.
Champagne - Moet Chandon Dom Perignon, $250.00 per bottle. Simply the finest!
Lei Cake - A sweet finale for birthdays and special occasions. Includes souvenir cake server. For special occasions! $40 for a 6" Round that serves 6-8 people. Other cake sizes available, please contact us for details.
Cruise Route: The Captain reserves the right to alter the route depending on sea conditions.

Price and contents: subject to change.

To cancel or make changes to your reservation, please call (808) 721-1552.
*Waikiki.com shall not be liable to any individual utilizing these tour/activity programs for delays, injury, loss, accident or damage to persons or property beyond its control. Natural phenomena are random and out of the control of the tour provider. Prices, features and/or menu are subject to change without notice.