The Traditional Hawaiian Luau experience that recaptures the "Spirit of Old Hawaii"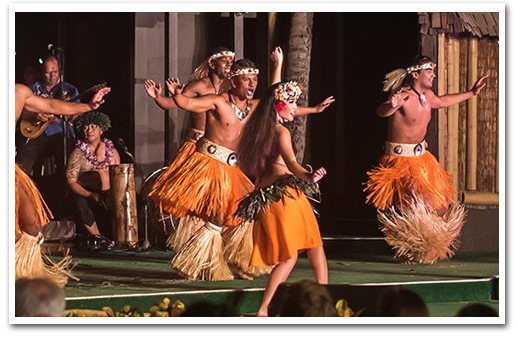 The Plumeria Luau package features Kukui Nut Lei greeting upon arrival, Photo taken with Polynesian Model/Greeter in premier location upon arrival, Premier Front Row Center Seating in Dining Area, Plumeria Hostess Table Service, 3 Specialty Drink Tickets*, Souvenir Photo Booklet
Let us take you back 100 years & 27 miles from Waikiki to their exclusive beachfront property on the shores of West Oahu. Since 1976, over 3 million visitors to our Islands have become a part of our Ohana. Acclaimed as America's Best Luau in "America's Best 100" and has been filmed by ABC's "Good Morning America". Come to where you will still experience a traditional luau that recaptures the "Spirit of Old Hawaii".
You will leave with fond memories of what a true luau is all about…a one of a kind experience not found anywhere else in the world.
Upon arrival, all guests are traditionally welcomed with a Hawaiian Shell Lei. The sounding of the conch shell announces the beginning of the evening's festivities! Picture taking opportunities await as the Royal Court of Polynesia makes its entrance. As the imu (underground oven) is uncovered, the savory aroma of the Kalua Pua'a (roasted pig) – your main course of the evening – reminds us that dinner is soon to be served.
The all-you-can-eat buffet features an array of tasty Hawaiian – American selections, which include traditional Island favorites sure to please even the less adventurous.
The night is filled with beauty, color, and excitement as our multi-talented kane (men) and wahine (women) take you through a non-stop, action-packed journey throughout the Islands of Tahiti, Samoa, New Zealand as well as the romantic hula of Hawaii.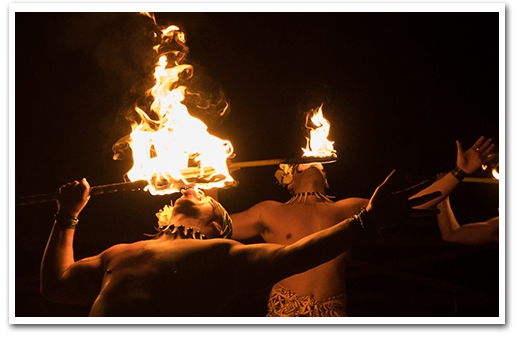 Dances of the Pacific
Come and take a musical journey with us as we bring the islands of Samoa, Tahiti, New Zealand, and Hawaii to life in our exciting Polynesian Review.
From sunny shores of Pape'ete, are the graceful and dazzling Tahitian dancers with their colorful costumes and gravity defying headdresses. Tahitian dance is known for its swift and steady rhythmic hip movements. Incredible stamina and dance expertise are required to perform this high-energy rendition.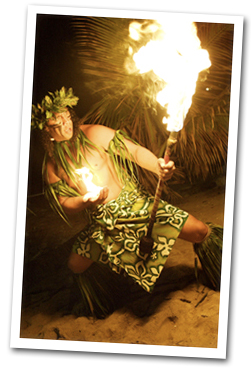 The highlight of the show is the Samoan Fire-knife dance, known as the "Tooth of Death". In the original interpretation, this dance was performed with a dangerously sharp blade.
The story behind the dance is of a Samoan chief making a movie for Hollywood many years ago. He decided to include the flaming torch in his part to make the dance more spectacular.
The show also includes the energetic Samoan Slap Dance, a traditional display of male prowess. True to the name, the dancers slap their chests, arms and legs repeatedly throughout this segment. For Samoan men, this was an opportunity to demonstrate their bravery and courage.
No luau would be complete without the swaying hips and graceful hand motions of the Hula. The dancers tell beautiful and expressive stories of love and life in old Hawaii using elegantly simple implements such as the ipu (polished hollowed-out gourd) and uli uli (brightly colored feather topped gourds).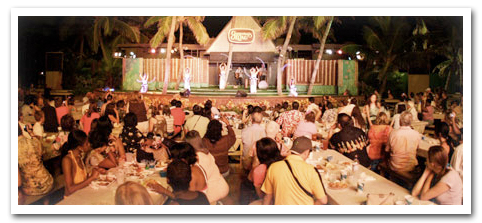 What To Know
This Luau is available Tuesday through Sunday. Closed on Mondays.
Children under 3 are FREE
Luau begins at approximately 6:00 PM and ends at approximately 8:45 PM
Returns approximately 10:00 pm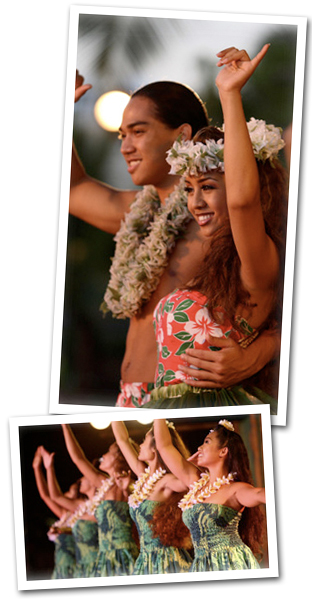 Plumeria Luau Package Includes:
Round-trip motor coach transportation from Waikiki
Kukui Nut Lei greeting upon arrival
Photo taken with Polynesian Model/Greeter in premier location upon arrival
Premier Front Row Center Seating in Dining Area
Plumeria Hostess to assist
Hawaiian/American Buffet w/ Table Service (unlimited refills at buffet area)
3 Specialty Drink Tickets (redeemable for any alcoholic beverage) per Adult 21+
Unlimited Soft Drinks, hot coffee & tea
Dedicated Bar Window for Plumeria Guests
Each Adult will receive their photo taken upon arrival AND a souvenir photo booklet
Menu
Kalua Pig (Roasted Pig)
Poi (Taro Potato)
Chicken with Long Rice
Lomilomi Salmon
Sauteed Island Fish with Sweet Chili Tarter Sauce
Teriyaki Beef
Hawaiian Pulehu Chicken

Sweet Dinner Rolls
White Rice
Pineapple Coleslaw
Tossed Green Salad
Potato/Macaroni Salad

Fresh Pineapple
Fresh Fruit Salad
Vanilla Coconut Cake
Haupia (Coconut Pudding)
Chocolate Cake
Seating Chart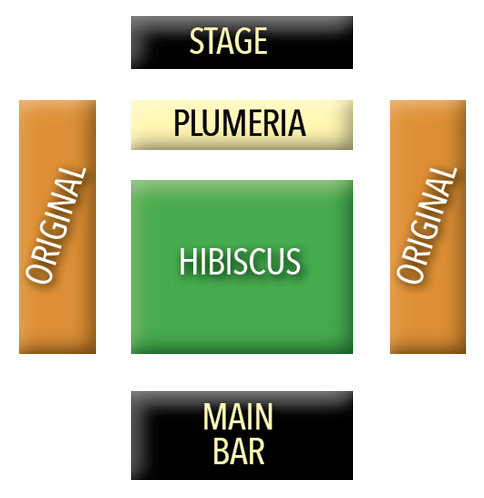 Attire: We suggest a light jacket and comfortable shoes with casual Aloha attire, i.e. a casual Aloha shirt and jeans or shorts.
Special Menu Options for Vegetarians, Gluten-free diets, or other special dietary needs: We can order a special "stir fry" dish for you with advanced notice. Then you can go down our buffet line to select any other dish that you may desire. Must reserve 48 hours in advance.
Children: We do not charge for children 3 years and under. We ask that you have them sit on your lap on the bus if there are no extra seats. At the luau, they are able to sit in their own seat and are given a small plate for the dinner buffet. Unlimited soft drinks are also available. Please bring your own baby carrier or stroller as we do not have any high chairs at the luau.
Strollers: Strollers are allowed at luau. Please note, because the luau is on beach you will have to pull the stroller through the sand.
Type of Seating: The majority of our tables are picnic style benches. If you require a chair with a back, please contact us and we will arrange to have one for you.
Special Accommodations: The luau is wheelchair accessible/ Although our luau is on the beach, we do have some areas where the sand is more compact. With the assistance of your party, you are able to access this area. We discourage bringing motorized scooters since several have been damaged in the past due to sand getting into the motor. Luau will not be held responsible for any damage. Please contact us as soon as possible if you are bringing a wheelchair on the bus as we may need to reserve a specialized vehicle with our transportation company and these special buses are not always available.
*Waikiki.com shall not be liable to any individual utilizing these tour/activity programs for delays, injury, loss, accident or damage to persons or property beyond its control. Natural phenomena are random and out of the control of the tour provider. Prices, features and/or menu are subject to change without notice.