The Alii Luau Package is a great way to enjoy all of the Polynesian Cultural Center PLUS the finest authentic Hawaiian luau in the islands!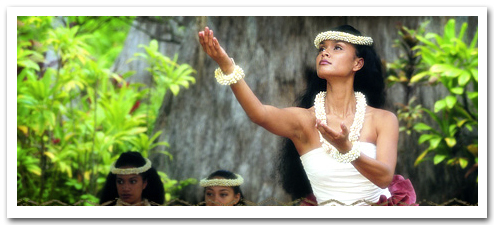 ALOHA! Welcome to our award winning Ali'i Luau. In ancient Hawaii, it was customary to celebrate special occasions with ohana (family) and friends.
Today, we continue the tradition of the luau at the Polynesian Cultural Center. Held in a covered outdoor venue against a background of waterfalls and lush gardens, the Ali'i Luau is a royal celebration of our cultural heritage which includes the Royal Court procession, presentation of the imu (pork baked in an underground oven), and delicious traditional food and lively Hawaiian entertainment.
At the Polynesian Cultural Center explore and experience eight island villages and exhibits representing the Islands of Aotearoa New Zealand, Fiji, Hawaii, Samoa, Marquesas, Rapa Nui, Tonga and Tahiti.
Learn firsthand from the native peoples of each island with interactive demonstrations that teach you the games, fun and friendship of Polynesia. Get a temporary tattoo, catch a fish or learn to dance one of the exciting hip shaking dances of Tahiti. See an active Polynesian voyaging canoe up close and learn how to make fire. Plus, enjoy the exciting Rainbows of Paradise canoe pageant showcasing the songs and dances of each island culture on the Center's winding lagoon.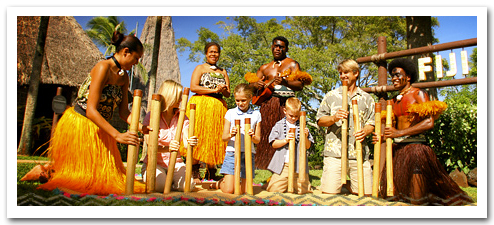 Give your feet a rest and take a relaxing tram tour through Laie town to see the surrounding community, then cap off your adventure in Hawaii's only IMAX™ theatre to experience an immersive cinematic journey through the hidden splendors of Hawaii with Hawaiian Journey. Don't forget to take a quick turn through our souvenir shops to see what Polynesian treasures might await to commemorate your day's escape to the islands of Polynesia.
As evening sets take in the award-winning Alii Luau and "HA - Breath of Life" evening show. It's the best glimpse of Polynesia for those on a quick trip around the island.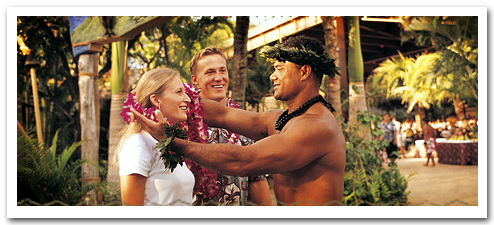 More people purchase the Alii Luau Package than any other tickets, because it's a great way to enjoy all of the Polynesian Cultural Center PLUS the finest authentic Hawaiian luau in the islands.
The Alii Luau starts with a fresh flower lei greeting and includes hula, steel guitar music, and the Hawaiian Wedding Song. You'll also learn to do a little hula, then eat all the poi and other great island dishes you want.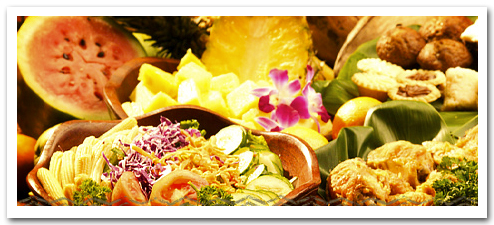 "Ha-Breath of Life." Come, breathe it in.
The Spectacular Story of the Soul, come experience a legend that lives in every island culture, every village, every home.
It's an ancient, yet universal tale. It's the visually stunning story of a boy born in a distant paradise. He's nurtured by a village, learns the ways of his people, finds love by moonlight, and defends everything with heart-stopping bravery. It's "Ha-Breath of Life," Oahu's extraordinary new night show. Breathe it in.
Experience "Ha" - the spectacle of over a hundred performers from across the Pacific, drums, dance, all new music and special effects, a fire spewing volcano and a world renowned fire knife performance.
Come. Breathe it in. And let the island spirit live in you long after your departure.
Hawaii's Newest Ancient Story.
Born just after his parents wash ashore, Mana begins a South Pacific odyssey that leads to becoming a warrior. In the process, he must prove his worthiness to wed the fair Lani by walking on fire. And, ultimately, he must battle to protect his new family from marauding invaders. The tale is as old as the islands, and as new as each breath we take. With the power of surround sound, the aural echoes of Polynesia will ring in your ears as the Pacific culture stirs your soul.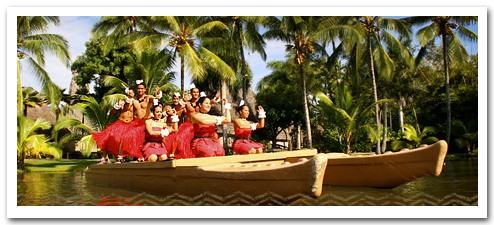 The IMAX™ Polynesia Theater
The Polynesian Cultural Center's 600-seat IMAX™ Theater features the spectacular Coral Reef Adventure, shown on a gigantic screen measuring 65 feet high (19.8m) and 93 feet wide (28.4m).
The Movie: Hawaiian Journey. Experience the Wonders of Hawaii! See, feel and smell then in a new immersive cinematic experience. A stunning, big-screen tribute to the hidden splendors of Hawaii. Free with admission to the center.
Long Canoe Pageant - Rainbows of Paradise
RA rousing display of Polynesian spirit is celebrated daily at 2:30 p.m. in "Rainbows of Paradise," Hawai'i's only water-borne show. Once each afternoon, native Polynesians in colorful, traditional costumes treat you to the energetic dance and music of their cultures atop double-hulled canoes in the Center's lagoon!
What To Know
Please be aware, the Alii Luau sells out fast during PCC's peak seasons (June-August and December-January). Book early.
Ali'i Luau Package Includes:
Our most popular package offers general admission to our island villages, plus our award-winning Hawaiian Luau experience. Our authentic Ali'i Luau includes the King's procession, uncovering of the pig from imu (underground oven). Also included are luau-level seats at our spectacular evening show, "Ha: Breath of Life".

PACKAGE FEATURES:
Immersive cultural experience in 6 island villages
Canoe rides
Tram Tour of Laie
Go Native activities
Canoe Pageant
"Hawaiian Journey" cinematic experience
Ali'i Luau dinner buffet & show (4:00 pm - seating 3:30 pm)
Flower lei greeting (at Luau)
Luau-level seating at ""HA: Breath of Life" show
Transportation Options
Relax & Enjoy the Ride. Enjoy a spectacular trip on the most beautiful beach-side highway on Oahu. Transportation features a round trip transfer in an air-conditioned coach and narrated by a local guide.
Motor Coach (Standard Transportation)
Pickup at the desinated location near your Waikiki hotel
Ride in a luxurious top of the line Mercedes motor coach
Narrate by a friendly, local guide
Pickup times: 10:00 am or 12:00 pm
Return to Waikiki approx. 10:30 pm
Mini Coach (Curb-Side Service)
Pickup right from the lobby of your Waikiki hotel
More intimate experience aboard our comfortable mini-coach.
Narrated by a friendly, local guide.
Pickup times: 10:00 am only
Return to Waikiki approx. 10:30 pm
DAY EXPERIENCE
Step inside our gates and enter a world of discovery and adventure. As you visit each village you immerse yourself in their distinct and beautiful culture. Meet the people, taste the food, play, sing and dance. See why our guests call this the "best cultural experience on the island".
In the event of inclement weather, events and indoor shows will continue to operate, including all Village presentations, the Ali'i Luau, Prime Dining, Island Buffet, BBQ Lunch, and the Ha:Breath of Life Evening show. For the safety and comfort of our guests and staff, some outdoor events and presentations may temporarily close until weather improves and safe to resume activities.
HAWAII
Your time in our host village will introduce you to a people rich in tradition, art and a love of the Earth. Hawaiians are master story tellers, eager to share not only the beauty of their islands, but the beauty of their culture as well. Come and be enchanted!
AOTEAROA (NEW ZEALAND)
Aotearoa (The Land of the Long White Cloud) is the home of the Māori, the indigenous people of New Zealand, known for their elaborately carved meeting houses, musical harmonies, and dance, including, the awe inspiring Haka. Your visit to Aotearoa will inspire and strengthen your awareness and appreciation for family, past and present.
FIJI
Fijians may be most famous for their skills in battle, but this is only part of their story. They are also fine singers and makers of clay pottery. A visit to the Fijian Village is a heart pounding good time for the entire family.
SAMOA
Fun-spirited and with a love for life, the Samoans are known throughout Polynesia as the "happy people". Samoans are famous for both their cooking skills and their breath-taking fire knife dances. Your visit to this village will be filled with laughter and excitement.
TAHITI
Yes, the Tahitians can dance like no other and you will greatly enjoy learning about the different movements, but you will also see that there is so much more to this rich culture. Like love and marriage, fishing and cooking!
TONGA
The beat of the drum calls you before you even arrive to the village of Tonga. Whether throwing spears, paddling canoes or watching the action packed Tongan presentation, your visit will be filled with laughter and fun.
RAPA NUI (EASTER ISLAND)
This island exhibit in the center of our villages features seven hand-carved moai or stone statues created onsite by artisans from Rapa Nui
MISSION SETTLEMENT
Every day from noon to 5:30 pm. The 1850s Hawaiian Mission Settlement is comprised of a small non-denominational chapel, complete with a pulpit and a newly refurbished antique foot-pump organ, an open-sided Polynesian-style school house representing the considerable contributions of early Christian missionaries in western-style educational programs and a rock-walled missionary home with a wide lanai (shaded veranda) circling the building which features many handmade and quilted items for sale. The settlement offers free lessons in Polynesian weaving, ukulele playing and a fascinating history of early Christian missionaries on the Islands.
CANOE PAGEANT
Every day at 2:30 p.m. The Polynesian Cultural Center holds a one of a kind pageant on the water! Watch as each island puts on a beautiful representation of their dance and music on large, platform canoes as you watch from various viewing areas along the lagoon.
CANOE TOURS
Don't know where to go first? Jump onto one of our 32 seat canoes and have a personalized tour of our 16 acre facility via our beautiful lagoon. Or catch a ride sometime during the day, while you relax and let someone else do the work, namely one of our strong and knowledgeable canoe pushers.
IOSEPA VOYAGING CANOE
At the centerpiece of the Iosepa: Voyage of Discovery display is the Iosepa, an all-wood, double-hulled Hawaiian voyaging canoe, originally carved and launched in La'ie, Hawai'i. Daily interactive activities are coupled with videos explaining the construction, purpose and history of the Iosepa and the ancient Hawaiian sailing ships it is modeled after.
HAWAIIAN JOURNEY MOVIE EXPERIENCE
With an exterior depicting a dormant volcano, Hawaiian Journey is a 12-minute immersive cinematic experience, projected on one of the largest screens in the state. The journey transports guests into the gorgeous imagery on screen as they experience crashing waves, mystic valleys and powerful eruptions through interactive special effects that engage their senses.
LAIE TRAM TOUR (Includes Old Laie, BYU-H and LDS Temple Visitor's Center):
Take an optional bus tour through Brigham Young University – Hawaii and the town of Laie on your way to the Laie Hawaii Temple of The Church of Jesus Christ of Latter-day Saints, all located near the Polynesian Cultural Center. The escorted tours leave the Center every 20 minutes between 3:00 - 6:40 p.m. and lasts 35 minutes. Learn about BYU-Hawaii's mission to support, educate and enrich students from more than 70 countries. BYU provide the majority of PCC employees and adds to the cultural diversity of the community. As the tour proceeds, the escort will recount the unique history of Laie through its' history of entertaining visitors since their first commercial hukilau — a traditional fishing festival and luau — almost 60 years ago. You will then have a 20 minute stop at Laie Hawaii Temple Visitors' Center where you are welcome to stroll the beautiful temple grounds with its magnificent fountains, turn of the century architecture and lush landscaping. The serene and beautiful Visitors Center features a ten-foot marble replica of Thorvaldsen's famous Christus sculpture as well as special displays and exhibits explaining the basic beliefs of The Church of Jesus Christ of Latter-day Saints including the blessings of temples within their faith.

*Please note, shuttle seating can be limited. All tram passengers are asked to de-board at the temple grounds so that waiting passengers can re-board for their trip back to the Polynesian Cultural Center.
PARK RULES
The Polynesian Cultural Center is a family-oriented attraction. For the safety and enjoyment of all our guests, please observe the following rules at all times:
ALCOHOL, SMOKING & DRUG USE: Alcohol is not served or allowed to be consumed anywhere on the premises. We have provided numerous smoking areas throughout the Polynesian Cultural Center. Anything that produces smoke or vapor is not permitted outside of the designated areas. These designated smoking areas are clearly identified on the park map you will receive upon your arrival. The use of illegal drugs is strictly prohibited. Violations will result in immediate removal from the premises and notification to the local law enforcement agency.
ATTIRE/DRESS CODE AND LANGUAGE: Oahu can experience many changes in the weather, rainy one moment, tropical heat the next. We recommend you dress comfortably and wear very comfortable shoes. Remember that the sun can be harsh, so you may want to grab a hat or umbrella even on the sunniest of days. And don't forget water! Don't worry if you forget any of these items, you can pick them up in at our Hukilau Marketplace. Because the Polynesian Cultural Center is a family oriented attraction, we ask our guests to dress appropriately. Shoes and shirts are required at all times. Bathing suits are not allowed. Clothing, tattoos and all forms of wear-able art with offensive designs are strictly prohibited. To ensure an enjoyable experience for all our guests, please refrain from using profanity and engaging in unsafe or disruptive behavior. We reserve the right to remove any person(s) who engages in disorderly, disruptive or otherwise offensive activities. We kindly request that you treat all guests and employees with aloha and respect.
OUTSIDE FOOD: Outside food is not allowed in the Polynesian Cultural Center. However, food and other items that are for medical purposes are permitted with prior notification.
CAMERA & VIDEO USE: Guests are welcome to take as many personal pictures or video recordings at the Polynesian Cultural Center as they wish, EXCEPT during the Ha': Breath of Life show. Photography or video recording of any kind is strictly prohibited during the "Ha: Breath of Life" show. However, souvenir booklets and DVDs of the Ha:Breath of Life show are available for purchase throughout the Center. Most PCC performers are also usually available to have their pictures taken with guests. Other pictures are available for purchase from Photo Polynesia, the exclusive licensed photography concession at the Center. The Polynesian Cultural Center does not allow any commercial photography or filming on the grounds without prior approval of the Sales & Marketing Department.
WEAPONS & FIREARMS: For the safety of our staff and guests, no weapons or firearms of any kind are permitted on the premises.
TIPPING POLICY: The Polynesian Cultural Center has a no tipping policy. The majority of our guides and other employees at the Polynesian Cultural Center are students employed through the I-WORK program. I-WORK is a program that provides financial support for culturally diverse students while attending BYU-H University. Gratuities and tips would be counted as income to the students and would jeopardize their eligibility. Please note that individuals who are not employees of the Polynesian Cultural Center are exempt and can continue to receive tips if you so desire.
Park rules and regulations are subject to change without notice.
ACCESSIBILITY
The Polynesian Cultural Center strives to provide equal access to all who visit regardless of physical or mental ability. Please contact us so that we can address your individual needs.
MOBILITY WHEELCHAIR & SCOOTER RENTALS: The Polynesian Cultural Center provides guests a limited number of wheelchairs and scooters available at our Customer Service desk near the front entrance. The Polynesian Cultural Center also provides guests a limited number of wheelchairs on a first-come first-served basis. There is a $20.00 deposit fee, $10.00 of which will be refunded when the wheelchair is returned. To reserve a wheelchair, please contact us. Scooters are rented through our partner Scooterville at a rate of $40.00 plus tax/day. Please click here to visit Scooterville and to reserve your scooter today.
TRANSPORTATION ACCOMMODATIONS - WHEELCHAIRS & SCOOTERS: Guests who wish to bring their personal scooter or wheelchair who will be utilizing PCC sponsored transportation and are unable to stand, walk and seat themselves into a standard bus seat must notify the Polynesian Cultural Center within 48 hours in advance of their visit. Proper arrangements can then be made for a lift equipped vehicle which will accommodate the guest's wheel chair or scooter. Note: Scooter/Wheelchair transportation is only available on full sized bus transports.
WHEELCHAIR ACCESSIBILITY: All major areas of the Polynesian Cultural Center — including the villages, dining venues, Hukilau Marketplace, and the Laie Temple Visitors Center tours — are accessible to those in wheelchairs. Wheelchair users planning on watching the scheduled village presentations may want to arrive several minutes early to ensure available seating. Guests riding the canoe tours will be asked to transfer to their seat while the wheelchair is folded and placed in the back of the canoe. Electric scooters will be delivered to the opposite canoe landing while the user rides the canoe. Please note that the Polynesian Cultural Center does not provide wheelchair pushing services.
*Waikiki.com shall not be liable to any individual utilizing these tour/activity programs for delays, injury, loss, accident or damage to persons or property beyond its control. Natural phenomena are random and out of the control of the tour provider. Prices, features and/or menu are subject to change without notice.