Waikiki's largest cast show combines powerful performances with rock n roll, Hawaiian and Polynesian music!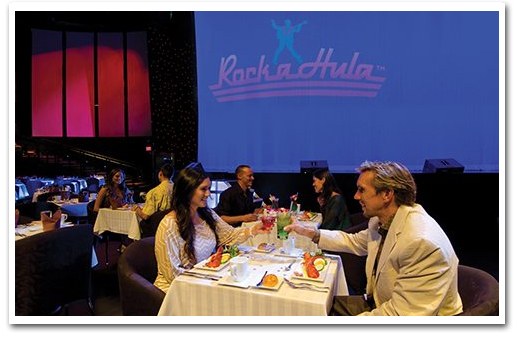 Rock-A-Hula's home is the 750-seat, multimillion-dollar Royal Hawaiian Theater.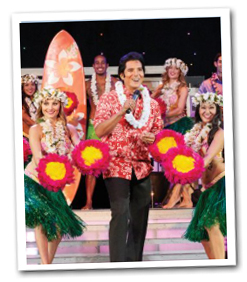 Enjoy the ultimate "celebrity" experience with the Green Room package. Rub shoulders with one of the stars while you sip Green "champagne" at an exclusive reception. Go on an "insider" backstage tour, then enjoy dinner and the show from the best stageside seats!
Ultimate celebrity reception in the Green Room, souvenir photo & 2 premium beverages, Exclusive backstage tour, Best private table in Stageside VIP area, 4-Course Maine lobster, tenderloin steak and salmon dinner
Come to the show born in Paradise, with the energy of a volcano and the star-power of a Vegas review. Tribute artists like "Elvis" take you back to '60's Hawaii. "Michael" and "Celine" dazzle you with mega multi-media performances. Book your dinner and show packages now for one of Waikiki's hottest shows!
Performers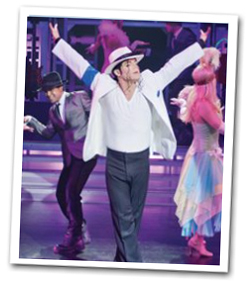 World-famous Legends in Concert of Las Vegas presents an interactive show created especially for Hawaii, "Rock-A-Hula®!" As the pioneer of live tribute shows, Legends has access to the best tribute artists in the industry, who not only look and sound like the star they portray, but are true performers in their own right.
Legends Artists® sing their greatest hits with their own natural voices, as well as dance and play instruments, accompanied by a rockin' live band and fabulous dancers.
In circumstances beyond our control, the Legends Artists® line up may change.
Elvis Presley
performed by Johnny Fortuno
Johnny Fortuno, a local boy from Oahu, was recognized at an early age by Don Ho and became a part of his famous Waikiki show. At 18, Johnny was the youngest Elvis tribute artist to hit the Legends' Las Vegas stage.A top 10 finalist in the Ultimate Elvis Competition in 2011, Johnny sings with the power of the King.
Michael Jackson
performed by Corey Melton
Corey started singing and dancing at 3 years old, growing up in a show business family. It's not surprising that he's become one of the world's top Michael Jackson tribute artists. "My purpose is to link up with him in super closeness and give people another chance to 'RELIVE THE THRILLER."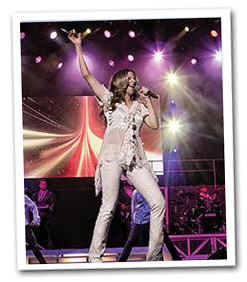 Celine Dion
performed by Elisa Furr
Elisa Furr's talent as a singer and songwriter has been unstoppable. She began her career at 14 and was soon touring the world. She's performed for the King and Queen of Malaysia, with Jonathan Cain of Journey and alongside Chaka Khan. She focuses her 30 years of stage experience in her soaring tribute to Celine.
Fireknife Dancers
Fire knife dancing is an honored Samoan tradition. The twirling of the burning nifo oti (war knife) is a skill that has been refined from generation to generation. Performed by Lafo Brown and Chief Tui, fire knife dancing brings Rock-A-Hula to a burning crescendo.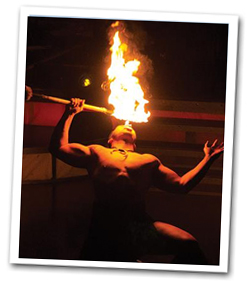 Rock-A-Hula Dancers
Our amazing dancers bring hula to life in our 75-minute show. They've grown up with hula and Tahitian dance, and you'll experience it in their dynamic performances. Throw in our rock and jazz numbers, and you'll be dancing in your seat!
Rockin' Band
The award-winning musicians in our live band earn rave reviews from everyone who sees the show. With roots in the local music scene, they bring authenticity to the hula and Tahitian songs. And because they've toured with top recording artists, they bring a world-class edge to the tribute performances.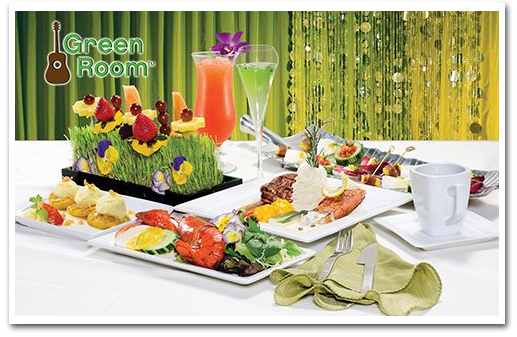 Menu
Pineapple Prosciutto Skewers and Fresh Fruit
Big Island Goat Cheese and Poha Jelly Endives
Lomilomi Salmon Cups
Nova Scotia Maine Lobster with Rainbow Salad
Tenderloin of Beef and Wild Alaskan Salmon with Sautéed Fresh Market Vegetables and Black Truffle Mashed Potato
Pineapple Delight Dessert with Macadamia Nut Crumble and Toasted Coconut
Kona Blend Coffee and Tea

Chicken or vegan dinners available with 48 hours notice.
What To Know
Check in Time: 6:00 PM
Rock-A-Hula® is open six days a week. The show is dark on Fridays. In addition, the show is closed on Monday, 7/4/16, Friday, 12/9/16 – Sunday, 12/11/16 and Friday, 3/3/17 - Sunday, 3/5/17.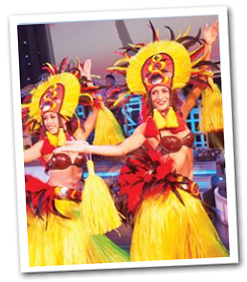 Hawaiian Greeting: 5:55 - 6:00 PM
Green Room® Reception and Backstage Tour: 6:00 - 6:30 PM
Dinner: 6:30 - 8:00 PM
Rock-A-Hula® show: 8:00 - 9:15 PM
Meet-and-Greet® with the cast: 9:15 - 9:30 PM

Included Terrace Luau Package Features
Hawaiian Greeting
VIP Entrance
Green Room® Reception and Backstage Tour
Souvenir Photo with Legends Artist® (one per 2 persons)
4-Course Tenderloin of Beef and Seafood Dinner
Best private table for dinner and show in the stageside VIP area
Two Super Premium Beverages (Green "Champagne" and one beverage of choice)
Rock-A-Hula® show
Meet-and-Greet® with the cast
Location: Royal Hawaiian Theater
Royal Hawaiian Center
2201 Kalakaua Avenue, Bldg. B, 4th Floor
Honolulu, HI 96815
Rock-A-Hula® is conveniently located in the heart of Waikiki, walking distance from all major hotels. It's on the 4th floor of Building B at the Royal Hawaiian Center. The center is across from "T Galleria by Duty Free" on the ocean side of Kalakaua Avenue between the cross streets of Royal Hawaiian Avenue and Seaside Avenue.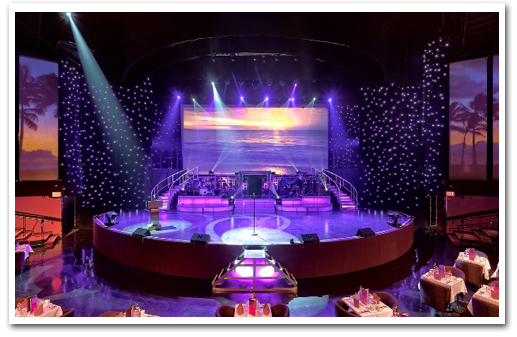 Venue: The $20 million Royal Hawaiian Theater® is the home of the nightly Rock-A-Hula® show six days a week. It is also Oahu's premier meeting space and event venue in the heart of Waikiki featuring a 750-seat theater, state-of-the-art lighting, sound and multimedia technology, open-air large cabanas, beautiful bars and dining areas for banquets, presentations and award ceremonies.
Transportation Add transportation to your cruise. Motorcoach, Air-conditioned, Round-trip from Waikiki: $14.00 per person. Round-trip Kahala Resort or Ko Olina Resort $33.00 per person.
Parking: Parking is available at the Royal Hawaiian Center. To enter the parking garage from Kalakaua Avenue, turn right on Royal Hawaiian Avenue. Then, take the immediate next right up the ramp into the Royal Hawaiian Center garage.With validation from Rock-A-Hula, your parking fee will be discounted.
Accessible Accommodations In our Green Room Dinner & Show®, there are some accessible restrictions for guests with wheelchairs on our backstage tour. Contact us to learn more. For all other packages, Rock-A-Hula® offers special accommodations during the show for guests with wheelchairs. A wheelchair user plus one guest may be seated in the stage side area for the show.
*Waikiki.com shall not be liable to any individual utilizing these tour/activity programs for delays, injury, loss, accident or damage to persons or property beyond its control. Natural phenomena are random and out of the control of the tour provider. Prices, features and/or menu are subject to change without notice.