Get up close to Hawaiian marine life on a Scuba Dive, Discover Scuba Intro Dive - All on one Boat!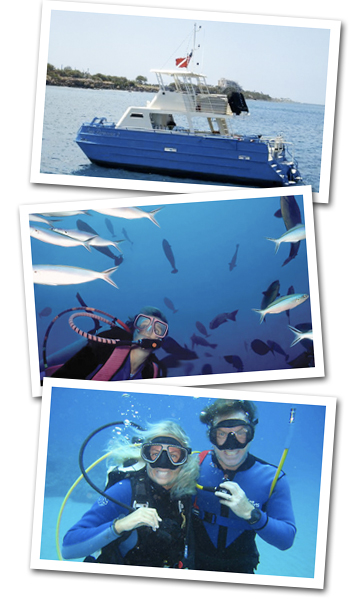 Scuba diving is a great way to get up close to the fish! Come explore the Oahu coastline aboard a state-of-the art double-deck power catamaran. Amenities include a fresh water shower, spacious restroom and plenty of room to relax and enjoy the ride.
There is no pre-arranged dive site schedule. We solicit input from our divers to determine a location that best suits the passengers on board. We offer dive experiences to match every skill level and proficiency; including wrecks, drift dives, walls and shallow reefs. These sites are home to marine life seen nowhere else in the world. Each dive is a guided tour of the site led by PADI divemasters and instructors with no more than six divers per guide.
Highly professional operation, adhering to all PADI and U.S. Coast Guard regulations. At the same time offering the best diving Oahu has to offer on one of the finest boats available!
DISCOVER SCUBA DIVING
Do you enjoy swimming and snorkeling? Have you ever had the desire to experience the thrill of scuba diving? Then our Discover Scuba Diving program, all done aboard the vessel, is perfect for you!
Your adventure is as easy as ONE, TWO and THREE...
ONE: A scuba overview
TWO: Practice scuba diving techniques in shallow water (maximum of 40 feet)
THREE: Enjoy a 30 minute dive with an experienced scuba instructor in shallow water
While riding to the dive sites you can experience the beauty of the Oahu coastline while looking for dolphins and humpback whales (when in season). Once at the site, you will swim with beautiful tropical fish. Some of your group not interested in scuba diving, may participate in a Ride-Along and and Snorkel.
What To Know
Available daily from 9:00 AM - 12:00 PM. Transportation also available for guests staying at Ko'Olina for free. Transportation for guests staying in Waikiki is $30 per person. Boat departs out of Waianae Boat Harbor.
Gear, snacks, sodas included.
2-TANK SCUBA DIVE For certified divers only.
Certified Diver Packages Includes integrated BCD, balanced regulator, 3mm short wetsuit, full-foot fins, mask, tanks and soft weights.
Discover Scuba Diving Non-certified Diver Package Includes a 3mm short wetsuit, full-foot fins, mask and snorkel. Must be at least 10 years of age.
HEALTH NOTE: Scuba diving involves pressure changes so for your safety, you must have healthy/normal heart, lungs, ears and sinuses and be in overall good health. All Intro divers must answer a health questionnaire (Click here to see a sample) prior to going on the dive, and if you answer "yes" to any of the conditions, a doctor must sign-off prior to the trip to allow diving.
Daily boat departures and dives are weather and surface conditions permitting.
Ridealong guests can enjoy the cruise and snorkel at the second shallow dive stop.
IMPORTANT: When booking, we need to know... 1. You are not flying out within 24 hours after the dive; 2. Intro divers must answer a medical questionnaire; 3. English fluency required for Intro divers; 4. Certification card or number must be present or be verified prior to departure; 5. Gear sizes: height, weight and shoe size.
Scuba diving is an exciting and demanding activity. To scuba dive safely, you must not be extremely overweight or out of condition. Diving can be strenuous under certain conditions. Your respiratory and circulatory systems must be in good health. All body air spaces must be normal and healthy. A person with heart trouble, a current cold or congestion, epilepsy, asthma, a severe medical problem, or who is under the influence of alcohol or drugs, should not dive. If taking medication, consult your doctor before participating in this program.
Participants will need to fill out Medical Questionnaire and Release Form
*Waikiki.com shall not be liable to any individual utilizing these tour/activity programs for delays, injury, loss, accident or damage to persons or property beyond its control. Natural phenomena are random and out of the control of the tour provider. Prices, features and/or menu are subject to change without notice.