Play with sea lions in the water!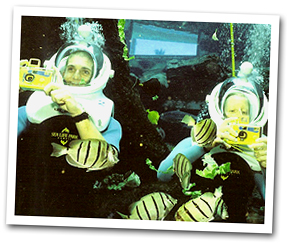 While on Oahu, come to Sea Life Park Hawaii and experience the Sea Trek Adventure. It's an underwater stroll that takes place about 18 ft deep in our Hawaiian Reef Tank.

You'll be amazed as you're surrounded by magical sea life. The allure of this Hawaii natural spectacle is beyond comparison. You'll see stingrays, and schools of shimmering, multicolor fish. You will never forget this exhilarating activity! Call to book your Sea Trek Adventure.
About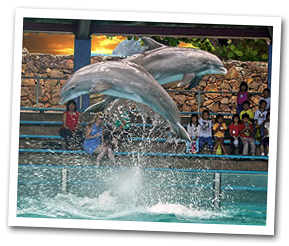 Hawaii's prime marine attraction, located on Oahu's southeastern tip by Makapuu Point, just 15 miles from Waikiki. Come and visit this world-class marine attraction and enjoy up close views of dolphins, sea lions, penguins, stingrays and many other creatures of the ocean. You'll even be able to see the world's only "Wolphin," a mix between a dolphin and a whale!
The park offers a whole range of packages that are entertaining as well as educational. Tour the park and say hello to all kinds of marine life, sit back and watch the thrilling animal shows, or if you want to get wet, swim with dolphins in the parkÕs large lagoon. For the adventurous there is an underwater trek that allows you to walk 18 feet down among many colorful tropical fish! Even experience a luau, a traditional Hawaiian feast featuring an all-you-can-eat Hawaiian buffet dinner and a stunning Polynesian revue. It's the only luau in Hawaii that also boasts a spectacular dolphin show.
What To Know
Underwater Sea Trek Daily Schedule: 11:20 AM, 1:20 PM, 2:40 PM *Schedules are subject to availability
Standard park hours are 10:30 am - 5:00 pm. The last show is at 3:30pm.
General park admission and transporation is included in the price.
Included
The Sea Trek Adventure includes a chance to interact with eels and rays. You will also see schools of fish and sea turtles.
Recommendations
It is important to arrive 30 minutes before the start of your reserved program at Sea Life Park Hawaii
Use only biodegradable sun lotion to protect the animals and their environment
The use of safety vests is required in all water programs
Additional Info
Minimum height for this Hawaii activity: 4 feet
Minimum age: 8 years old
Pregnant women are not allowed to participate in these sea lion activities
The use of safety vests is required for all Sea Life Park Hawaii water programs
Is mandatory for children from 8 to 12 years old be accompanied in the water by a paying adult (one per child)
Accompanying paying adult must be 18 years or older
Not Included
Food and beverages at park are extra
*Waikiki.com shall not be liable to any individual utilizing these tour/activity programs for delays, injury, loss, accident or damage to persons or property beyond its control. Natural phenomena are random and out of the control of the tour provider. Prices, features and/or menu are subject to change without notice.