The smoothest ride. The best views. Exceptional service.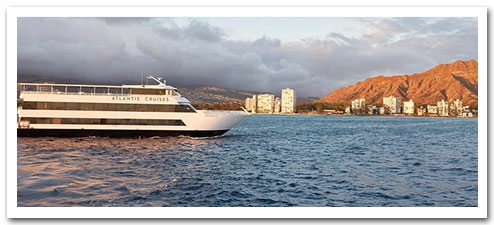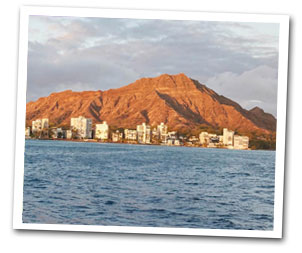 As the sun casts a soft glow across the skies, the Majestic vessel sets sail for a journey into the Hawaiian sunset. Enjoy the beautiful sunset while dining at sea on the Majestic! Experience a memorable evening aboard the sleek and state-of-the-art vessel, the Majestic.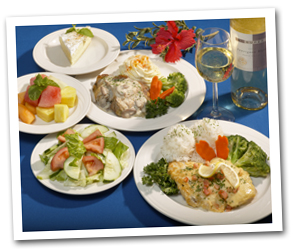 With the addition of SEAKEEPER technology, Majestic offers the latest advancement in boat stability. Large, panoramic windows allow Oahu's famous coastal views to take center stage. Intimate table seating is available at an additional cost for guests that prefer a private dining ambiance. Includes complimentary round-trip transportation from select Waikiki hotels. Departs from Pier 6. Aloha Tower Marketplace self-parking is also available for a fee.
ENTREES:
Paniolo Style Prime Rib
Garlic Shiitake Teriyaki Chicken
Pacific Catch of the Day
Hawaiian Rock Salt-Crusted
Pork w/Gravy

FRUITS AND VEGETABLES:
Garden Isle Salad
Garden Vegetable Medley
Fresh Fruit

SIDES:
White Rice
Mashed Potatoes
Hawaiian Sweet Rolls w/Butter

DESSERT:
Chef's Selection

BEVERAGES:
Soda
Coffee
Tea
What To Know
Pick up from Waikiki based hotels is included in the price for all options.
Check in at 4:45 pm at Pier 6, Aloha Tower Marketplace. Tour is 2 hours from 5:30 pm to 7:30 pm.
*Waikiki.com shall not be liable to any individual utilizing these tour/activity programs for delays, injury, loss, accident or damage to persons or property beyond its control. Natural phenomena are random and out of the control of the tour provider. Prices, features and/or menu are subject to change without notice.