Hawaii Volcano Tour and Lava Walk One Day Tour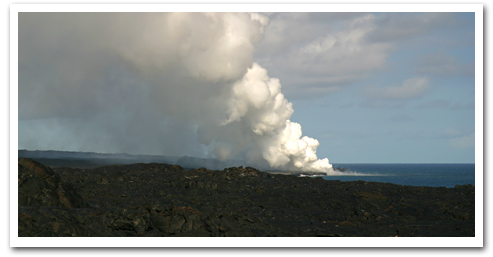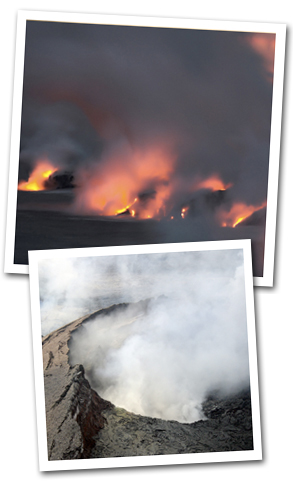 One Day Tours are the ideal way to explore more of Hawaii, beyond Waikiki.

The Volcano Tour and Lava Walk is a true adventure. This tour gives you a rich cultural experience and an exciting view of nature at work. A picturesque ride gives way to the vistas of dormant volcanoes, lava beds, steam vents and craters.

Hear legends of Pele, ancient Hawaiian goddess of the volcano, who settled in the crater of Halemaumau at the summit of Kilauea. And, visit the many wonders of Hawaii Volcanoes National Park.
Highlights
Rainbow Falls State Park*
Mauna Loa Mac Nut Factory*
Kalapana Black Sand Beach or Chain of Craters Road*
No Host Dinner Stop*
Hawaii Volcanoes National Park Visitors Center (Restroom stop)*
Devastation Trail/Lava Tube*
Kilauea Iki Overlook/Steam Vents
Jaggar Museum* *Denotes stop
(Door-to-door pickup in Waikiki beginning at 7:00 AM to 7:30AM)
No host dinner
What To Know
**Once purchased, this tour fee is NON-REFUNDABLE and the tour cannot be cancelled. Due to airline restrictions, passenger name changes are not permitted under any circumstance, and switching airlines may not be an option. Airline change penalty fees may apply and vary by airline and fare type.

Prices are subject to change due to an additional transportation fee depending on your hotel pickup location. Price is inclusive of airfare.

Departure Time and Return
Door-to-door pickup in Waikiki beginning at 7:00 AM, returns to Waikiki at 10:00 PM. If providing your own transportation, please be at the airport no later than 7:15 am. All times are approximations.

Wear walking shoes, bring a light jacket, dress comfortably and have fun! Route may be modified due to National Park advisories. No guaranteed sighting of active lava flows. Dinner available for purchase.

Your safety and comfort are our #1 priority. Tour highlights are subject to change without notice and may vary at tour driver discretion in order to take into account National Park Services advisories, weather advisories, traffic advisories, road closures and detours, venue hours of operations, etc.. Tour features can change daily as we cannot predict weather and lava viewing conditions. We do not guarantee sighting of lava flows. Surface lava flows may be present but may not be visible due to environmental conditions or time constraints. Passengers with asthma or other respiratory problems should consider the Big Island Grand Circle Island tour to avoid potential health problems from sulfur gases emitted from volcano. If conditions permit, walking/hiking on rough, uneven lava surfaces is involved. Wear sturdy, covered walking shoes. Weather is unpredictable. Anticipate both sun and rain conditions.

All guests must bring a valid ID for airport security check-in. International guests must bring a valid passport for airport security check-in.
Restriction
No-host dinner.
NO REFUNDS.
*Waikiki.com shall not be liable to any individual utilizing these tour/activity programs for delays, injury, loss, accident or damage to persons or property beyond its control. Natural phenomena are random and out of the control of the tour provider. Prices, features and/or menu are subject to change without notice.